NEW YORK CITY SERENADE
Live 09 May 1974 (early show) version
---
[Spoken intro:] Meanwhile, back in New York...

Well, Billy, he's down by the railroad tracks
Sitting low in the back seat of his Cadillac
And Diamond Jackie, she's so intact
That she falls like an angel beneath him, mm, mm
Jackie's heels are stacked
Billy's got cleats on his boots
Together they're gonna boogaloo down Broadway
And come back home with the loot
It's midnight in Manhattan, this is no time to get cute, it's a mad dog's promenade
So walk tall
Or don't you walk at all
Oh, oh, all right

Fish lady, oh, my fish lady, fish lady, she baits them tenement walls
She don't take corner boys, boy, they got no money, and they're so easy
I call to her, "Hey, girl, I'm easy, take my arm, waltz with me down Broadway, yeah"
Oh, take my hand, little girl, and move with me down Broadway, yeah
Well, I'm a young man, and I walk it real proud, hey, babe, I'll talk it real loud for you
Shake away your city life, whoa, shake away your life, shake away your street life, shake away,
shake away your life, whoa, hook it up, hook it up, hook it to the night train
Ah, baby, hook it up, the boys whisper, "Hook it up"
Ah, now, hook it up, ah, hook it to the night train
Ah, hook it to the silver train, ah, hook it to the sharp train
Oh, hook up to the hard train
But I know that she won't take the train, (no, she won't take the train)
No, she won't take the train, (no, she won't take the train)
No, she won't take the train, (no, she won't take the train)
She's afraid them tracks'll slow her down
When she turns around, baby'll gone
So long
Sometimes you gotta walk on, walk on
Walk on
La, la, la, la, la
Whoa, oh, oh, oh, oh

Hey, vibes man, hey, jazz man down in the alley, play me your serenade
Any deeper blue, you'd be playin', oh, in your grave
Sayin', save your notes up: don't spend 'em on the blues boys, don't you do it
Save your notes: don't spend 'em on the darlin' cigarette
Straight for the church note, ring it, vibes man sting a trash can
Listen, listen to your junkman
Listen to your junkman
Ah, listen to your junkman
Listen
He's singin', singin', singin', singin'
Yeah, he's all dressed up in satin, walking down the alley, singin'
Just lifting his knees, singin'
He's singin', singin', singin', singin', singin', singin', singin', yeah, sing
Oh, ah, da, da, da, da, la, la, la
Whoa, la, la, whoa, whoa, whoa, oh
Whoa!
Whoa, whoa, listen
Listen
La, na, na, la, ah, ah, ah
Well, come on, come on, come on, come on, come on, come on, come on, come on, come on, come on
Na, na, na, na, na, na
Na, na, na, na
Na, na, na, na, na
Sing, babe

Baby, let's slip away
Jackie, let's slip away
Baby, let's slip away
Baby, let's steal away
Jackie, let's steal away
Jackie, let's slip away
Baby, let's steal away
Baby, let's steal away
Baby, let's steal away
Baby, let's slip away
Baby, let's steal away
Jackie, let's run away
Oh, Jackie, let's slip away
Oh, Jackie, let's slip away
Oh, Jackie, let's slip away
Oh, Jackie, let's steal away
Oh, let's steal away
Baby, let's steal away
Baby, let's slip away
Baby, now, now
Baby, let's run away
Baby, let's run away
Baby, let's run away
Baby, let's run away
Baby, let's run away
Baby, let's run away
Baby, let's get away
Baby, let disappear
Baby
---
Info
The above lyrics are for the live 09 May 1974 early show performance of NEW YORK CITY SERENADE at Harvard Square Theatre in Cambridge, MA, during what is considered The Wild, The Innocent, & The E Street Shuffle Tour. Between March and August 1974, the song featured David Sancious on piano (including the introduction) and Ernest "Boom" Carter on drums and was played first in a more acoustic-oriented partial-band arrangement and then gradually evolved into an extended arrangement with the "slip away" coda. This particular performance was played somewhere in between the two arrangements, tending towards the latter.
Bruce Springsteen and the E Street Band performed two shows (07:00 PM and 10:00 PM) on 09 May 1974 at Harvard Square Theatre in Cambridge, MA. These were double bill shows, with Springsteen opening for headliner Bonnie Raitt. On the circulating audience recording of the early show, the MC can be heard using of the name "The E Street Band" in his introduction. This is the earliest appearance of that name on any show audio or promotional material yet unearthed. The "E Street Band" name was conjured up only a few weeks earlier. Critic Jon Landau's much-quoted "I saw rock and roll future and its name is Bruce Springsteen" line emanates from this night; he only attended (and his Real Paper review only covers) the late show.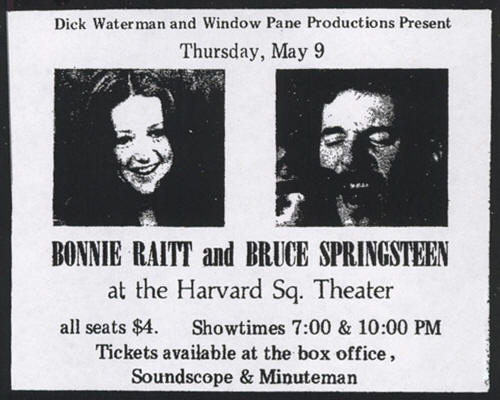 Promotional ad for the 09 May 1974 shows at Harvard Square Theatre, Cambridge, MA
(
Taken from Brucebase
)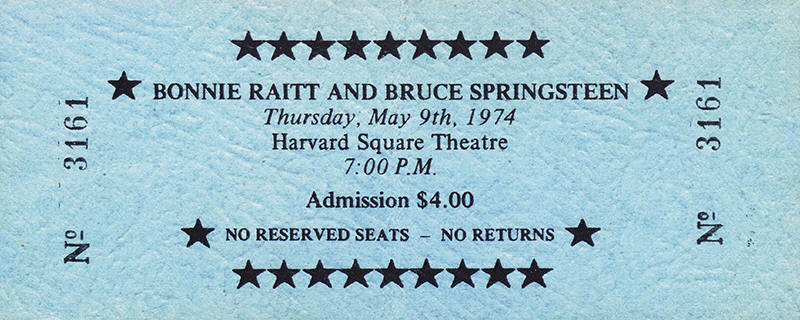 Ticket stub for the 09 May 1974 early show at Harvard Square Theatre, Cambridge, MA
Credits
Thanks Jake (ol'catfishinthelake at BTX and Greasy Lake) for the lyrics help.
Available Versions
List of available versions of NEW YORK CITY SERENADE on this website:
NEW YORK CITY SERENADE [Album version]
NEW YORK CITY SERENADE [Original studio version]
NEW YORK CITY SERENADE [Live 23 Jul 1973 (early show) version]
NEW YORK CITY SERENADE [Live 31 Jul 1973 (late show) version]
NEW YORK CITY SERENADE [Live 17 Nov 1973 version]
NEW YORK CITY SERENADE [Live 06 Jan 1974 version]
NEW YORK CITY SERENADE [Live 03 Mar 1974 (late show) version]
NEW YORK CITY SERENADE [Live 09 May 1974 (early show) version]
NEW YORK CITY SERENADE [Live 13 Jul 1974 version]
NEW YORK CITY SERENADE [Live 29 Oct 1974 version]
NEW YORK CITY SERENADE [Live 05 Feb 1975 version]
NEW YORK CITY SERENADE [Live 22 Jul 1975 version]
NEW YORK CITY SERENADE [Live 20 Jun 2000 version]
NEW YORK CITY SERENADE [Live 03 Oct 2003 version]
NEW YORK CITY SERENADE [Live 07 Nov 2009 version]
NEW YORK CITY SERENADE [Live 11 Jul 2013 version]
NEW YORK CITY SERENADE [Live 26 Feb 2014 version]
NEW YORK CITY SERENADE [Pete Yorn's cover version]
---
Page last updated: 03 Jun 2012