ONE WAY STREET
Unofficial studio version
---
[Spoken:] One, two, three, four

[Spoken:] Here we go

If the sun should fall from the sky, tomorrow
If the rain brings a tear to your eye I would share your sorrow
But you must go if you can't take the heat
Our love was fine, our love was sweet
But we were walking on the wild side, running down a one way street

Yeah, at night when the moon shines, rolling in your eyes
Sometimes, yeah sometimes, I can't forget your lies
But oh the changes come today
And for your wrongs well you must pay
And we're walking on the wild side running down a one way street
It's a dead end baby
Big man do your thing!

[Sax solo]

If and oh, my darling I, I must confess
That this can't be love though I must be a man possessed
When I look in your eyes so bright
You're walking and your dress fits you just right
But babe we're walking on a dead end, running down a one way street

Well if a man could change the things he feels inside
If for once I could turn and maybe swallow some of my pride
But for the wrongs oh yes we must pay
So it's bye bye baby today
And we'll go walking down the wild side running down a one way street
Phantom do your thing!

Oh yes, oh yes

Yeah when I think of all the girls that I have missed
Well I know I would give them up for just one kiss
It's mmmm we, we are the same kind
And to leave you baby I'd have to go blind
Oh and we're walking on the wild side, running down a one way street
Oh-oh yes we are
We'll keep on walking on that bad side, running down that one way street
Oh yes we will
We'll keep on walking on that bad side, running down that one way street
---
Info
Prior to the release of The Promise in 2010, one studio take of ONE WAY STREET had been circulating on bootlegs. It was recorded in June 1977 at Atlantic Studios in New York City, NY. It is a complete but not final take. Springsteen can be heard at some points directing band members on the recording.
The above lyrics are for that unofficial studio version of ONE WAY STREET. It can be found on The Lost Masters Vol. 2 (Labour Of Love) [track 01] bootleg.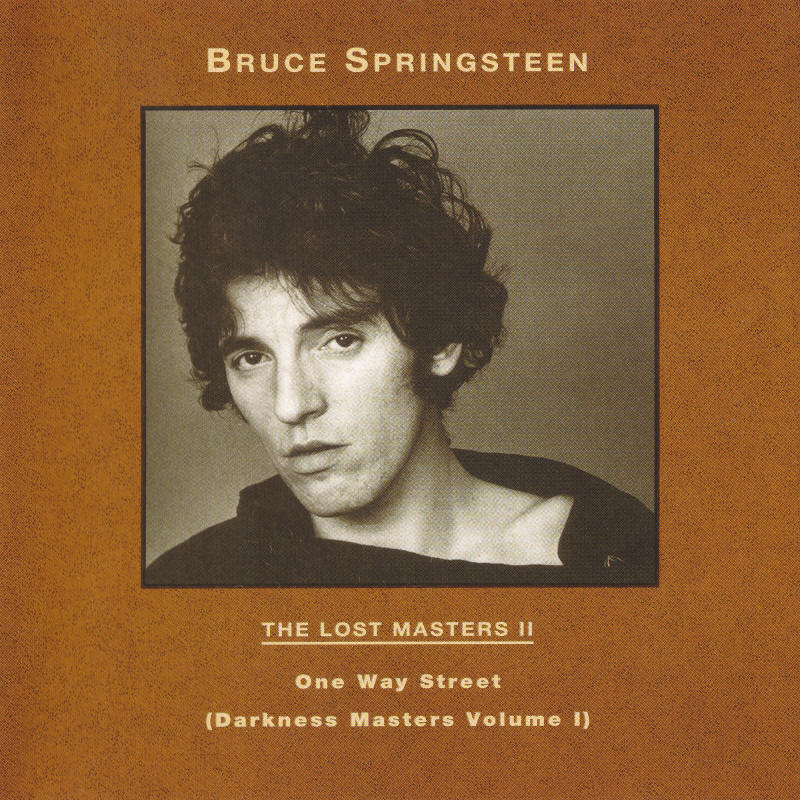 Bruce Springsteen -- The Lost Masters Vol. 2 (Labour Of Love)
Credits
Thanks Neil (Five Stubbs) for the lyrics corrections.
Request
Some of the above lyrics might be guessed or not correct. If you have any corrections or additional info, please contact me via the below form or by email: . You will be credited. Thanks in advance.
Available Versions
List of available versions of ONE WAY STREET on this website:
ONE WAY STREET [Official studio version]
ONE WAY STREET [Unofficial studio version]
---
Page last updated: 31 Oct 2010