PARTY LIGHTS (Claudine Clark)
Original Claudine Clark version
---
(Party lights, I see the party lights, they're red and blue and green)
Party lights
(Everybody in the crowd is there, please let me make the scene)
Mama, I wanna go, go, go, go, go, yeah, yeah, yeah, yeah
(Mama, mama)

Today, mama, dear, ah, tell me do you hear
We're partying tonight
I tell you, I can't sleep because across the street
Uh-oh, uh-oh, I see the party lights
(Mama, mama)

I see the lights, I see the party lights
They're red and blue and green
Oh, everybody in the crowd is there
But you won't let me make the scene
(Mama, mama, mama)

Oh, mama, dear, a-look a-here, look here
There goes Mary Lou
I see Tommy and Joe, uh-oh, and Betty and Sue
Uh-oh, uh-oh, there goes my boyfriend, too

I see the lights, I see the lights, I see the party lights
They're red and blue and green
Oh, everybody in the crowd is there
But you won't let me make a scene
(Mama, mama, mama)
Listen to the party, mama!

Oh, mama, dear, a-look a-here, look here
I'm feeling oh so blue
They're doing the Twist, the Fish, the Mashed Potatoes, too
I'm here a-looking at you

I see the lights, I see the lights, I see the party lights
They're red and blue and green
Oh, everybody in the crowd is there
But you won't let me make a scene
(Mama, mama, mama)

They're doing the Fish, they're doing the Twist (I see the lights, I see the party lights)
The Watusi, the Mashed Potatoes (They're blue and green)
I see the lights, I see the lights (Everybody is there)
They're doing the Bop, I wanna go (Mama, mama, mama)
I wanna go, I wanna go, I wanna go (See the lights, I see the party lights)
I see the lights (Red and blue and green)
I wanna go (Everybody...)
I wanna... [fades out]
---
Info
PARTY LIGHTS is a song written by Claudine Clark who released it as a single B-side in 1962. The song became a hit reaching #5 on the Billboard Hot 100. The above lyrics are for the original Claudine Clark version of PARTY LIGHTS as released in 1962.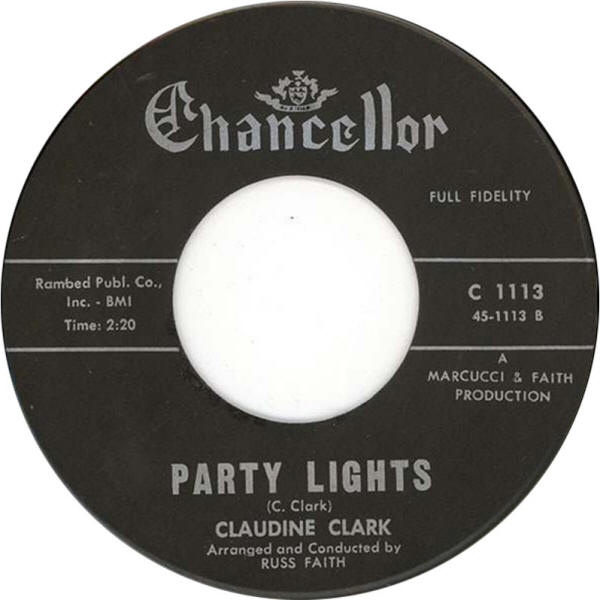 Claudine Clark -- "Disappointed / Party Lights"

7" single - Chancellor (C-1113) - USA, 1962

A1- DISAPPOINTED
B1- PARTY LIGHTS

Bruce Springsteen's Version
Bruce Springsteen performed Claudine Clark's PARTY LIGHTS live twice during the Born To Run Tour in 1975. See the live 02 Dec 1975 version for more details.
Credits / References
Thanks Jake (ol'catfishinthelake at BTX and Greasy Lake) for the lyrics corrections.
Single label scan taken from 45cat.com.
Available Versions
List of available versions of PARTY LIGHTS (Claudine Clark) on this website:
PARTY LIGHTS (Claudine Clark) [Live 02 Dec 1975 version]
PARTY LIGHTS (Claudine Clark) [Live 11 Dec 1975 version]
PARTY LIGHTS (Claudine Clark) [Original Claudine Clark version]
---
Page last updated: 12 May 2012