PEG O' MY HEART
Dropkick Murphys' album version
---
| | |
| --- | --- |
| Ken Casey: | Peg o' my heart, I love you |
| | Don't let us part, I love you |
| | I always knew it would be you, peg o' my heart |
| | |
| Dropkick Murphys: | Since I heard your lilting laughter |
| | It's your Irish heart I'm after |
| | Peg o' my heart |
| | |
| Bruce Springsteen | Peg o' my heart, oh, your glances |
| | Make my heart say, how's chances |
| | Come be my own, come make your home in my heart |
| | |
| Ken Casey: | Peg o' my heart, I love you |
| | We'll never part, I love you |
| | I always knew it would be you, peg o' my heart |
| | |
| Dropkick Murphys: | Since I heard your lilting laughter |
| | It's your Irish heart I'm after |
| | It's your Irish heart I'm after |
| Dropkick Murphys and Springsteen: | Peg o' my heart |
| | |
| Bruce Springsteen: | Peg o' my heart, I love you |
| | Don't let us part, I love you |
| | I always knew it'd be you, peg o' my heart |
| | |
| Dropkick Murphys and Springsteen: | Since I heard your lilting laughter |
| | It's your Irish heart I'm after |
| | It's your Irish heart I'm after |
| | Peg o' my heart |
| | |
| Dropkick Murphys and Springsteen: | Since I heard your lilting laughter |
| | It's your Irish heart I'm after |
| | It's your Irish heart I'm after |
| | Peg o' my heart |
| | |
| Dropkick Murphys and Springsteen: | Peg o' my heart |
| | Peg o' my heart |
| | Peg o' my heart |
| | Peg o' my heart |
---
Info
PEG O' MY HEART is a song written by Alfred Bryan and Fred Fisher and first published on 15 Mar 1913 and was featured in the 1913 musical Ziegfeld Follies. The popular song was recorded by several artists over the years, including Punk Rock band the Dropkick Murphys who recorded it for their 2011 album Going Out In Style. Their version features a guest appearance by Bruce Springsteen. The above lyrics are for Dropkick Murphys' album version of PEG O' MY HEART as released in 2011.
Dropkick Murphys' album version
The Dropkick Murphys's version of PEG O' MY HEART is radically revamped to suit the band's punkish style. Bassist and lead vocalist Ken Casey told Rolling Stone in January 2011 that the band thought that it sounds like something that the E Street Band would pull out, and that's how they got the idea to invite Bruce Springsteen to sing on it.
The band had already finished recording their Going Out In Style album when they asked Springsteen to contribute guest vocals to the track in mid-December 2010. "We were on tour in Australia when we finally got the nerve and we sent him an e-mail," Casey told Rolling Stone. "You'd think having to deal with Bruce Springsteen would be this complicated thing. But it was just like 'want to do it?' and he was like 'sure!' It was as easy as that." All they told him was that they thought that it would be great to trade off on verses. Springsteen e-mailed back the song with his vocal contributions and Casey was blown away. "I was like a kid opening a present on Christmas morning," he recalled. Springsteen reportedly agreed because his son Evan is a big Dropkick Murphys fan.
"It has a classic old fifties rock and roll feel," Casey explained about the track. "Both of my grandmothers are named Peg. One grandmother, Peg Casey, is always saying, 'When are you going to do that song? Your grandfather always sang it to me!' The time signature changed, so hopefully they still appreciate it when they hear it."
Release
The Dropkick Murphys' album version of PEG O' MY HEART made its world premiere on Sunday 27 Feb 2011 on 101.9 WRXP-FM's Anything Anything with Rich Russo.
Going Out In Style is the Dropkick Murphys' seventh studio album and was released on 01 Mar 2011 on Born & Bred Records. It's produced by Ted Hutt.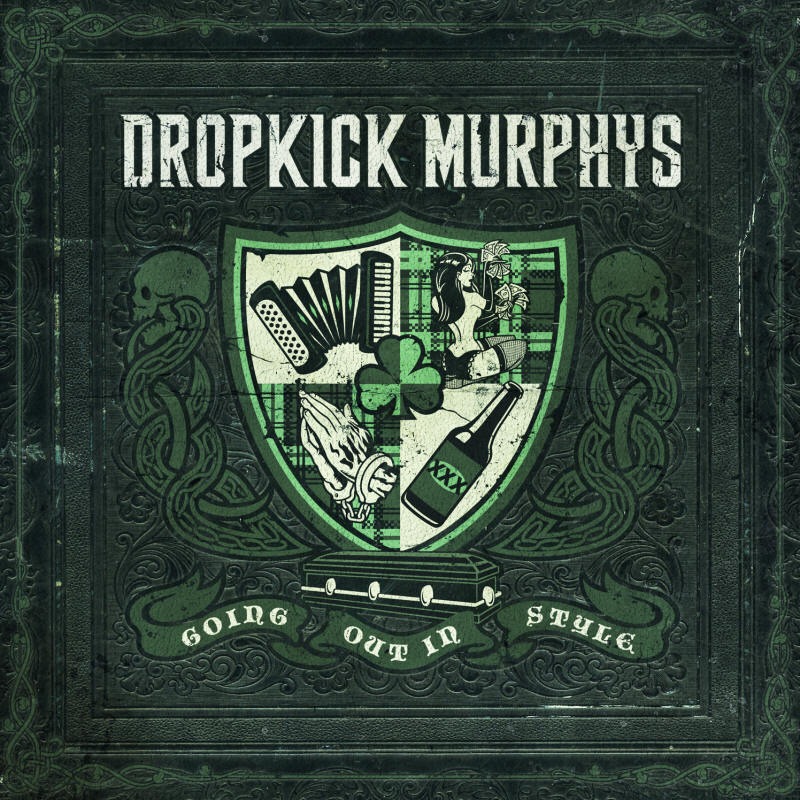 Dropkick Murphys -- Going Out In Style
Springsteen and Dropkick Murphys
The Dropkick Murphys first met Bruce Springsteen in 2005 or 2006 when he attended a gig of theirs in New York. "He came back afterwards and introduced himself," Ken Casey told Rolling Stone. "We were just blown away, but we really hit it off. He's since invited us to play with him a few times."
During their Working On A Dream Tour, Bruce Springsteen & The E Street Band played the TD Banknorth Garden in Boston, MA, on 22 Apr 2009. They were joined onstage by the Dropkick Murphys on GLORY DAYS and AMERICAN LAND. Then the band's guitarist, Tim Brennan, proposed onstage down on bended knee to his girlfriend Diana. Springsteen then dedicated the tour premiere of SO YOUNG AND IN LOVE to the couple, saying that "this was going to be their wedding song."
In his turn, Springsteen appeared at Dropkick Murphys' 18 Mar 2011 show at House Of Blues in Boston, MA, joining the band onstage for three songs: PEG O' MY HEART, BADLANDS (a Springsteen song that the band had covered on several occasions), and I'M SHIPPING UP TO BOSTON.
Springsteen appears on two Dropkick Murphys studio tracks: PEG O' MY HEART in 2011 and ROSE TATTOO in 2013.
Ken Casey is a lifelong Springsteen fan, and his favorite Springsteen album is Darkness On The Edge Of Town. The Dropkick Murphys have covered BADLANDS live and Casey has said that the band wouldn't say no to recording an entire album as Bruce Springsteen's backing band. "Bruce, we're ready when you are," Casey told Rolling Stone.
Live History
PEG O' MY HEART was performed off-tour on 11 Mar 2011 at House Of Blues in Boston, MA, during a guest appearance with the Dropkick Murphys. The song was played in a full-band arrangement featuring Bruce Springsteen on shared lead vocals and guitar. See the live 18 Mar 2011 version for more details.
Credits
Thanks Jake (ol'catfishinthelake at BTX and Greasy Lake) for the lyrics help.
Request
If you have any corrections, comments, or additional info, please contact me via the below form or by email: . You will be credited. Thanks in advance.
Available Versions
List of available versions of PEG O' MY HEART on this website:
PEG O' MY HEART [Dropkick Murphys' album version]
PEG O' MY HEART [Live 18 Mar 2011 version]
---
Page last updated: 26 May 2011