PHANTOM LOVE (JUST 16)
---
daddy longlegs / baby son

Phantom love I will chase in exile sweet orlean down St. Christopher
Without armor of audience (fancy studs) till your beast lover (lovermen) turn gold child
In search of a softer quieter lie
She moves in a ballerina suit tight and quick
I'm steppin' in buckle boots slick and sharp

Chase the little hood down through the fire wood
And we'll walk together once again in search of that softer quieter lie
And I'll really believe that I want you
And you'll really believe you need me

Did I tell you bobby I got me a phantom love
---
Info
The above lyrics are for a Bruce Springsteen song titled PHANTOM LOVE (JUST 16). The lyrics are taken from an uncompleted Springsteen handwritten lyrics sheet. It appears to be a very embryonic work-in-progress, not yet fully structured song, or possibly poem. There is no information about the origin of this lyrics sheet, but stylistic-wise, it appears to date from the 1971-1973 era.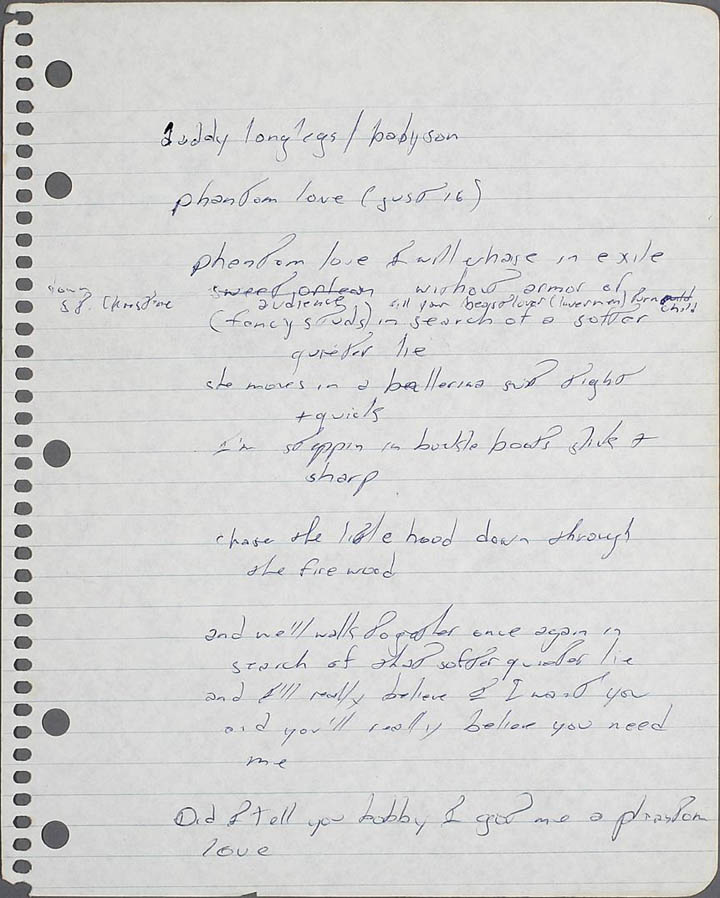 Bruce Springsteen handwritten lyric sheet for PHANTOM LOVE (JUST 16)
Request
If have any additional information about this song or the lyrics sheet itself, please contact me via the below form or by email: . You will be credited. Thanks in advance.
Available Versions
List of available versions of PHANTOM LOVE (JUST 16) on this website:
PHANTOM LOVE (JUST 16)
---
Page last updated: 20 Apr 2007