PHANTOMS
Studio version
---
Jamey rides in high boots, breaks his drink and wades in the river
Holds his gun above the water and crosses to the shore
Now the Christian army awaits you, and Jessie is still waiting to date you
Those phantoms fly in strict formation over the hills of Saint George
Now the rebel life is lonely, oh but them mountains are soft with freedom
To be free is to be lonely, oh lonely lonely lonely lonely

Jamey rides down a broken highway, the heat of the sun tends to bring him down
His field is full of crazy visions of negroes and white women in evening gowns
And he hears Jessie calling to him in the hills
Oh she calls to him from the clouds
And the men are working in the fields
Oh listen to 'em work (oh-oh-oh, oh-oh-oh, oh-oh-oh, oh-oh-oh, oh-oh-ohhh oh)
Oh busting rocks (oh-oh-oh, oh-oh-oh, oh-oh-oh, oh-oh-oh, oh-oh-ohhh oh)
Oh busting those rocks (oh-oh-oh, oh-oh-oh, oh-oh-oh, oh-oh-oh, oh-oh-ohhh oh)
(Oh-oh-oh, oh-oh-oh, oh-oh-oh, oh-oh-oh, oh-oh-ohhh oh)
(Oh-oh-oh, oh-oh-oh, oh-oh-oh, oh-oh-oh, oh-oh-oh, oh-oh-oh, oh-oh-oh, oh-oh-oh, oh-oh-ohhh oh)

Ohhh Jamey rides in high boots, breaks his rank and wades in the river
Holds his gun above the water and crosses to the shore
Now the Christian army awaits you, and Jessie is still waiting to date you
Those phantoms fly in strict formation over the hills of Saint George
Ohhh alright alright alright alright alright oh-oh-oh
Oh it's alright na na na

(Oh-oh-oh, oh-oh-oh, oh-oh-oh...)
Those phantoms still fly in strict formation of the hills of Saint George
Those fighters fly in strict formation of the hills of Saint George
But he hears Jessie calling him home
Hears Jessie calling him home
And he hears the prisoners working in the field
This is the chain gang busting rocks
Jessie's calling 'em home
Those phantoms still fly in strict formation over the hills of Saint George
---
Info
PHANTOMS is an unreleased song written by Bruce Springsteen who recorded it in studio in Spring 1973. The above lyrics are for the only known studio version of PHANTOMS.
The song is also known under the title "Over The Hills Of St George".
Composition and Recording
PHANTOMS was probably written in early 1973. Bruce Springsteen later used the exact same melody in ZERO AND BLIND TERRY.
PHANTOMS is an outtake from The Wild, The Innocent, And The E Street Shuffle recording sessions. The only circulating studio version of the song was recorded with the E Street Band but does not feature David Sancious' keyboards. Sancious arrived at the sessions on 22 Jun 1973, which means that the circulating version was most probably recorded sometime between 15 and 22 May 1973 or between 17 and 20 June 1973 at 914 Sound Studios in Blauvelt, NY. However, according to Sony's database of Springsteen recording sessions, PHANTOMS was cut on 22 Jun 1973, 26 Jun 1973, 28 Jun 1973, and 01 Jul 1973 at 914 Sound Studios. It is interesting that Springsteen continued working on PHANTOMS on 01 Jul 1973 despite having cut ZERO AND BLIND TERRY on 28 Jun 1973, as per Sony's database.
A handwritten lyrics sheet containing what appears to be an early draft of PHANTOMS exists. See the early draft for more details.
Bootleg Releases
The studio version of PHANTOMS can be found on the Deep Down In The Vaults (E. St. Records) [disc 1, track 08] bootleg.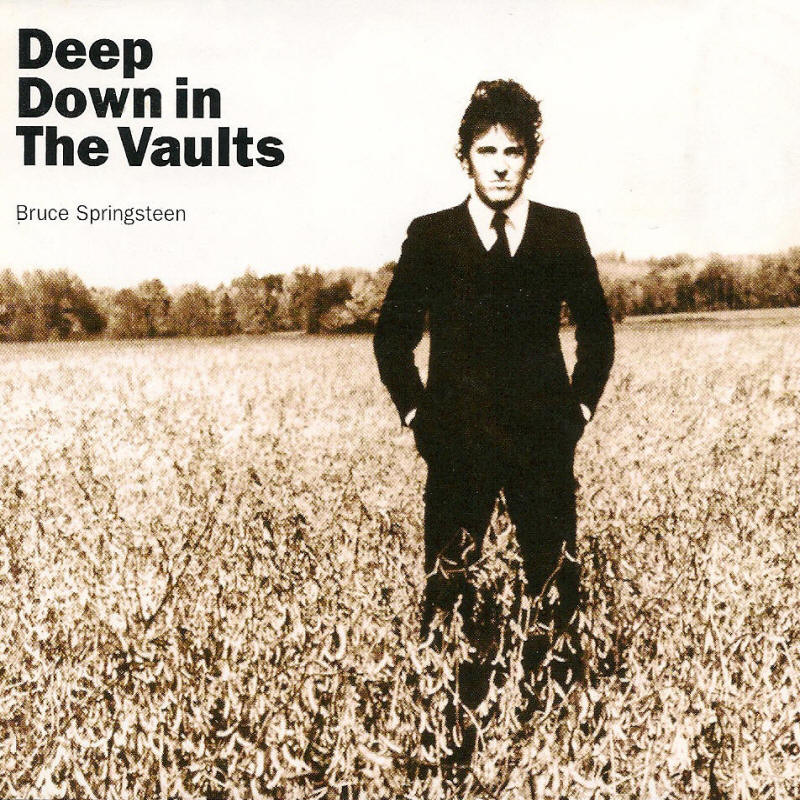 Bruce Springsteen -- Deep Down In The Vaults (E. St. Records)
Live History
PHANTOMS is known to have been performed at least once during the Greetings From Asbury Park, N.J. Tour (October 1972 to September 1973). Many of that period's setlists are incomplete or unknown, and therefore, the song may have been played on some more dates during the Greetings From Asbury Park, N.J. Tour.
Covers
As far as it's known, no artist has recorded and released Bruce Springsteen's PHANTOMS.
Request
If you any corrections, additions, or comments, please contact me via the below form or by email: . You will be credited. Thanks in advance.
Available Versions
List of available versions of PHANTOMS on this website:
PHANTOMS [Studio version]
PHANTOMS [Early draft]
PHANTOMS [Live 13 Jun 1973 version]
---
Page last updated: 13 Oct 2013