PHANTOMS
Live 13 Jun 1973 version
---
Well Billy ??? in high boots, breaks drink and wades in the river
Holds his gun above the water, calls softly to the shore
Now the Christian army awaits you, and Bobby's still waiting to date you
Those phantoms fly in strict formation over the hills of Saint Croix
The rebel life is lonely, but those mountains are soft with freedom
To be free is to be lonely, oh yeah, lonely lonely lonely lonely

Alright, oh yeah

Now Billy ??? a stony highway, the heat of the sun brings ??? down
His field are full of crazy visions of those wives and their evening gowns
??? in the hills
???
???
And he cries ??? (oh-oh-oh, oh-oh-oh, oh-oh-oh, oh-oh-oh, oh-oh-ohhh oh)
??? (oh-oh-oh, oh-oh-oh, oh-oh-oh, oh-oh-oh, oh-oh-ohhh oh)
??? rocks (oh-oh-oh, oh-oh-oh, oh-oh-oh, oh-oh-oh, oh-oh-ohhh oh)
(Oh-oh-oh, oh-oh-oh, oh-oh-oh, oh-oh-oh, oh-oh-ohhh oh)
Oh yeah yeah yeah yeah (Oh-oh-oh, oh-oh-oh, oh-oh-oh, oh-oh-oh, oh-oh-oh, oh-oh-oh, oh-oh-ohhh oh)

???
??? to the shore
Now the Christian army awaits you, and Bobby is still waiting to date you
Those phantoms fly in strict formation over the hills of Saint Croix

(Oh-oh-oh, oh-oh-oh, oh-oh-oh, oh-oh-oh, oh-oh-ohhh oh)
(Oh-oh-oh, oh-oh-oh, oh-oh-oh...)
Those phantoms fly in strict formation over the hills of Saint George
Those phantom jets fly in strict formation of the hills of Saint George
(Oh-oh-oh, oh-oh-oh, oh-oh-oh...)
---
Info
The above lyrics are for the live 13 Jun 1973 performance of PHANTOMS at Broome County Veterans Memorial Arena in Binghamton, NY, during what is considered the Greetings From Asbury Park, N.J. Tour. This is the only known live performance of PHANTOMS.
This was a double-bill show, with Bruce Springsteen and The E Street Band opening for headliners Chicago. This was Springsteen's eleventh of thirteen consecutive shows opening for Chicago. A poor quality audience recording of this performance is in circulation among collectors.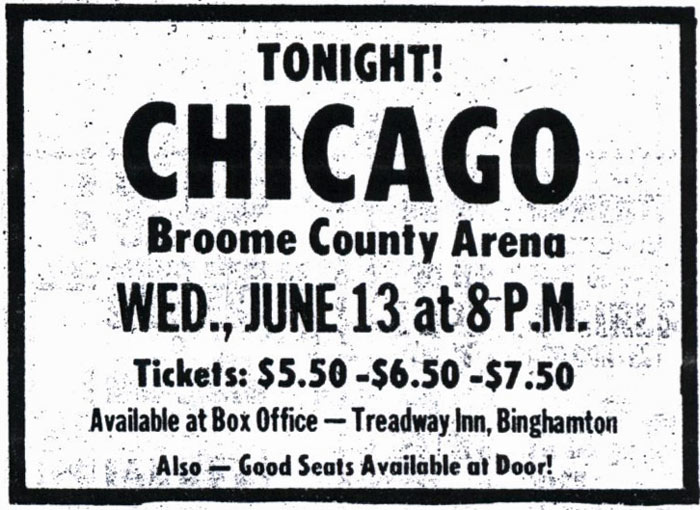 Promotional ad for the 13 Jun 1973 show at Broome County Veterans Memorial Arena, Binghamton, NY
(
Taken from Brucebase
)
Request
If you have any additional information about this performance, or any corrections to the above lyrics, please contact me via the below form or by email: . You will be credited. Thanks in advance.
Available Versions
List of available versions of PHANTOMS on this website:
PHANTOMS [Studio version]
PHANTOMS [Early draft]
PHANTOMS [Live 13 Jun 1973 version]
---
Page last updated: 08 Apr 2016