PLAY IT AS IT LAYS
Patti Scialfa's album version
---
Sad song on the radio
Echoes down this empty road, here tonight
With lost memory and a lonely rhyme
Of windshield wipers slapping time, you know the one
It woke up something that was sleeping below my skin
I wanted to tell you so much, but where do I start, where do I begin
Do I start with how I lost my kindness and how I found it once again
And I'm gonna play it as it lays
Play it as it lays
Ooh, ooh

Every perfect picture has a mess or two
Sometimes it's me, sometimes it's you, but that's alright
You surrender, you confess, you make a mess, you get undressed and call it a night
But I remember the first time that I lay down inside your arms
How I kisses your tired mouth, so full of grace, so empty of harm
How I knew the road ahead would unravel itself, cursed and charmed
And I would just play it as it lays
Play it as it lays
Play it as it lays

Say a prayer for the brokenhearted
Get back up and get it started again
Say a prayer for the brokenhearted
Say a prayer for love

Years go by, you add them up
Some days are holy, some days are rough, but that's alright
It's a used up line, you know it's true, I never loved anyone the way that I love you
Yesterday I walked down the streets we walked when were young
Trying to pull a thread between who we once were and who we've become
And if we lost a little along the way, that's all right, what's done is done
And I'm just gonna play it as it lays
Oh, play it as it lays
I'm just gonna play it as it lays
Oh, play it as it lays
Alright
Play it as it lays
I'm gonna
Play it as it lays
Alright
(Ooh)
(Ooh)
(Ooh)
---
Info
PLAY IT AS IT LAYS is a song written by Patti Scialfa and released on her 2007 album Play It As It Lays. The above lyrics are for Patti Scialfa's album version of PLAY IT AS IT LAYS as released in 2007.
Bruce Springsteen contributed to the studio recording of PLAY IT AS IT LAYS, playing Hammond B3 organ and electric guitar.
Patti Scialfa's notes about the song:
I was always a big Joan Didion fan and "Play It As It Lays" – her second novel – always seemed like such a great title to me. The people in the book were so broken, which is an interesting place to start. At the end of the day, that's what you do. You can't choose all your cards, you can't choose all the circumstances you find yourself in, but it comes down in the end to how strong your heart and resilience and understanding is. That's just what I was trying to write about.
Play It As It Lays
Play It As It Lays is a studio album by Patti Scialfa released on 04 Sep 2007 on Columbia Records. Produced by Steve Jordan, Patti Scialfa, Ron Aniello, this was Scialfa's third studio album. It features Bruce Springsteen on five tracks: LOOKING FOR ELVIS, TOWN CALLED HEARTBREAK, PLAY AROUND, RAINY DAY MAN, and PLAY IT AS IT LAYS. Springsteen is also credited for some photography on the album's artwork.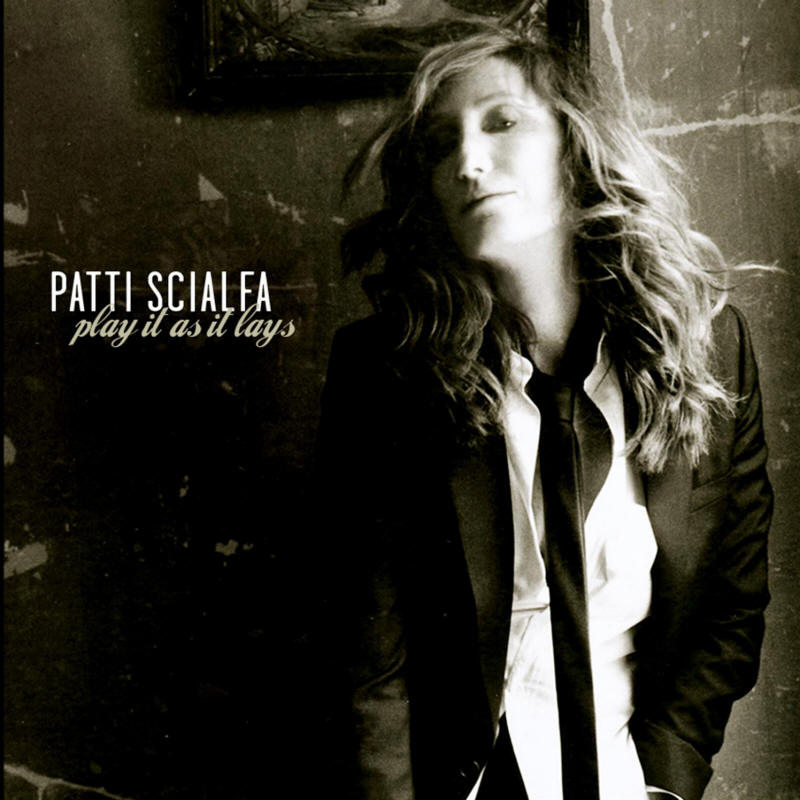 Patti Scialfa -- Play It As It Lays

LP - Columbia (88697 15356 1) - USA, 2007
CD - Columbia (88697 11293 2) - USA, 2007

LIKE ANY WOMEN WOULD
THE WORD
BAD FOR YOU
RUN, RUN, RUN
BLACK LADDER
Live History
As far as it's known, Bruce Springsteen has never performed PLAY IT AS IT LAYS live.
Credits
Thanks Jake (ol'catfishinthelake at BTX and Greasy Lake) for the help.
Available Versions
List of available versions of PLAY IT AS IT LAYS on this website:
PLAY IT AS IT LAYS [Patti Scialfa's album version]
---
Page last updated: 15 Dec 2015