RAINY DAY MAN
Patti Scialfa's album version
---
(He's my rainy day man, child, rainy day man)

You can turn off that big light
Oh, you've got it
Gonna wrap you up like a satin valentine
Put you in my pocket
When I was sad and sorry
I lay my prayers down at his gate
Some have tried before to save me
They were just to late
Here it comes
Hey, my rainy day man
Here it comes
My rainy day man (ah ah ah ah ah ah)

All my troubles, all just drippin' away
I was drownin' in the shadows
Freezing in the burning light
I drank his holy water
And it fixed me up just right
Here it comes (here it comes)
Hey, my rainy day man (ah ah ah ah ah ah)
Here it comes (here it comes)
Hey, my rainy day man (ah ah ah ah ah ah)

(Kisses, sweeter than honey)
(Kisses, on my tongue)
(I try to pour the sugar on me) My rainy day man, my rainy day man
(Sugar, sugar, sugar, baby, bang bang, touch) My rainy day man, my rainy day

I got a love so sweet,
Got an awesome touch
Sometimes you pay the price
For wanting something so much
But that's alright,
Oh, 'cause you have it
Something to believe in
Built in faith and concrete trust
Seven days and seven nights, it tightens me right up
Here it comes (here it comes)
Hey, my rainy day man (ah ah ah ah ah ah)
Here it comes (here it comes)
Ooh, my rainy day man (ah ah ah ah ah ah) (Rainy day man)
Here it comes (kisses, sweeter than honey)
My rainy day man
(Kisses, on my tongue)
Here it comes
(That's right, pour the sugar on me)
My rainy day man
(Sugar, sugar, sugar, baby, bang bang, touch)
Here it comes
(Sugar, sugar, sugar, baby, bang bang, touch)
Here it comes
(Sugar, sugar, sugar, baby)
Rainy day man
(Sugar, sugar, sugar, baby)
Rainy day man
(Sugar, sugar, sugar, baby)
My rainy day man
(Sugar, sugar, sugar, baby)
Hey, my rainy day man
(Sugar, sugar, sugar, baby)
My rainy day man
(Sugar, sugar, sugar, baby)
---
Info
RAINY DAY MAN is a song written by Patti Scialfa and released on her 2007 album Play It As It Lays. The above lyrics are for Patti Scialfa's album version of RAINY DAY MAN as released in 2007.
Bruce Springsteen contributed to the studio recording of RAINY DAY MAN, playing electric guitar.
Patti Scialfa's notes about the song:
Dylan had "Rainy Day Woman," didn't he? Later I remembered James Taylor had a song called "Rainy Day Man" that Bonnie Raitt also recorded. What happened is that we went in to record this very serious song and I had all the musicians at the house and the song was just boring me to death. So right in the middle of recording that song, I said, "I wrote this other song in the shower this morning and I hear this really fun beat behind it. Let's give that a try." So we just derailed ourselves and put down this track instead. This song also gave me a chance to be light and have some fun and experiment with some of those out harmonies like Prince does.
Play It As It Lays
Play It As It Lays is a studio album by Patti Scialfa released on 04 Sep 2007 on Columbia Records. Produced by Steve Jordan, Patti Scialfa, Ron Aniello, this was Scialfa's third studio album. It features Bruce Springsteen on five tracks: LOOKING FOR ELVIS, TOWN CALLED HEARTBREAK, PLAY AROUND, RAINY DAY MAN, and PLAY IT AS IT LAYS. Springsteen is also credited for some photography on the album's artwork.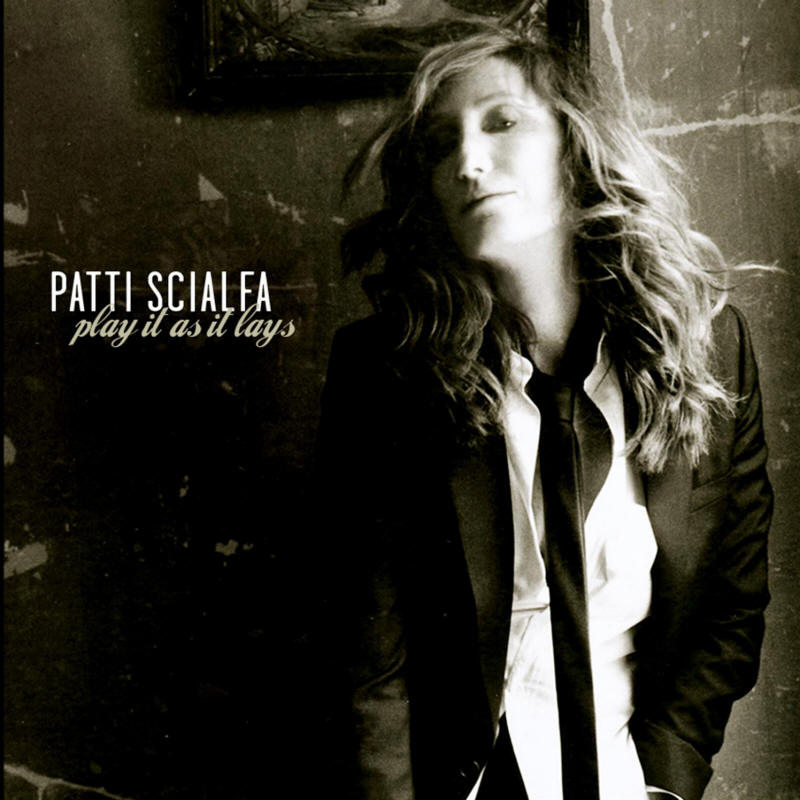 Patti Scialfa -- Play It As It Lays

LP - Columbia (88697 15356 1) - USA, 2007
CD - Columbia (88697 11293 2) - USA, 2007

LIKE ANY WOMEN WOULD
THE WORD
BAD FOR YOU
RUN, RUN, RUN
BLACK LADDER
Live History
As far as it's known, Bruce Springsteen has never performed RAINY DAY MAN live.
Credits
Thanks Jake (ol'catfishinthelake at BTX and Greasy Lake) for the help.
Available Versions
List of available versions of RAINY DAY MAN on this website:
RAINY DAY MAN [Patti Scialfa's album version]
---
Page last updated: 15 Dec 2015