RAMROD
Live 25 Jun 2006 version
---
Ooooh I feel good
Yes yes I feel like dancing
Do you have your dancing shoes on?
We'll start with the singing shoes
Then we'll move to the dancing shoes

La-la-la
La-la-la
La la-la-la-la-la-la-la
La-la-la
La-la-la
La la-la-la-la-la-la-la
La-la-la
La-la-la
Say it!
La la-la-la-la-la-la-la
La-la-la
La-la-la
All right!
A little louder now!
La-la-la
Your turn!
You sound good!
We've got to encourage the band!
I think they're ready!
One two, one two tree four

Well hey little dolly with the blue jeans on
I wanna roll with you all night long
Let your hair down mama, pick up this beat
Meet me tonight down on Bluebird Street

I'm working all week I'm up to my neck in hock
Saturday night I let the ramrod rock
Creek's rising and the moon is high
Hey little girl go ramroddin' tonight

(La-la-la...)

I got a hot-steppin' hemi with a four on the floor
Roadrunner engine in a '32 Ford
Late at night when I'm dead on the line
Your pretty face when I let her unwind

Look over yonder see the Jersey lights
Come on girl we'll go ramroddin' tonight
Three days running high from the farm
I wanna roll with you baby in my

(La-la-la...)

Let's go!
Well come on come on come on pretty baby
Come on come on let's shake it tonight
Come on come on come on pretty sugar
Dance with your daddy and we'll go ramroddin' tonight
Bring it on now!

[Instrumental part]

Come on now a little louder!
Young children, don't be frightened, don't be frightened
One, two...
[Trumpet solo]
Weeeoh!

Hey little dolly won't you say you will
Meet me tonight up on top of the hill
Just few miles 'cross the country line
There's a sweet little chapel nestled down in the pines
Deep in my pocket got a diamond ring
Come on I'm gonna let the bluebird sing
Say you'll be mine I'll put my foot to the floor
We'll go ramroddin' forever more

(La-la-la...)
---
Info
The above lyrics are for the live 25 Jun 2006 performance of RAMROD at PNC Bank Arts Center in Holmdel, NJ, during The Seeger Sessions Tour.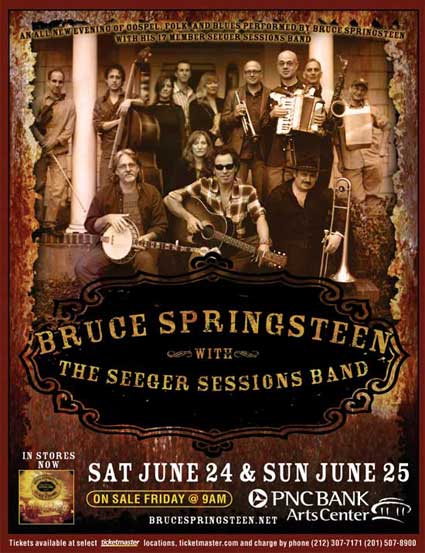 Promotional poster for the 24-25 Jun 2006 shows at PNC Bank Arts Center, Holmdel, NJ
Credits
Thanks Timmy Peterson (Terry at Greasy Lake) for this version's lyrics.
Request
Some of the above lyrics may not be correct; the line "Three days running high from the farm" is a best guess. If you have any corrections, please contact me via the below form or by email: . You will be credited. Thanks in advance.
Available Versions
List of available versions of RAMROD on this website:
RAMROD [Album version]
RAMROD [Outtake version 1]
RAMROD [Outtake version 2]
RAMROD [Outtake version 3]
RAMROD [Outtake version 4]
RAMROD [Live 05 Nov 1980 version]
RAMROD [Live 25 Jun 2006 version]
---
Page last updated: 19 Oct 2015