RUN, SHAKER LIFE
Original Richie Havens version
---
Run, Shaker life, shake life eternal
Shake it out of me, all that is carnal
I'll be your Moses, I'll be your David
I'll show Michael twice, how he behaved
Oh yeah, oh yeah, oh yeah, oh yeah

Run, Shaker life, shake life eternal
Shake it out of me, all that is carnal
I'll be your Moses, I'll be your David
I'll show Michael twice, how he behaved
Oh yeah, oh yeah, oh yeah, oh yeah, oh yeah

Run, Shaker life, shake life eternal
Shake it out of me, all that is carnal
I'll be your Moses, I'll be your David
I'll show Michael twice, how, how he behaved
Oh, yeah, oh, yeah, oh, yeah, oh, yeah

Run, Shaker life, ooh yeah
Shaker life, run now
Shaker life, run now
Shaker life, run now
Shaker life, yeah, run now
Run, Shaker life, shake eternal
Shake it out of me, all that is carnal
I'll be your Moses and I'll be your David
I'll show Michael twice, how he behaved
Hmm, hmm, hmm, ohhh
Yeah-yeah, oh yeah, yeah, hmm

Shake life
Shake life
Shake it out of me
Shake it out of me, all that is carnal
Hmm, all that is carnal
I'll be your Moses, yeah, I'll be your David, yeah
I'll show Michael twice, yeah, how he behaved
How he behaved, behaved, behaved
Hmm-hmm-hmm
Hmm-hmm-hmm
Hmm-hmm-hmm
Hmm, oh yeah, oh
Oh whoa, oh whoa-woo
Oh whoa, oh whoa-woo
Oh whoa, hmm
---
Info
RUN, SHAKER LIFE is a song arranged and adapted by Richie Havens, based on an old Shaker song probably from around 1700. Richie Havens released it on his 1968 album Something Else Again. The above lyrics are for the original Richie Havens version of RUN, SHAKER LIFE as released in 1968.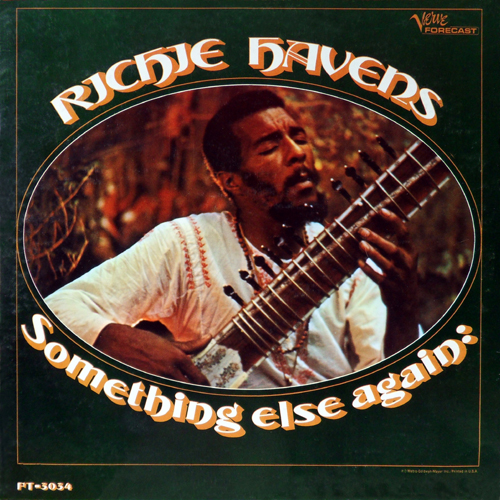 Richie Havens -- Something Else Again

LP - Verve Forecast (FT 3034) - USA, 1968

Bruce Springsteen's Version
Bruce Springsteen performed RUN SHAKER LIFE live with Steel mill in 1969-1971. See the live 18 Jan 1971 version for more details.
Credits
Thanks Bill Flan for the corrections.
Available Versions
List of available versions of RUN, SHAKER LIFE on this website:
RUN, SHAKER LIFE [Live 18 Jan 1971 version]
RUN, SHAKER LIFE [Original Richie Havens version]
---
Page last updated: 26 Jan 2017