SEA OF HEARTBREAK
Original Don Gibson version
---
Mm, mmm
The lights in the harbor
Don't shine for me
I'm like a lost ship
Adrift on the sea

Sea of heartbreak, lost love and loneliness
Memories of your caress, so divine
I wish you were mine again, my dear
I am on the sea of tears
Sea of heartbreak
(Sea of heartbreak)
(Heartbreak)

How did I lose you?
Oh, where did I fail?
Why did you leave me
Always to sail

This sea of heartbreak, lost love and loneliness
Memories of your caress, so divine
How I wish you were mine again, my dear
I am on the sea of tears
Sea of heartbreak
(Sea of heartbreak, ah)

Oh, what I'd give to sail back to shore
Back to your arms once more

Oh, come to my rescue
Come here to me
Take me and keep me
Away from the sea

Yes, this sea of heartbreak, lost love and loneliness
Memories of your caress, so divine
How I wish you were mine again, my dear
I'm on the sea of tears
Sea of heartbreak
(Sea of heartbreak, ah)
It's a sea of heartbreak
(Sea of heartbreak, ah)
Mm
---
Info
SEA OF HEARTBREAK is a song written by Paul Hampton and Hal David. It was first recorded by Don Gibson who released it as a single in May 1961. The above lyrics are for the original Don Gibson version of SEA OF HEARTBREAK as released in 1961.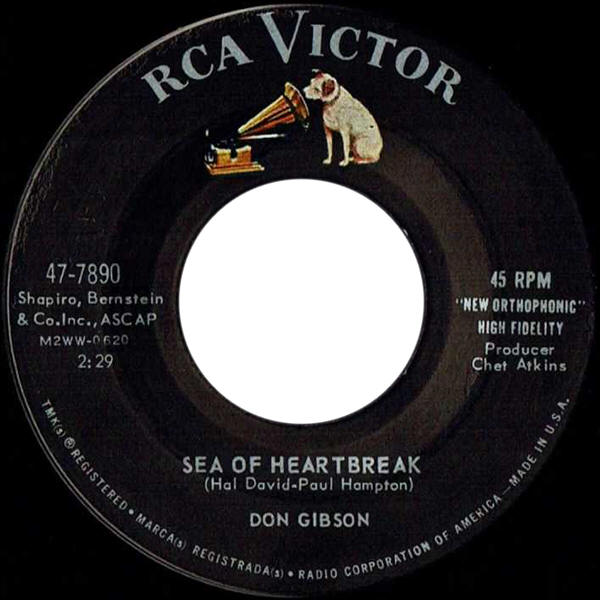 Don Gibson -- "Sea Of Heartbreak / I Think It's Best (To Forget Me)"

7" single - RCA Victor (47-7890) - USA, 1961

Bruce Springsteen's Version
Rosanne Cash recorded SEA OF HEARTBREAK as a duet with Bruce Springsteen in 2009. See Rosanne Cash's album version for more details.
Credits
Thanks Jake (ol'catfishinthelake at BTX and Greasy Lake) for the lyrics help.
Available Versions
List of available versions of SEA OF HEARTBREAK on this website:
SEA OF HEARTBREAK [Rosanne Cash's album version]
SEA OF HEARTBREAK [Original Don Gibson version]
---
Page last updated: 09 Apr 2017