SEARCHING FOR MY SOUL
Joe Grushecky's album version
---
The hawks in the sky are screaming, the sand is dripping blood
In the twilight's last gleaming, feel like Noah before the flood
And why did this has to happen, don't see any end in sight
I hold on to my family, pray everything's gonna be alright

It's like a long and lonely highway, all dark and covered with snow
And my tank is damn near empty, I got a thousand miles to go
And I'm dancing with the devil in the fire down below
And I'm praying for the morning and I'm searching for my soul
And I'm searching for my soul, well I'm searching for my soul
Hey!

Why can't I find an answer, why can't I cut these ropes
Well I was waiting for someone to tell me that there's still reason to hope
And I felt that bad wind blowing all the shit in from the sea
Please god release me, why can't you let me be

It's like a long an lonely highway, all dark and covered with snow
And my tank is damn near empty, I got a thousand miles to go
And I'm dancing with the devil in the fires down below
And I'm praying for the morning and I'm searching for my soul
I'm searching for my soul, well I'm searching for my
Hoo! Whoa!

The sky was full of lightning, there was a mighty thunder crack
I began to see things clearly, the world was lifted off my back
The Buddhist and the Muslim, the Christian and the Jew
And we all must live as brothers, well there ain't no chosen few
Whoa!

It's like a long an lonely highway, all dark and covered with snow
And my tank is damn near empty, I got a thousand miles to go
And I'm dancing with the devil in the fires down below
And I'm praying for the morning and I'm searching for my soul
Well I'm searching for my soul
Well I'm searching for my soul
Whoa! Well I'm searching for my soul
Yeah, I'm searching for my soul
Well I'm searching for my soul
Yeah, well I'm searching for my soul
---
Info
SEARCHING FOR MY SOUL is a song written by Joe Grushecky and released on his 2006 album A Good Life. Bruce Springsteen participated in the recording of this track, playing guitar with Grushecky.
The above lyrics are for Joe Grushecky's album version of SEARCHING FOR MY SOUL as released in 2006.
A Good Life
A Good Life is a studio album by Joe Grushecky released on 15 Aug 2006 on Schoolhouse Records. It features Bruce Springsteen on four tracks. He shares vocals and plays guitar with Grushecky on CODE OF SILENCE, IS SHE THE ONE, and A GOOD LIFE, and only plays guitar on SEARCHING FOR MY SOUL. The primary recording sessions for the album took place at studios in West Virginia. However Springsteen, with Toby Scott engineering, worked only from his New Jersey home studio and overdubbed onto Gruschecky's already completed basic tracks.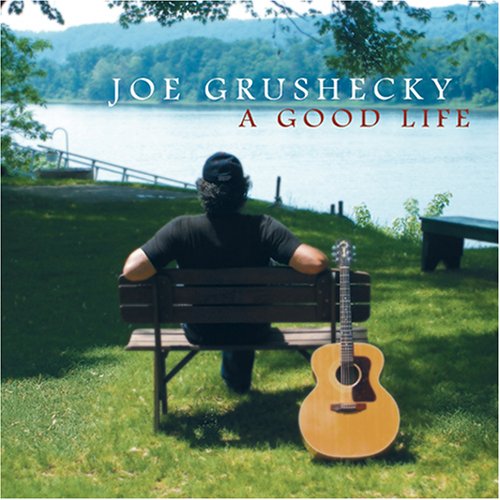 Joe Grushecky -- A Good Life
DON'T FORGET WHERE YOU'RE COMING FROM
BEAUTY FADES
NOTHING WITHOUT YOU
TOO HOT TO THINK
THE OTHER SHOE
PARTY TONIGHT
FATHER AND SON
SAFE AT HOME
LAKE PONTCHARTRAIN [bonus track]
Live History
As far as it's known, Bruce Springsteen has never performed SEARCHING FOR MY SOUL live.
Available Versions
List of available versions of SEARCHING FOR MY SOUL on this website:
SEARCHING FOR MY SOUL [Joe Grushecky's album version]
---
Page last updated: 19 Aug 2015