SHE'S LEAVING
Live 03 Dec 1971 version
---
COMING SOON
---
Info
The above lyrics are for the live 03 Dec 1971 performance of SHE'S LEAVING at Student Prince in Asbury Park, NJ, with The Bruce Springsteen Band.
This version of SHE'S LEAVING can be found on a 4-song audience recording from a late 1971 or early 1972 Bruce Springsteen Band gig. According to Brucebase, the recording probably dates from the December 1971 period, and probably the venue was The Student Prince. Precise details cannot be determined, but Brucebase lists the 4-songs partial setlist under its 03 Dec 1971 entry.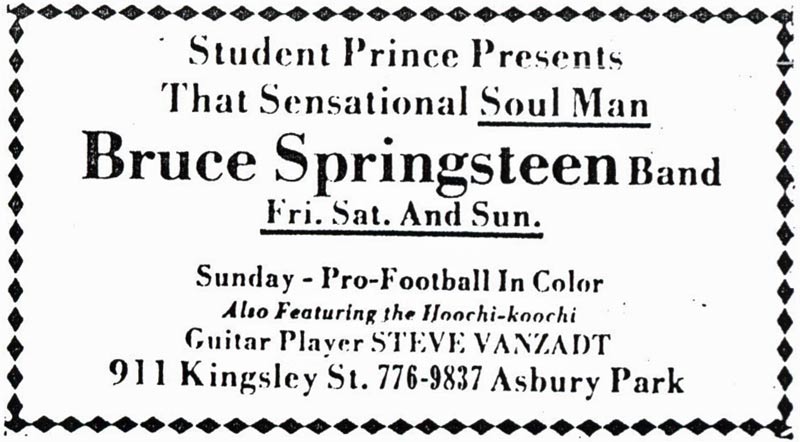 Promotional ad for the 003, 04, and 05 Dec 1971 shows at Student Prince, Asbury Park, NJ
(
Taken from Brucebase
)
Request
If you can help transcribe the rest of the above lyrics, or if you have any additions, comments, or corrections to this page, please contact me via the below form or by email: . You will be credited. Thanks in advance.
Available Versions
List of available versions of SHE'S LEAVING on this website:
SHE'S LEAVING [Studio version take #1]
SHE'S LEAVING [Studio version take #2]
SHE'S LEAVING [Live 03 Dec 1971 version]
---
Page last updated: 24 Oct 2017