SLOW FADE
Band rehearsal
---
[Lyrics unintelligible]
---
Info
SLOW FADE is an unreleased Bruce Springsteen song known from a 1980 band rehearsal.
Studio Recording
Bruce Springsteen rehearsed SLOW FADE with the band on 05 Feb 1980 at his Telegraph Hill Road property in Holmdel, NJ, nicknamed "Telegraph Hill Studios". This wasn't a true studio; it was a converted barn that Springsteen and the band used to practice songs around the time The River was being cut in studio. Working out arrangements cuts down pricey hours at The Power Station where the album was recorded.
A significant amount of The River sessions audio that has surfaced unofficially comes from these Telegraph Hill sessions. Unfortunately the audio quality leaves much to be desired. It sounds as if a single boom recording mike was used and Springsteen's vocals are buried under the instruments on virtually all these recordings.
Several takes of SLOW FADE from the 05 Feb 1980 band rehearsals are in circulation – a lengthy session of run-throughs with various instrumental breaks, count-ins, and vocal direction from Springsteen. Unfortunately, the audio recording is very rough and the vocals are very distant and buried. This makes the lyrics very unintelligible, offering no clue about the song's subject – "Slow Fade" is merely the title on the tape-card.
SLOW FADE doesn't appear on Sony's database of Bruce Springsteen recording sessions, which means that it didn't make it to The Power Station. However, it could very well be the uncirculated I WILL BE THE ONE which was recorded in the studio just eleven days after these rehearsals. In his 2012 book E Street Shuffle: The Glory Days of Bruce Springsteen & the E Street Band, Clinton Heylin wrote: "Given the six known attempts made at this song on February 5, each an E Street tour de forceful, it would be somewhat surprising if the song went unrecorded at Power Station. (Actually, they spent most of January 31 and February 1 working on an untitled song. But if I had to put my money on a likely contender, it would be 'I Will Be The One', one of three songs recorded on February 16.)"
Bootleg Releases
These band rehearsal takes of SLOW FADE can be found on The Lost Masters Vol. 15 (Labour Of Love) [tracks 05-10] bootleg, spread over six tracks.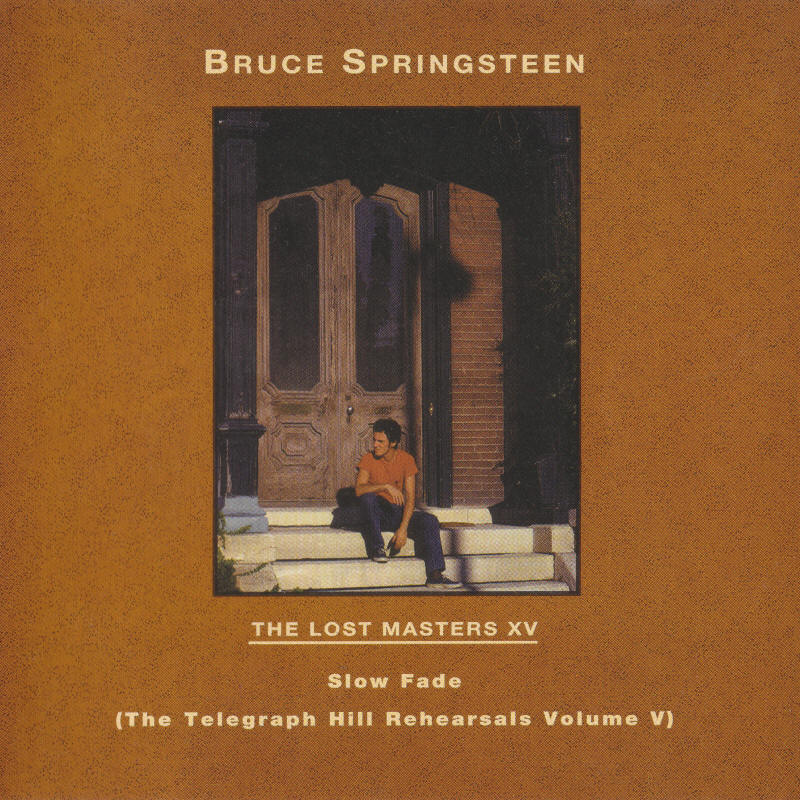 Bruce Springsteen -- The Lost Masters Vol. 15 (Labour Of Love)
Live History
As far as it's known, Bruce Springsteen has never performed SLOW FADE live.
Covers
As far as it's known, no artist has recorded and released Bruce Springsteen's SLOW FADE.
Request
The audio recording of the Telegraph Hill band rehearsal takes of SLOW FADE is very rough and the vocals are very distant and buried, which makes the lyrics very unintelligible. If you can help in transcribing the lyrics in these takes, or if you have any corrections, additions, or comments, please contact me via the below form or by email: . You will be credited. Thanks in advance.
Available Versions
List of available versions of SLOW FADE on this website:
SLOW FADE [Band rehearsal]
---
Page last updated: 19 Feb 2015