SOMETHING IN THE NIGHT
Live 01 Aug 1976 version
---
[Spoken intro:] Here's a new song, be on our... new album, I guess, when it comes out...

Well I'm riding down Kingsley figuring I'll get a drink
I turn the radio way up loud so I don't have to think
And I ease down on the gas looking for a moment when the world seems right
And I go tearing into the heart of something in the night

And I picked this chick up hitch-hiking, she just hung her head out the window and she screamed
Said she was looking for someplace to go, to die or be redeemed
So you can ride this road to dawn, without another human being in sight
Cause baby everybody's gone looking for something in the night

And me I gotta stop penance, I gotta stop my fooling around
Well I got this stuff running around my head, I can't live with or live down
She wants me to push this machine until the whole world disappears out of sight
And just me and you baby, surrender to the cannons of something in the night

Well now tonight no sins are forgiven, no sins are forgiven
And when I look out at the street sometimes I can't tell the day from the night
And now it's just winners and losers, mumbling about some vague wrong and right
And kids like us, rumbling over something in the night

And now you people out on the island, you lock your doors and take your children by the hand
Put on your black dress baby, because tonight the devil will walk these streets like a man
I don't know about you, but I'm gonna, I'm gonna bring along my switchblade, in case that fool wants to fight
If he wants me I'll be running down the highway, chasing something in the night
Woahhh there's something in the night
Woahhh there's something in the night
---
Info
The above lyrics are for the live 01 Aug 1976 performance of SOMETHING IN THE NIGHT at Monmouth Arts Center in Red Bank, NJ, during what is known as The Lawsuit Tour. This was the world premiere of SOMETHING IN THE NIGHT. This version's lyrics are very different from those of the album version. They were used between 01 Aug 1976 and 25 Oct 1976, notably on 01 Aug 1976 in Red Bank, NJ, 21 Aug 1976 in Waterbury, CT, 22 Aug 1976 in Springfield, MA (see the live 22 Aug 1976 version which varies a little bit), 10 Oct 1976 in Oxford, OH, 12 Oct 1976 in New Brunswick, NJ, and except on 09 Oct 1976 in South Bend, IN (see the live 09 Oct 1976 version).
This was the first of a six-night stand at Monmouth Arts Center.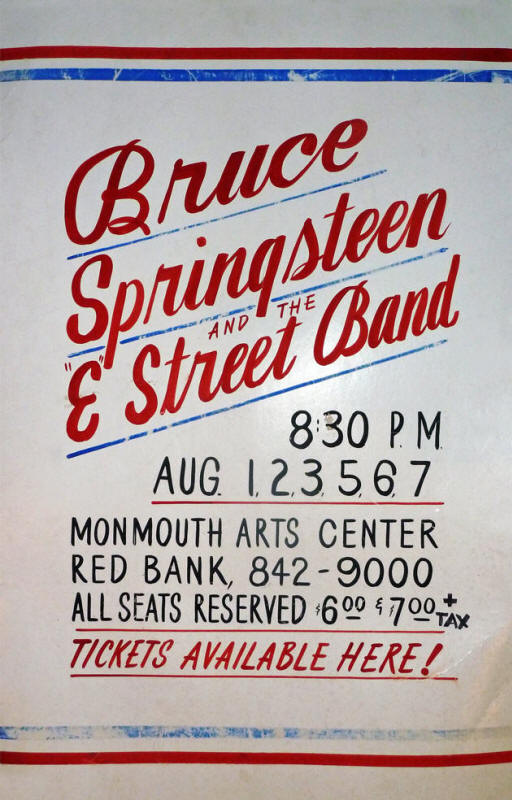 Promotional poster for the August 1976 six-night stand at Monmouth Arts Center, Red Bank, NJ
(
Taken from Brucebase
)
Promotional ad for the August 1976 six-night stand at Monmouth Arts Center, Red Bank, NJ
(
Taken from Brucebase
)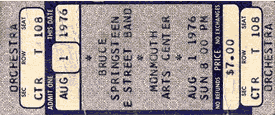 Ticket stub for the 01 Aug 1976 show at Monmouth Arts Center, Red Bank, NJ
Despite the marvelous reception received by both Born To Run and the tour which followed, the relationship between Bruce Springsteen and his now former manager and producer Mike Appel was deteriorating. In July 1976 the storm broke; Mike Appel wrote to Springsteen saying that he would not allow Jon Landau (Springsteen's friend and co-producer of Born To Run) to produce the next album, citing a particular paragraph from their original agreement. Springsteen replied on 27 Jul 1976 by firing manager Mike Appel and suing him and his management company Laurel Canyon Ltd. in Federal Court in Manhattan, claiming fraud, breach of trust, and undue influence. Appel counter-sued on 29 Jul 1976 in New York State Supreme Court, asking the court to prohibit Springsteen and Jon Landau from working together in studio. Bruce Springsteen & The E Street Band were slated to enter the studio that year for the recording of a new album, except that on 15 Sep 1976 the judge in the lawsuits case ruled that Springsteen was enjoined from any further recording with Columbia Records until Appel's suit was resolved. This would drag for about a year. Meanwhile, Springsteen continued gigging, and in the process broke his self-imposed rule of not playing the larger arenas. This was basically because he was not able to put a record out, and it was the only way his fans would be able to hear him at all. The tour became known as "The Lawsuit Tour" (62 know dates, August 1976 to March 1977).
Credits
Thanks Jake (ol'catfishinthelake at BTX and Greasy Lake) for the lyrics help.
Available Versions
List of available versions of SOMETHING IN THE NIGHT on this website:
SOMETHING IN THE NIGHT [Album version]
SOMETHING IN THE NIGHT [Early outtake]
SOMETHING IN THE NIGHT [Live 01 Aug 1976 version]
SOMETHING IN THE NIGHT [Live 22 Aug 1976 version]
SOMETHING IN THE NIGHT [Live 09 Oct 1976 version]
SOMETHING IN THE NIGHT [Live 27 Oct 1976 version]
SOMETHING IN THE NIGHT [Live 28 Oct 1976 version]
SOMETHING IN THE NIGHT [Live 30 Oct 1976 version]
SOMETHING IN THE NIGHT [Live 04 Nov 1976 version]
SOMETHING IN THE NIGHT [Live 07 Feb 1977 version]
SOMETHING IN THE NIGHT [Live 08 Feb 1977 version]
SOMETHING IN THE NIGHT [Live 13 Feb 1977 version]
SOMETHING IN THE NIGHT [Live 14 Mar 1977 version]
SOMETHING IN THE NIGHT [Live 19 May 1978 version]
SOMETHING IN THE NIGHT [Live 31 May 1978 version]
SOMETHING IN THE NIGHT [Live 18 Oct 2002 version]
SOMETHING IN THE NIGHT [Live 07 Oct 2005 version]
SOMETHING IN THE NIGHT [Aram's cover version]
SOMETHING IN THE NIGHT [Matthew Ryan's cover version]
---
Page last updated: 18 Jan 2016