SPIRIT IN THE NIGHT
Live 06 Jan 1974 version
---
Oh oh oh oh oh oh
Oh, ooh, ah ah ah, oh oh oh, da da da da da da
(Oh oh oh)
Oh, ah da da (Oh oh oh, da da da)
Oh oh oh, da da da (Oh oh oh, da da da)

One, two, three, four!

Oooh, Crazy Janey and her mission man were back in the alley tradin' hands
When along came Wild Billy with his friend G-Man, all duded up for Saturday night
Well, Billy slammed on his coaster brakes
Said, "Anybody wanna go on up to Greasy Lake?
It's about a mile down on the dark side of route eighty-eight
I got a bottle of rose, let's try it
We'll pick up Hazy Davy and Killer Joe, and I'll take you all out to where the gypsy angels go
They're built like light
Ooh, and they dance like spirits in the night" (all night)
In the night (all night)
Oh, baby don't know what she doing to you
She's like a spirit in the night (all night)
Oh, in the night (all night)
Stand right up now and let it shoot through you
All right

Well now this Wild Billy, he was a crazy cat and he shook some dust out of his coonskin cap
Cried, "Trust some of this, it'll show you where you're at, at least it'll help you really feel it"
By the time we made it up to Greasy Lake I had my head out the window; Janey's fingers were in the cake
I think I really dug her; I was too loose to fake
Said, "I'm hurt," she said, "Honey, let me heal it"
We danced all night to a soul fairy band
She kissed me just right like only a lonely angel can
Felt so nice, just as soft as a spirit in the night (all night)
In the night (all night)
Baby don't know what she do to you
Like a spirit in the night (all night)
In the night (all night)
Stand right up now and let it shoot through you
Oh, in the night, dibidi dibidi do

(Ooh ooh ooh ooh ooh ooh ooh ooh ooh ooh
Ooh ooh ooh ooh ooh ooh ooh ooh ooh ooh ooh)

(Ooh ooh ooh ooh ooh ooh ooh ooh ooh ooh
Ooh ooh ooh ooh ooh ooh ooh ooh ooh ooh ooh)

Well now, the night it grew bright and the stars they threw light on Billy and Davy
Dancin' in the moonlight
They were down near the water in a stone mud fight
Killer Joe passed out on the lawn

And this kid Hazy Davy, he got really hurt, he ran into the lake in just his Argyle and a shirt
Me and Crazy Janey was makin' love in the dirt, singin' our birthday songs
And then Janey said, "Hey, little brother, don't you think it's time now that we go?"
So we closed our eyes and said goodbye to gypsy angel row, felt so right
Together we moved like spirits in the night (all night)
In the night (all night)
Whoa, baby don't know what it do to you
Like a spirit in the night (all night)
All the night (all night)
Stand right up now and let it shoot through you
Like a spirit in the night (all night)
All that night (all night)
All night (all night)
All that night (all night)
All night (all night)
All that night (all night)
All ni-i-i-ight, yeah, yeah, yeah, yeah
Yeah, now, baby, that's right
Like a spirit in the night
Oh, like a spirit in the night
Yeah, like a spirit in the night
Oooh
---
Info
The above lyrics are for the live 06 Jan 1974 performance of SPIRIT IN THE NIGHT at Joe's Place in Cambridge, MA, during what is considered The Wild, The Innocent, & The E Street Shuffle Tour. The song was played in a full-band, album-style arrangement, and featured a "spooky" introduction including vocalizations by Springsteen.
Bruce Springsteen was booked for a three-night residency Joe's Place in Cambridge, MA, from 04 to 06 Jan 1974. These were double-bill shows, with Springsteen headlining and Peter Johnson & The Manic Depressives (Joe's Place's unofficial house band) opening. Each of Springsteen's shows consisted of two hour-long sets separated by an intermission. Audience recording of the complete 06 Jan 1974 show and soundboard recording of the second set of that same show are in circulation among fans.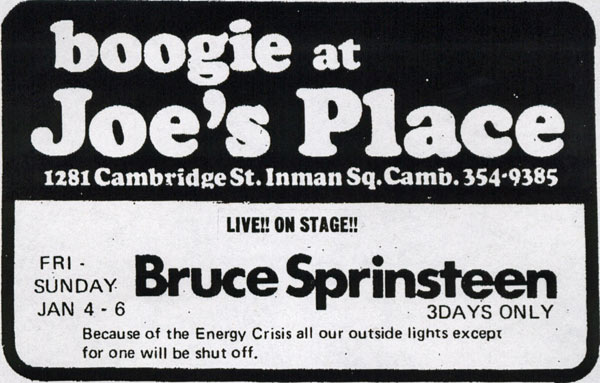 Promotional ad for the January 1974 three-night stand at Joe's Place, Cambridge, MA
(
Taken from Brucebase
)
Credits / References
Thanks Jake (ol'catfishinthelake at BTX and Greasy Lake) for the lyrics help. Info about Springsteen's three-night residency at Max's Kansas City is taken from Brucebase.
Available Versions
List of available versions of SPIRIT IN THE NIGHT on this website:
SPIRIT IN THE NIGHT [Album version]
SPIRIT IN THE NIGHT [Live 31 Jan 1973 (early show) version]
SPIRIT IN THE NIGHT [Live 02 Mar 1973 version]
SPIRIT IN THE NIGHT [Live 24 Apr 1973 (early show) version]
SPIRIT IN THE NIGHT [Live 01 May 1973 version]
SPIRIT IN THE NIGHT [Live 06 Jan 1974 version]
SPIRIT IN THE NIGHT [Live 05 Feb 1975 version]
SPIRIT IN THE NIGHT [Live 15 Aug 1975 (early show) version]
SPIRIT IN THE NIGHT [Live 18 Nov 1975 version]
SPIRIT IN THE NIGHT [Live 13 May 1976 version]
SPIRIT IN THE NIGHT [Live 13 Feb 1977 version]
SPIRIT IN THE NIGHT [Live 07 Jul 1978 version]
SPIRIT IN THE NIGHT [Live 08 Dec 1978 version]
SPIRIT IN THE NIGHT [Live 15 Dec 1978 version]
SPIRIT IN THE NIGHT [Live 31 Dec 1980 version]
SPIRIT IN THE NIGHT [Live 20 Aug 1984 version]
SPIRIT IN THE NIGHT [Live 31 Oct 1992 version]
SPIRIT IN THE NIGHT [Live 06 Nov 1992 version]
SPIRIT IN THE NIGHT [Live 21 Feb 1995 version]
SPIRIT IN THE NIGHT [Live 25 Nov 1996 version]
SPIRIT IN THE NIGHT [Live 26 Nov 1996 version]
SPIRIT IN THE NIGHT [Live 14 Nov 1999 version]
SPIRIT IN THE NIGHT [Live 08 Apr 2000 version]
SPIRIT IN THE NIGHT [Live 08 May 2000 version]
SPIRIT IN THE NIGHT [Live 16 Oct 2002 version]
SPIRIT IN THE NIGHT [Live 21 Jul 2003 version]
SPIRIT IN THE NIGHT [Live 31 Aug 2003 version]
SPIRIT IN THE NIGHT [Live 19 Dec 2004 (late show) version]
SPIRIT IN THE NIGHT [Live 22 Jun 2005 version]
SPIRIT IN THE NIGHT [Live 12 Dec 2006 version]
SPIRIT IN THE NIGHT [Live 20 Mar 2008 version]
SPIRIT IN THE NIGHT [Live 23 Aug 2008 version]
SPIRIT IN THE NIGHT [Live 16 Oct 2008 version]
SPIRIT IN THE NIGHT [Live 25 Aug 2009 version]
SPIRIT IN THE NIGHT [Live 20 Oct 2009 version]
SPIRIT IN THE NIGHT [Live 22 Nov 2009 version]
SPIRIT IN THE NIGHT [Live 26 Jan 2014 version]
SPIRIT IN THE NIGHT [Manfred Mann's Earth Band's cover version]
---
Page last updated: 01 May 2011