STAGGER LEE
Original Lloyd Price version
---
The night was clear and the moon was yellow (ooh)
And the leaves came tumbling down (ooh)

I was standing on the corner when I heard my bulldog bark
He was barking at the two men who were gambling in the dark (da da, da da)
It was Stagger Lee and Billy, two men who gambled late
Stagger Lee threw seven, Billy swore that he threw eight

Stagger Lee told Billy, "I can't let you go with that" (Go, Stagger Lee! Go, Stagger Lee! Go, Stagger Lee! Go, Stagger Lee!)
"You have won all my money and my brand new Stetson hat" (Go, Stagger Lee! Go, Stagger Lee! Go, Stagger Lee! Go, Stagger Lee!)
Stagger Lee went home and he got his forty-four (Go, Stagger Lee! Go, Stagger Lee! Go, Stagger Lee! Go, Stagger Lee!)
Said, "I'm going to the barroom just to pay that debt I owe" (Go, Stagger Lee! Go, Stagger Lee! Go, Stagger Lee!)
Go on, Stagger Lee! (da, da, da, da)
Look out, there, now! (oooh-aaah)
Come on, Stag! (oooh-aaah)
Stag's the man! (oooh-oooh-ah)
(Aaah)

Stagger Lee went to the barroom and he stood across the barroom door
Said, "Now, nobody move" and he pulled his forty-four (oooh-oooh, da, da, da, da)
"Stagger Lee", cried Billy, "Oh, please don't take my life (Go, Stagger Lee! Go, Stagger Lee! Go, Stagger Lee! Go, Stagger Lee!)
I got three little children and a very sickly wife" (Go, Stagger Lee! Go, Stagger Lee! Go, Stagger Lee! Go, Stagger Lee!)

Stagger Lee shot Billy, oh, he shot that poor boy so bad (Go, Stagger Lee! Go, Stagger Lee! Go, Stagger Lee! Go, Stagger Lee!)
Till the bullet came through Billy and it broke the bartender's glass (Go, Stagger Lee! Go, Stagger Lee! Go, Stagger Lee!)
Look out, Stag, go!
(Go, Stagger Lee! Go, Stagger Lee!) Yeah, do move that!
(Go, Stagger Lee! Go, Stagger Lee!) Get out there, Stag!
(Go, Stagger Lee! Go, Stagger Lee!) Oh, please, Stagger!
(Go, Stagger Lee! Go, Stagger Lee!) Come on now, Stag!
(Go, Stagger Lee! Go, Stagger Lee!) Yeah, do move that!
(Go, Stagger Lee! Go, Stagger Lee!) That, hey...
[fades out]
---
Info
STAGGER LEE is a traditional folk song that was first published in the early 1900's. The song was recorded by many artists, including Lloyd Price whose version was first released as a single in December 1958. His version entered the Billboard Hot 100 chart on 08 Dec 1958 and peaked at #1 on 09 Feb 1959, keeping that position for 4 consecutive weeks. The above lyrics are for the original Lloyd Price version of STAGGER LEE as released in 1958.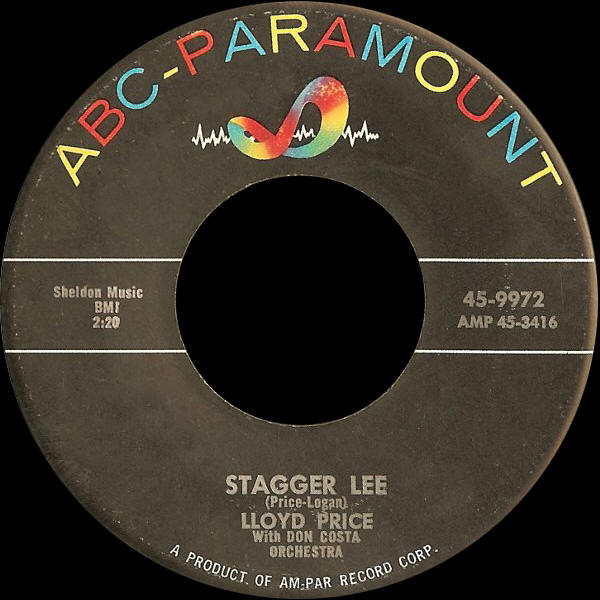 Lloyd Price -- "Stagger Lee / You Need Love"

7" single - ABC-Paramount (45-9972) - USA, 1958

Bruce Springsteen's Version
During the Born To Run Tour, Bruce Springsteen occasionally incorporated the opening lines from Lloyd Price's STAGGER LEE in the introduction of SPIRIT IN THE NIGHT. See Springsteen's live 18 Nov 1975 version and live 13 May 1976 version of SPIRIT IN THE NIGHT for more details. He also incorporated the opening lines from STAGGER LEE in the introduction of on a few occasions. See Springsteen's [SONG=rosalita_1979-09-21]live 21 Sep 1979 version, live 01 Nov 1980 version, and live 03 Oct 2003 version of ROSALITA (COME OUT TONIGHT) for more details.
Additionally, Bruce Springsteen performed STAGGER LEE with Southside Johnny and Robert Gordon on 31 Dec 1977 at Capitol Theatre in Passaic, NJ. This was a new year's eve event headlined by Southside Johnny & The Asbury Jukes and broadcast live on WNEW-FM. Bruce Springsteen & The E Street Band made an unscheduled appearance at the end of the show, joining the Jukes onstage for a five-song set, including STAGGER LEE. The song also featured Robert Gordon who was the opening act for the Jukes on that night. Springsteen did not share vocals on the song; he only played guitar on stage. Springsteen and the band then kicked into another five-song set of their own. This unscheduled portion of the show was not broadcast on radio at the request of Springsteen personally, but an audience tape of it is available. Unfortunately, STAGGER LEE is cut on the radio broadcast, and there is no know audio recording of it.
Credits
Thanks Jake (ol'catfishinthelake at BTX and Greasy Lake) for the lyrics help.
Available Versions
List of available versions of STAGGER LEE on this website:
STAGGER LEE [Original Lloyd Price version]
---
Page last updated: 06 Apr 2012