STE. GENEVIEVE
Soozie Tyrell's album version
---
Whenever will the rain end
Will I ever plow my fields again
That old river, my old friend
Rose up against me and stole my land
My daddy knew her and his father too, he said
"That river will be good to you"
Now I'm standing in a handout line for mercy
Cursing my river for taking back what she gave to me

Never will there be a price on
What's been lost aside from field and farm
Its dirty lives turned upside down
Faith in God ain't gonna save this town
Even darker days with no sleep
Laughing through the tears of someone's TV floating down the street
The Governor came with the network news
Stating how that river brought us down, down to our knees

Oh Sainte Genevieve
My Sainte Genevieve
Here I was born and raised
You are the heart and soul of me
Oh Sainte Genevieve
My Sainte Genevieve
That old gypsy river wants to take her share
I swear I'll never leave

Aaah
Aaah
Aaah
Oooo

Long ago, soft summer days
A tire roped above the river's edge
It was time to fish, time to dream
Fields of grain as far as the eye could see
Rain still falling and the river grows
It's memories lie under her muddy arroyo
I just can't turn my back and move
'Cause, oh, this is my home

Oh Sainte Genevieve
My Sainte Genevieve
Here I was born and raised
You are the heart and soul of me
Oh Sainte Genevieve
Sweet Sainte Genevieve
That old gypsy river wants to take her share
You know I'll never leave
Oh, she took her share
I'll stay right here, I ain't gonna leave
---
Info
STE. GENEVIEVE is a song written by Soozie Tyrell and released on her 2003 album White Lines. The above lyrics are for Soozie Tyrell's album version of STE. GENEVIEVE as released in 2003.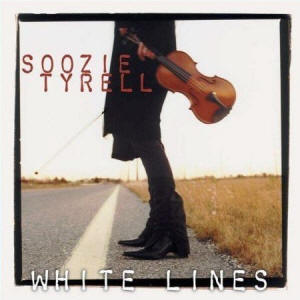 Soozie Tyrell -- White Lines

CD - Treasure Records / Valley Entertainment (VLT15167) - USA, 2003

This was E Street Band member Soozie Tyrell's debut album, released on 08 Apr 2003. Bruce Springsteen contributed to the studio recording of two songs on White Lines, WHITE LINES and STE. GENEVIEVE, playing lead guitar on the first and singing backup vocals on the second. The album was recorded at Scullville Studios in Egg Harbor Township, NJ, around May 2002. The complete line-up on this track includes Soozie Tyrell (lead and background vocal, violins, piano, acoustic guitar), Bruce Springsteen (background vocal), Patti Scialfa (background vocal), Jane Scarpantoni (cellos), Tony Garnier (acoustic bass), and Richard Crooks (percussion).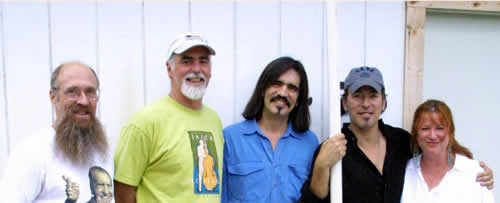 Bruce Springsteen and Soozie Tyrell (with her Studio Engineering Team) at Scullville in May 2002
Bruce Springsteen said about Soozie Tyrell and her album:
Soozie Tyrell has been one of the best kept secrets of the New York and New Jersey musicians community for a long time. This year she brought the raw beauty of her voice and violin to the E Street band. Here on 'White Lines' she gets a chance to step out and shine on her own. Check it out.
Live History
STE. GENEVIEVE was performed off-tour on 02 May 2003 at The Stone Pony in Asbury Park, NJ, during a show with Soozie Tyrell in celebration of the release of her solo album White Lines.
02 May 2003 at The Stone Pony, Asbury Park, NJ
Credits / References
Thanks Jake (ol'catfishinthelake at BTX and Greasy Lake) for the lyrics help. The above photo is taken from Brucebase.
Available Versions
List of available versions of STE. GENEVIEVE on this website:
STE. GENEVIEVE [Soozie Tyrell's album version]
---
Page last updated: 02 Feb 2016