SWEET SOUL MUSIC
Original Arthur Conley version
---
Do you like good music? (yeah, yeah)
Ah, that sweet soul music (yeah, yeah)
Just as long as it's swingin' (yeah, yeah)
Oh, yeah (yeah, yeah)
Oh, yeah (yeah, yeah)

Way out here on the floor, y'all (yeah, yeah)
Ah, going to a go-go (yeah, yeah)
Dancing with the music (yeah, yeah)
Oh, yeah (yeah, yeah)
Oh, yeah (yeah, yeah)

Spotlight on Lou Rawls, y'all (yeah, yeah)
Ah, don't he look boss, y'all? (yeah, yeah)
Singin' Love's A Hurtin' Thing, y'all (yeah, yeah)
Oh, yeah (yeah, yeah)
Oh, yeah (yeah, yeah)

Spotlight on Sam and Dave, y'all (yeah, yeah)
Ah, don't they look great y'all? (yeah, yeah)
Singin' Hold On I'm Comin' (yeah, yeah)
Oh, yeah (yeah, yeah)
Oh, yeah (yeah, yeah)

Spotlight on Wilson Pickett, now (yeah, yeah)
That wicked, wicked Pickett (yeah, yeah)
Singin' Mustang Sally (yeah, yeah)
Oh, yeah (yeah, yeah)
Oh, yeah (yeah, yeah)

Spotlight on Otis Redding, now (yeah, yeah)
Singing fa, fa, fa, fa, fa, fa, fa, fa (yeah, yeah)
Fa, fa, fa, fa, fa, fa, fa, fa (yeah, yeah)
Oh, yeah (yeah, yeah)
Oh, yeah (yeah, yeah)

Get in on this one!

Ah, you're lookin' good out there

Spotlight on James Brown, y'all (yeah, yeah)
He's the king of them all, y'all (yeah, yeah)
He's the king of them all, y'all (yeah, yeah)
Oh, yeah, oh, yeah

Do you like good music? (yeah, yeah)
That sweet soul music (yeah, yeah)
Just long as it's swingin' (yeah, yeah)
Oh, yeah (yeah, yeah)
Oh, yeah
I got to get the feel, now (yeah, yeah)
I got to get the feel, now (yeah, yeah)
Do you like good music? (yeah, yeah)
That sweet soul music (yeah, yeah)
Help me get the feeling (yeah, yeah)
I want to get the feeling (yeah, yeah)
Otis Redding got the feeling (yeah, yeah)
James Brown, he got the feeling (yeah, yeah)
Oh, I love good music
---
Info
SWEET SOUL MUSIC is a song written by Arthur Conley and Otis Redding and released by Conley on his 1967 album Sweet Soul Music. The song was also released as a single that year, with LET'S GO STEADY on the B-side. The above lyrics are for the original Arthur Conley version of SWEET SOUL MUSIC as released in 1967.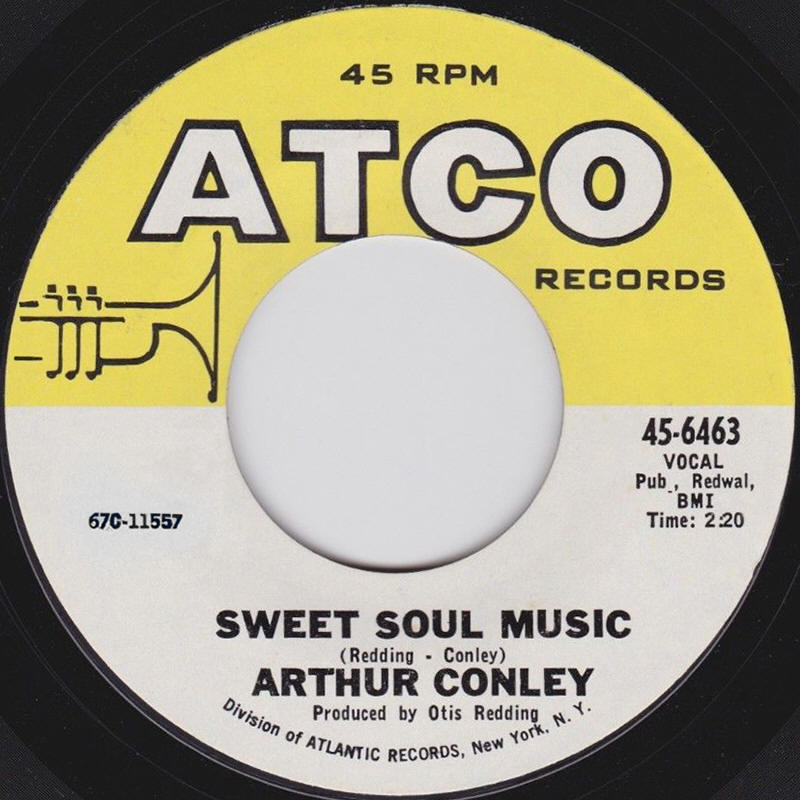 Arthur Conley -- "Sweet Soul Music / Let's Go Steady"

7" single - ATCO Records (45-6463) - USA, 1967

Bruce Springsteen's Version
Bruce Springsteen performed SWEET SOUL MUSIC in full a few times during The River Tour (see the live 19 Apr 1981 version), the Tunnel Of Love Express Tour (see the live 19 Jul 1988 version), the Working On A Dream Tour, the Wrecking Ball Tour, and off-tour. He also used a short version of SWEET SOUL MUSIC as part of DETROIT MEDLEY, ROSALITA (COME OUT TONIGHT) (see the live 20 Aug 1981 version), and TWIST AND SHOUT.
Credits
Thanks Jake (ol'catfishinthelake at BTX and Greasy Lake) for the lyrics help.
Available Versions
List of available versions of SWEET SOUL MUSIC on this website:
SWEET SOUL MUSIC [Live 19 Apr 1981 version]
SWEET SOUL MUSIC [Live 19 Jul 1988 version]
SWEET SOUL MUSIC [Original Arthur Conley version]
---
Page last updated: 03 Nov 2017