TENTH AVENUE FREEZE-OUT
Live 22 Aug 1976 version
---
[Spoken intro:] Ladies and gentlemen, boys and girls! We got with us tonight, direct from the Paradise Room in downtown Asbury Park, courtesy of Southside Johnny and the Asbury Jukes, The Miami Horns! (chuckles) Looking pretty. They're gonna help us do the Tenth.

One, two, three, four!

One, two, three!

Teardrops on the city
Bad Scooter searching for his groove, huh!
Seem like the whole world's walking pretty
You can't find the room to move
Everybody better move over, that's all
I'm running on the bad side
Got my back up to the wall, oh

(Tenth Avenue freeze-out)
Say it!
(Tenth Avenue freeze-out)

I was stranded in the jungle
Taking all the heat they were giving
Yeah, the night is dark and the sidewalk's bright
Lined with the light of the living
From a tenement window a transistor blasts
Turn around the corner things got real quiet real fast
I walked into a (Tenth Avenue freeze-out)
I'm talking 'bout a (Tenth Avenue freeze-out)

And I'm all alone, I'm on my own
[Clarence Clemons:] Kid, you better get the picture
Well, I'm all alone, I'm on my own
And I can't go home

Yeah, come on!
Now, listen!
They made that change uptown
And the Big Man joined the band
From the coastline to the city
The little pretties raise their hands
Raise them high!
I'm gonna sit back right easy and laugh
When Scooter and the Big Man bust this city in half, Big Man!
(Tenth Avenue freeze-out)
(Tenth Avenue freeze-out)
Talking 'bout that Tenth, Tenth Avenue (freeze-out)
Avenue (Tenth Avenue freeze-out)
I'm talking 'bout the, tell me (Tenth Avenue freeze-out)
Nothing but the Tenth, (Tenth Avenue freeze-out)
I'm talking 'bout the, tell me, (Tenth Avenue freeze-out)
Ain't nothing but the, tell me (Tenth Avenue freeze-out)
Ah, oh!

Oh!

Oh, yeah, it's all right
Oh, yes it is

[Spoken outro:] The Miami Horns! They'll be back later, they'll be back.
---
Info
The above lyrics are for the live 22 Aug 1976 performance of TENTH AVENUE FREEZE-OUT at Springfield Civic Center in Springfield, MA, during what is known as The Lawsuit Tour. The song was played in a traditional full-band arrangement. It featured the Miami Horns quartet line-up #1: Carlo Novi (saxophone), Ed Manion (saxophone), Tony Palligrosi (trumpet), and Rick Gazda (trumpet). This foursome came from Southside Johnny's Miami Horns outfit during a break in Southside's touring schedule.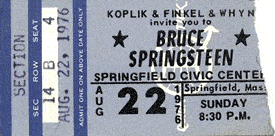 Ticket stub for the 22 Aug 1976 show at Springfield Civic Center, Springfield, MA
(
Taken from Brucebase
)
Despite the marvelous reception received by both Born To Run and the tour which followed, the relationship between Bruce Springsteen and his now former manager and producer Mike Appel was deteriorating. In July 1976 the storm broke; Mike Appel wrote to Springsteen saying that he would not allow Jon Landau (Springsteen's friend and co-producer of Born To Run) to produce the next album, citing a particular paragraph from their original agreement. Springsteen replied on 27 Jul 1976 by firing manager Mike Appel and suing him and his management company Laurel Canyon Ltd. in Federal Court in Manhattan, claiming fraud, breach of trust, and undue influence. Appel counter-sued on 29 Jul 1976 in New York State Supreme Court, asking the court to prohibit Springsteen and Jon Landau from working together in studio. Bruce Springsteen & The E Street Band were slated to enter the studio that year for the recording of a new album, except that on 15 Sep 1976 the judge in the lawsuits case ruled that Springsteen was enjoined from any further recording with Columbia Records until Appel's suit was resolved. This would drag for about a year. Meanwhile, Springsteen continued gigging, and in the process broke his self-imposed rule of not playing the larger arenas. This was basically because he was not able to put a record out, and it was the only way his fans would be able to hear him at all. The tour became known as "The Lawsuit Tour" (62 know dates, August 1976 to March 1977).
Credits
Thanks Jake (ol'catfishinthelake at BTX and Greasy Lake) for the lyrics help.
Available Versions
List of available versions of TENTH AVENUE FREEZE-OUT on this website:
TENTH AVENUE FREEZE-OUT [Album version]
TENTH AVENUE FREEZE-OUT [Outtake version]
TENTH AVENUE FREEZE-OUT [Live 15 Aug 1975 (early show) version]
TENTH AVENUE FREEZE-OUT [Live 18 Nov 1975 version]
TENTH AVENUE FREEZE-OUT [Live 31 Dec 1975 version]
TENTH AVENUE FREEZE-OUT [Live 07 Apr 1976 version]
TENTH AVENUE FREEZE-OUT [Live 07 Aug 1976 version]
TENTH AVENUE FREEZE-OUT [Live 22 Aug 1976 version]
TENTH AVENUE FREEZE-OUT [Live 25 Mar 1977 version]
TENTH AVENUE FREEZE-OUT [Live 19 Sep 1978 version]
TENTH AVENUE FREEZE-OUT [Live 08 Dec 1978 version]
TENTH AVENUE FREEZE-OUT [Live 29 Dec 1980 version]
TENTH AVENUE FREEZE-OUT [Live 20 Aug 1984 version]
TENTH AVENUE FREEZE-OUT [Live 14 Sep 1984 version]
TENTH AVENUE FREEZE-OUT [Live 17 Sep 1984 version]
TENTH AVENUE FREEZE-OUT [Live 23 May 1988 version]
TENTH AVENUE FREEZE-OUT [Live 03 Jul 1988 version]
TENTH AVENUE FREEZE-OUT [Live 16 Nov 1990 version]
TENTH AVENUE FREEZE-OUT [Live 24 Jun 1993 version]
TENTH AVENUE FREEZE-OUT [Live 05 Apr 1995 (Ed Sullivan Theater) version]
TENTH AVENUE FREEZE-OUT [Live 31 Jan 1998 version]
TENTH AVENUE FREEZE-OUT [Live 15 Mar 1999 version]
TENTH AVENUE FREEZE-OUT [Live 18 Mar 1999 version]
TENTH AVENUE FREEZE-OUT [Live 29 May 1999 version]
TENTH AVENUE FREEZE-OUT [Live 03 Jun 1999 version]
TENTH AVENUE FREEZE-OUT [Live 11 Jun 1999 version]
TENTH AVENUE FREEZE-OUT [Live 15 Jun 1999 version]
TENTH AVENUE FREEZE-OUT [Live 17 Jun 1999 version]
TENTH AVENUE FREEZE-OUT [Live 24 Jun 1999 version]
TENTH AVENUE FREEZE-OUT [Live 11 Aug 1999 version]
TENTH AVENUE FREEZE-OUT [Live 24 Sep 1999 version]
TENTH AVENUE FREEZE-OUT [Live 23 Oct 1999 version]
TENTH AVENUE FREEZE-OUT [Live 27 May 2000 version]
TENTH AVENUE FREEZE-OUT [Live 03 Jun 2000 version]
TENTH AVENUE FREEZE-OUT [Live 12 Jun 2000 version]
TENTH AVENUE FREEZE-OUT [Live 17 Jun 2000 version]
TENTH AVENUE FREEZE-OUT [Live 20 Jun 2000 version]
TENTH AVENUE FREEZE-OUT [Live 22 Jun 2000 version]
TENTH AVENUE FREEZE-OUT [Live 29 Jun 2000 / 01 Jul 2000 version]
TENTH AVENUE FREEZE-OUT [Live 09 Mar 2012 version]
---
Page last updated: 18 Jan 2016