TEXAS DRIVE IN
Handwritten lyrics
---
A night when the stars crack
And slip from above
The engine heat warms your back
In a Texas drive-in with a secret love
---
Info
TEXAS DRIVE IN is a song written by Bruce Springsteen, and was planned for inclusion on his 1976 album had it seen the light. See "The Lost 1976 Album" section below.
In the handwritten lyrics notebook that was reproduced in The Promise: The Darkness On The Edge Of Town Story box set, on an unlabelled page that apparently contains just bits and pieces of lyrical ideas, Springsteen writes a few lines of what seems the work-in-progress lyrics to TEXAS DRIVE IN.
Halfway through the page, he wrote "(Big) Texas drive-in (Night of the) last dawn", with the word "Jersey" written right above "Texas". At the bottom of the page, he wrote the following four lines: "A night when the stars crack + (slip from" / "above) the engine heat warms your back" / "...in a Texas drive-in with a secret" / "love".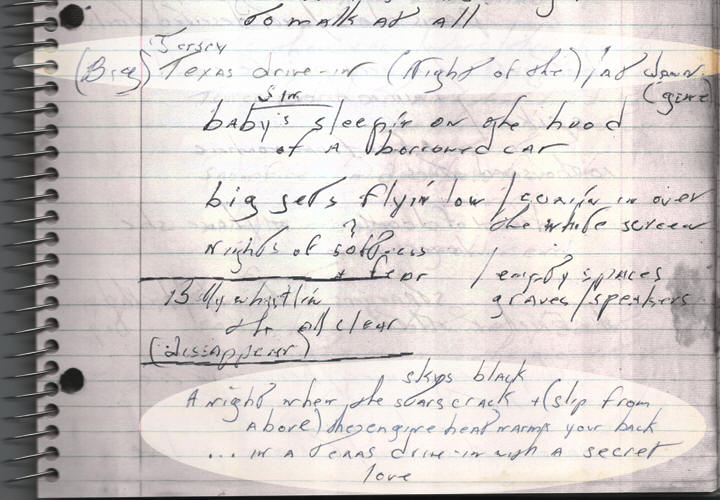 TEXAS DRIVE IN lyrics in Springsteen's handwritten lyrics notebook
The Lost 1976 Album
Chris Sandford wrote in his 1999 book Springsteen: Point Blank that "Springsteen began tinkering at his fourth album in January 1976. One track, 'Darkness On the Edge of Town', was already done; demos of 'Dawn Patrol', 'Frankie', 'Drifter's Barrio' and 'You're Gonna Cry' – some good, some not so polished – were being cut as fast as he could hum them."
Springsteen donated two of his compositions to Southside Johnny for use on his 1976 debut album I Don't Want To Go Home, and he also wrote the liner notes on the album's back sleeve. What somehow supports Sandford's claim is that on the back of the handwritten cover essay that he supplied to Southside Johnny, Springsteen had written eight (or nine) song titles, under the header "Album IV":
DAWN PATROL
HOUSE ON EDEN STREET / THE EDGE OF DAWN
FRANKIE
WALKING WITH THE MAN
TEXAS DRIVE IN
DARKNESS ON THE EDGE OF TOWN
DRIFTER'S BARRIO
YOU'RE GONNA CRY
It is unclear if "House On Eden Street / The Edge Of Dawn" are two songs or one song with two alternative titles, "House On Eden Street" and "House On The Edge Of Dawn".
Credits
Thanks Matthew for the help on this page.
Request
If you have any corrections or additional info, please contact me via the below form or by email: . You will be credited. Thanks in advance.
Available Versions
List of available versions of TEXAS DRIVE IN on this website:
TEXAS DRIVE IN [Handwritten lyrics]
---
Page last updated: 30 Jul 2011