THAT'S WHAT YOU GET
Studio version
---
The moonlight dances on her face
I got my lips ???
I'm living the life of a lie
It was for me, for me that she died

That's what you get for loving me
That's what you get for loving me
That's what you get for loving me
That's what you get for loving me

???
True love, unhappiness
I fall down on my knees and I cry
It's my way of saying goodbye

That's what you get for loving me
That's what you get for loving me
That's what you get for loving me
That's what you get for loving me
That's what you get for loving me

The moonlight is ??? on the ???
As I ??? into my head
And I, I'm gonna cry
It's my way of saying goodbye

That's what you get for loving me
That's what you get for loving me
That's what you get for loving me
That's what you get for loving me

That's what you get for loving me
That's what you get for loving me
That's what you get for loving me
That's what you get for loving me
---
Info
THAT'S WHAT YOU GET is an unreleased song written by Bruce Springsteen and George Theiss. The above lyrics are for the studio version of THAT'S WHAT YOU GET.
Bruce Springsteen probably performed BTHAT'S WHAT YOU GET live with The Castiles around 1966, but no live performance of the song has been documented. The Castiles recorded the song in studio on 18 May 1966 (see the "Composition and Recording" section below).
Composition and Recording
The Castiles recorded BABY I and THAT'S WHAT YOU GET on 18 May 1966 at Mr. Music Inc., a recording booth at the Brick Mall shopping center in Bricktown, NJ. That was the very first time that Springsteen's voice and guitar were captured on vinyl. According to Dave Marsh, the one-hour session cost $50.
In an interview published in issue #20 (Spring 1987) of Backstreets magazine, former Castiles member George Theiss told Robert Santelli that BABY I and THAT'S WHAT YOU GET "were written in the backseat of Tex's car on the way to the studio to record them." This was Castiles manager and sponsor Tex Vinyard's 1961 Ford Mercury. Theiss explained that they cut the record simply because Vinyard said, "Let's make a record." They didn't collectively have any idea of distribution or getting signed to a label.
Seven or eight 7-inch acetates were reputedly cut during the session and, according to Brucebase, at least four of which survive. In early 2009, Rolling Stone's David Fricke conducted an interview with Bruce Springsteen at Springsteen's New Jersey home. At the end of the interview, Springsteen told Fricke that he found the actual two-track master tape of the Castiles record and digitized it. He even played it for the writer.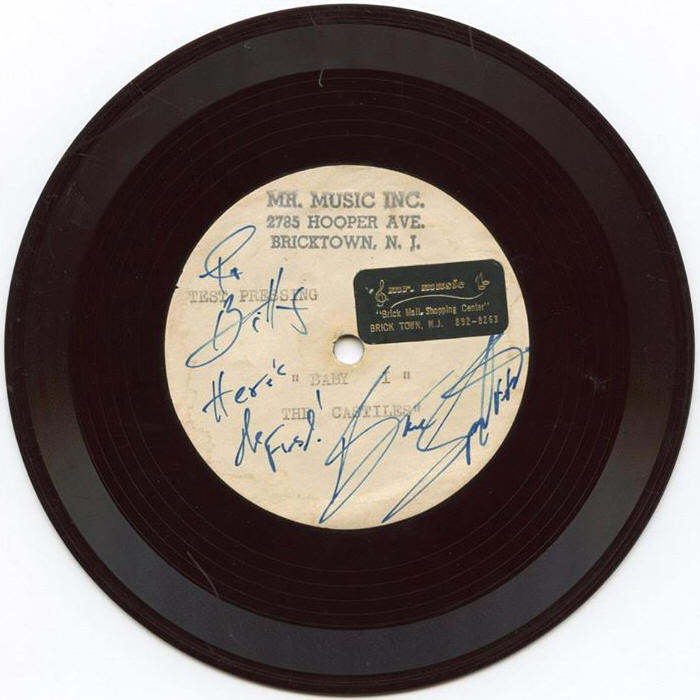 The Castiles -- "Baby I / That's What You Get"
In a March 2009 interview conducted by Jim Henke (the curator of Springsteen's exhibit at the Rock And Roll Hall Of Fame And Museum) at Springsteen's New Jersey home, Springsteen recalled: "It was a tiny little room, maybe half the size of this living room, which is not that big. And they couldn't stand any volume whatsoever going into the microphones. We had to turn all our amps to the wall and literally put covers over them. The guitars sound real clinky, because we had the volume turned down to '1' — we couldn't get any distortion or speaker sound out of it. The recording studio was not set up in those days for any kind of overdrive; they just simply weren't ready to record rock bands in Bricktown, New Jersey in 1965 [sic]. But it was a big deal. We saved up — I think it cost us, I don't know, $300 or $100, some enormous amount, what we thought was an enormous amount of money. We saved it up, did a session where we cut those two songs. Of course, they give you your two-track, which we recently found, and then they give you the acetates, the little tiny 45-sized acetates. And some of those survived, also."
Bootleg Releases
The studio version of THAT'S WHAT YOU GET appears on several bootlegs, including Deep Down In The Vaults (E. St. Records) [disc 1, track 01].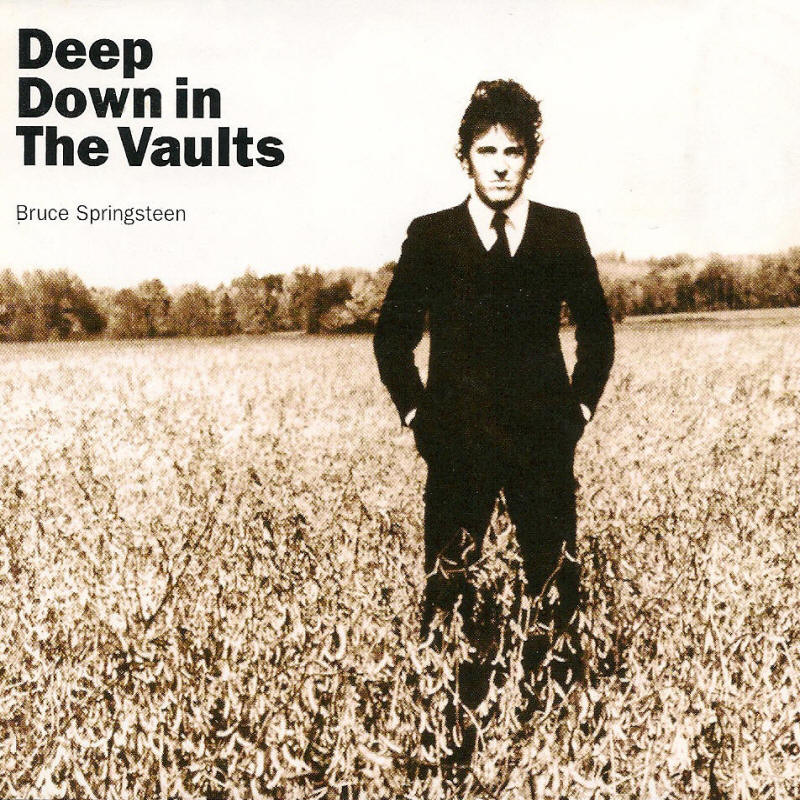 Bruce Springsteen -- Deep Down In The Vaults (E. St. Records)
Live History
As far as it's known, Bruce Springsteen has never performed THAT'S WHAT YOU GET live.
Covers
As far as it's known, no artist has recorded and released Bruce Springsteen's THAT'S WHAT YOU GET.
Available Versions
List of available versions of THAT'S WHAT YOU GET on this website:
THAT'S WHAT YOU GET [Studio version]
---
Page last updated: 22 Aug 2016