THE BALLAD OF JED CLAMPETT
Original Lester Flatt And Earl Scruggs version
---
Come and listen to a story about a man named Jed
A poor mountaineer, barely kept his family fed
And then one day he was shootin' at some food
And up through the ground come a bubblin' crude

Oil that is, black gold, Texas tea.

Well the first thing you know ol' Jed's a millionaire
Kinfolk said, "Jed move away from there"
He said Californy is the place you oughta be
So they loaded up the truck and he moved to Beverly

Hills that is, swimmin' pools, movie stars.

Now it's time to say goodbye to Jed and all his kin
They would like to thank you folks for kindly droppin' in
You're all invited back again to this locality
You have a heapin' helpin' of their hospitality

Beverly Hillbillies, that's they call 'em now.
Nice folks, you all come back here.
---
Info
THE BALLAD OF JED CLAMPETT is a song written by Paul Henning and recorded and released by Lester Flatt And Earl Scruggs as a single in October 1962. THE BALLAD OF JED CLAMPETT was the theme song for the CBS TV series The Beverly Hillbillies (1962-1971). The above lyrics are for the original Lester Flatt And Earl Scruggs version of THE BALLAD OF JED CLAMPETT as released in 1962.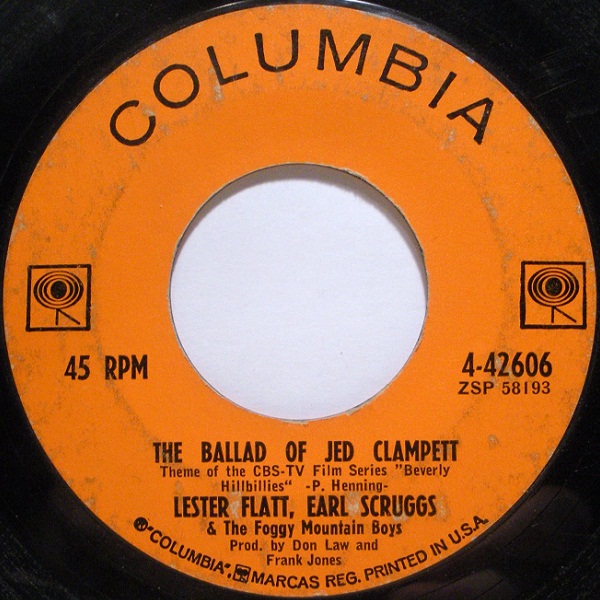 Lester Flatt, Earl Scruggs And The Foggy Mountain Boys -- "The Ballad Of Jed Clampett / Coal Loadin' Johnny"

7" single - Columbia (4-42606) - USA, 1962

Bruce Springsteen's Version
Bruce Springsteen has never performed THE BALLAD OF JED CLAMPETT live in full, but he played a snippet of it once, on 09 Nov 2007 at Pier Sixty in New York City, NY, during the fifth annual Joe Torre Safe at Home Foundation benefit. Saying that he had been a Yankees fan since he was a kid, he played a riff on The Beverly Hillbillies theme about Joe Torre heading for Beverly Hills and then went right into a take of CALIFORNIA SUN.
Credits / References
Info about the 09 Nov 2007 performance is taken from [URL=http://www.backstreets.com/]Backstreets[/SONG]. Thanks Jake (ol'catfishinthelake at BTX and Greasy Lake) for the help.
Available Versions
List of available versions of THE BALLAD OF JED CLAMPETT on this website:
THE BALLAD OF JED CLAMPETT [Original Lester Flatt And Earl Scruggs version]
---
Page last updated: 08 Sep 2012