THE GHOST OF TOM JOAD
Live 04 Oct 2008 version
---
Men walking along the railroad tracks
Going someplace, there's no going back
Highway patrol choppers coming up over the ridge
Hot soup on a campfire under the bridge
Shelter line stretching around the corner
Welcome to the new world order
Families sleeping in their cars in the southwest
No home, no job, no peace, no rest

Well the highway is alive tonight
Nobody's kidding nobody about where it goes
I'm sitting down here in the campfire light
Searching for the ghost of Tom Joad

He pulls a prayer book out of his sleeping bag
Preacher lights up a butt and takes a drag
Waiting for when the last shall be first and the first shall be last
In a cardboard box 'neath the underpass
I got a one-way ticket to the promised land
You got a hole in your belly and a gun in your hand
Sleeping on a pillow of solid rock
Bathing in the city aqueduct

Well the highway is alive tonight
But where it's headed everybody knows
I'm sitting down here in the campfire light
Waiting on the ghost of Tom Joad

Now Tom said, "Mom, wherever there's a cop beating a guy
Wherever a hungry newborn baby cries
Where there's a fight against the blood and hatred in the air
Well look for me, Mom, I'll be there
Where there's somebody fighting for a place to stand
Or a decent job or a helping hand
Wherever somebody's struggling to be free
Well look in their eyes, Mom, you'll see me"

The highway is alive tonight
Nobody's kidding nobody about where it goes
I'm sitting down here in the campfire light
With the ghost of old Tom Joad
---
Info
The above lyrics are for the live 04 Oct 2008 performance of THE GHOST OF TOM JOAD at Ben Franklin Parkway in Philadelphia, PA, during the first of the four Vote For Change events on which Bruce Springsteen appeared. The song was played in a slightly revamped solo acoustic guitar and harmonica arrangement.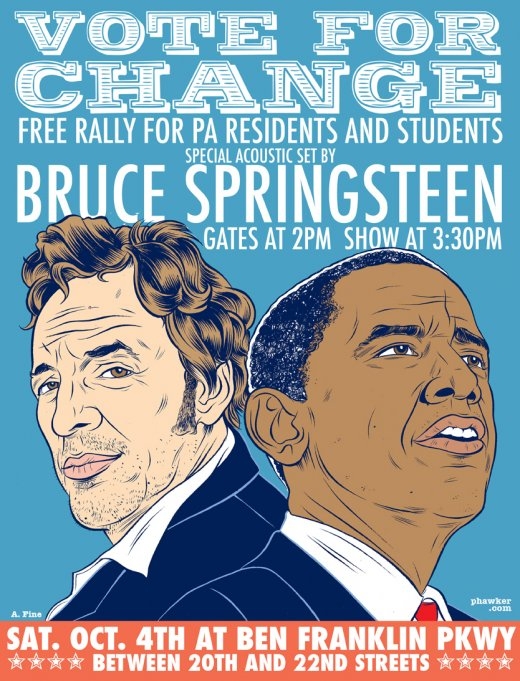 Promotional poster for the 04 Oct 2010 election rally at Ben Franklin Parkway, Philadelphia, PA
In 2008, Bruce Springsteen appeared on four election rallies for U.S. presidential candidate Barack Obama. These election rallies were billed as "Vote For Change". Accompanied only by his acoustic guitar and harmonica, Springsteen performed six to eight songs on each of the four rallies.
Request
Please contact me if you have a ticket stub for this event. You can contact me via the below form or by email: . You will be credited. Thanks in advance.
Available Versions
List of available versions of THE GHOST OF TOM JOAD on this website:
THE GHOST OF TOM JOAD [1995 album version]
THE GHOST OF TOM JOAD [2006 studio version]
THE GHOST OF TOM JOAD [2009 (first) studio version]
THE GHOST OF TOM JOAD [2009 (second) studio version]
THE GHOST OF TOM JOAD [2014 album version]
THE GHOST OF TOM JOAD [Live 28 Oct 1995 version]
THE GHOST OF TOM JOAD [Live 27 Nov 1995 (NBC Studios) version]
THE GHOST OF TOM JOAD [Live 09 Dec 1995 version]
THE GHOST OF TOM JOAD [Live 20 Feb 1996 version]
THE GHOST OF TOM JOAD [Live 23 Feb 1996 version]
THE GHOST OF TOM JOAD [Live 19 Mar 1996 version]
THE GHOST OF TOM JOAD [Live 27 Apr 1996 version]
THE GHOST OF TOM JOAD [Live 26 Feb 1997 version]
THE GHOST OF TOM JOAD [Live 05 May 1997 version]
THE GHOST OF TOM JOAD [Live 22 Jan 1998 version]
THE GHOST OF TOM JOAD [Live 10 Dec 1998 version]
THE GHOST OF TOM JOAD [Live 19 Mar 1999 version]
THE GHOST OF TOM JOAD [Live 10 Mar 2000 version]
THE GHOST OF TOM JOAD [26 Jun 2000 rehearsal version]
THE GHOST OF TOM JOAD [Live 19 Feb 2002 version]
THE GHOST OF TOM JOAD [Live 16 Sep 2003 version]
THE GHOST OF TOM JOAD [Live 14 May 2005 version]
THE GHOST OF TOM JOAD [Live 19 Nov 2006 version]
THE GHOST OF TOM JOAD [Live 07 Apr 2008 version]
THE GHOST OF TOM JOAD [Live 04 Oct 2008 version]
THE GHOST OF TOM JOAD [Live 05 Oct 2008 version]
THE GHOST OF TOM JOAD [Live 06 Oct 2008 version]
THE GHOST OF TOM JOAD [Live 15 Apr 2009 version]
THE GHOST OF TOM JOAD [Live 03 May 2009 version]
THE GHOST OF TOM JOAD [Live 07 May 2009 version]
THE GHOST OF TOM JOAD [Live 29 Oct 2009 version]
THE GHOST OF TOM JOAD [Live 15 Mar 2012 version]
THE GHOST OF TOM JOAD [Live 26 Apr 2012 version]
THE GHOST OF TOM JOAD [Live 11 Jul 2012 version]
THE GHOST OF TOM JOAD [Live 11 Feb 2014 version]
THE GHOST OF TOM JOAD [Live 16 Jul 2016 version]
THE GHOST OF TOM JOAD [Live 25 Aug 2016 version]
THE GHOST OF TOM JOAD [Rage Against The Machine's cover version]
---
Page last updated: 23 Sep 2016