THERE GOES MY BABY
Original The Drifters version
---
(Bo-bo, doo-doot-doo-doo-doo-doo)
(There she goes) (doo-doot-doo-doo-doo-doo)
(There she goes) (doo-doot-doo-doo-doo-doo)
(Bo-bo) (doo-doot-doo-doo)
(Bo-bo) (doo-doo-doo-doo)

There goes my baby, movin' on down the line
Wonder where, wonder where, wonder where she is bound?
I broke her heart and made her cry
Now I'm alone, so all alone
What can I do, what can I do?

(There goes my baby) Whoa-oh-oh-oh-oh
(There goes my baby) Yeah, yeah, yeah, yeah
(There goes my baby) Whoa-oh-oh-oh
(There she goes) Yeah! (There she goes)

I wanna know if she loved me
Did she really love me?
Was she just playing me for a fool?

I wonder why she left me
Why did she leave me so all alone
So all alone

I was gonna tell her that I loved her
And that I need her
Beside my side to be my guide

I wanna know where is my (doo-doot-doo-doo-doo-doo)
Where is my baby (doo-doot-doo-doo-doo-doo)?
I want my baby
I need my baby

Yeah, whoa-oh-oh

[Fade]
(There goes my baby)
Whoa-oh-oh-oh-oh
---
Info
THERE GOES MY BABY is a song written by Ben E. King (Benjamin Nelson), Lover Patterson, George Treadwell, and produced by Jerry Leiber and Mike Stoller for The Drifters who released it as a single in April 1959. The above lyrics are for the original The Drifters version of THERE GOES MY BABY as released in 1959.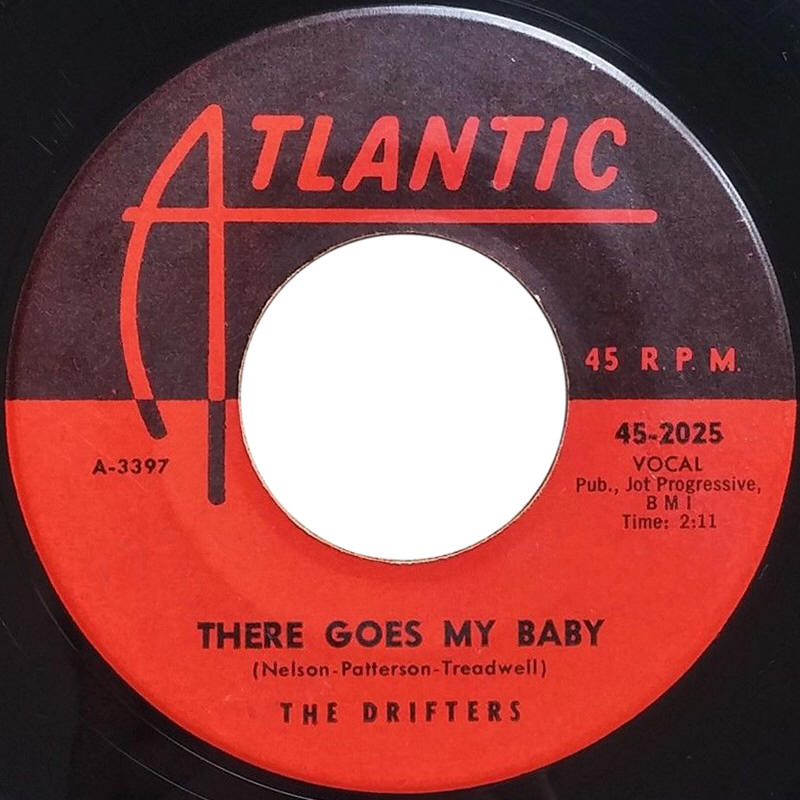 The Drifters -- "There Goes My Baby / Oh My Love"

7" single - Atlantic (45-2025) - USA, 1959

Bruce Springsteen's Version
Bruce Springsteen probably guitar on The Drifters' THERE GOES MY BABY live once in 1998. See the live 31 Jan 1998 version for more details.
Available Versions
List of available versions of THERE GOES MY BABY on this website:
THERE GOES MY BABY [Live 31 Jan 1998 version]
THERE GOES MY BABY [Original The Drifters version]
---
Page last updated: 01 Sep 2012