THE WALL
Live 19 Feb 2003 version
---
[Spoken intro:] I was uh, (clears throat) I was down in Washington and I was at an event at the White House that was honoring Bob Dylan. And uh... and uh, I had an unusual experience; It was uh... I took my wife to the Vietnam War Memorial and uh -- well she'd never seen it -- we went there and... and I had a few friends when I was a kid, the drummer of my first band and another close friend in town... and we're looking for their names and we found their names and... And uh, that night we had this event, we end up at this dinner and, and there was Robert McNamara, you know. And uh, Joe Grushecky send me for some reason a few, a week or so later send me an article out of a newspaper. And uh... so we kinda wrote this song together in some, in some fashion. This is called the... this is called "The Wall".

Cigarettes and a bottle of beer, this poem that I wrote for you
This black stone and these hard tears are all I've got left now of you
I remember you in your Marine uniform laughing, laughing at your shipping out party
I read Robert McNamara says he's sorry

You and your boots and black t-shirt, ah, Billy you looked so bad
Yeah you and your rock and roll band was the best thing this shit town ever had
Now the men that put you here eat with their families in rich dining halls
And apology and forgiveness got no place here at all at the wall

I'm sorry I missed you last year, I couldn't find no one to drive me
If your eyes could cut through that black stone, tell me would they recognize me
For the living time must be served, life goes on
Cigarettes and a bottle of beer, skin on a black stone

High school pictures, paper flowers, ribbon red as the blood
Yeah as the blood you spilled in the Central Highlands mud
Now the limousines rush down Pennsylvania Boulevard as the rain falls
Apology and forgiveness got no place here at all
---
Info
The above lyrics are for the live 19 Feb 2003 performance of THE WALL at Somerville Theatre in Somerville, MA, during the first of the two DoubleTake magazine benefit shows.
Ticket stub for the 19 Feb 2003 show at Somerville Theatre, Somerville, MA
DoubleTake Magazine Benefit
Founded by Harvard psychiatrist Robert Coles, DoubleTake magazine has been in business since 1995, but started facing financial problems a few years later. Springsteen's relationship with the publication goes back to late 1997 when he was interviewed by Will Percy (nephew of the late Walker Percy, a writer/novelist Springsteen admired) at Springsteen's farmhouse in Rumson, NJ. Part of the audio-recorded interview was printed in the March 1998 issue of the magazine. The interview is probably one of the most philosophical of Springsteen's career -- it dealt with the effect books and movies have on Springsteen's writing and the culture of celebrity, among other things. Springsteen also became friend with magazine founder Robert Coles when the two met in 1998. He praised his book A Secular Mind, and even attended one of his classes in Harvard. In November 2004 Coles published in his book Bruce Springsteen's America - The People Listening, A Poet Singing.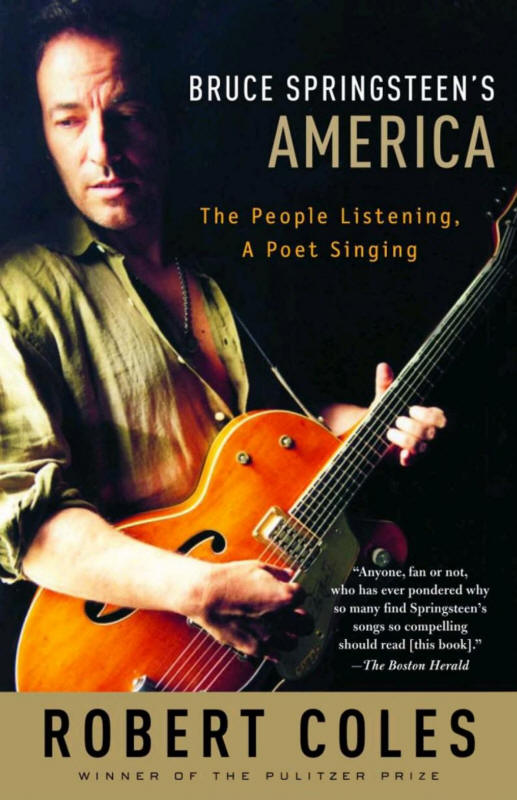 Robert Coles -- Bruce Springsteen's America - The People Listening, A Poet Singing (book cover)
Tickets for the two fundraisers were priced at $500 and billed as "An Intimate Evenings Of Music And Conversation With Bruce Springsteen". These were solo acoustic shows, played on acoustic guitar (or piano on a few songs), held at the small Somerville Theatre (900 seats capacity). Springsteen chatted between songs, and closed out each night with a Q&A session, taking questions from the audience. The unprecedented "conversation" element of the shows made them unique to Springsteen fans.
Promotional poster for the 19-20 Feb 2003 shows at Somerville Theatre, Somerville, MA
The almost one million dollars raised from the ticket sales went to the non-profit DoubleTake Community Service Organization Corporation, publishers of DoubleTake magazine, which owed $600,000 to vendors and contributors. "The concert was a success beyond our wildest dreams," managing editor Kirk Kicklighter commented, "[But] we never really had a plan for what we were going to do after the concert." By the fall of 2004, the magazine was no longer publishing, officially put on "hiatus".
Credits/References
Thanks Elke for the help on this page and Saj for the corrections. Information about The Motifs is taken from Brucebase.
Available Versions
List of available versions of THE WALL on this website:
THE WALL [Album version]
THE WALL [Live 19 Feb 2003 version]
THE WALL [Live 16 Nov 2005 version]
THE WALL [Live 19 Apr 2014 version]
---
Page last updated: 02 Dec 2013