THUNDER ROAD
Early draft
---
did you ever feel the force of gypsy 1200 (650)
And (with) the wing blowin through (back) your hair
or the rushing touch of the dirty wing
Tonight were

[sic]

the highway angels wear You ain't to

[sic]

gonna trade in
old to know (find out) how it feels (you can't) trade in your (little angel)
I traded Angel
wings for a (your daddy's) set of hot (got) wheels
get (hop) on back heavens waiting baby down
on the (back) tracks

what else you gonna do

last verse
I'm bold take you where you never grow old
thats

[sic]

jive my body's explodin' + I'm alive

do what you can (feel like) I'm a man

end real soft

Ain't no boy

Nobodys

[sic]

sun
Oh this engines I got a 442 on (gonna) overheat
Promised

Make up your mind I gotta get back out on the street

land

I know you just like me (so why don't you take

your (a) chance) so don't try to fake

different in

maybe I can't lay the stars at your feet

The end

but I got this old car + she's pretty tough

I want you

to beat

if you can get from your front porch to the

font seat the baybe

[sic]

I think we can

no loser

make it (end) cause baby I was born

build

build to win so climb in F

Bb C riff

pull down the top headin' for heaven non stop

I bought this old guitar and I learned how to

make it talk I got this old car +

if yor

[sic]

ready to make that long walk

the doors

[sic]

(front seat)

open the rides free I think we would take

it all just you + me
---
Info
The above lyrics are for an early draft of THUNDER ROAD, as found on a handwritten lyrics sheet auctioned in 2014. The majority of the lyrics were reworked before the album version was recorded.
Lyrics Sheet
A Bruce Springsteen handwritten lyrics sheet for THUNDER ROAD was auctioned in June 2014 on Sotheby's and the hammer was dropped at $37,500. According to the auction house, the draft was written in Long Branch, NJ, or New York City, NY, in 1974 or 1975. The lyrics are written using blue and black ballpoint pens (and some corrections were made with a black marker) on a 8.5x11" ruled notepaper. Superscript, marginal notations, and additional lyrics were added at later times as evidenced by the use of different pens. The lyrics sheet comes from a private collector but was originally part of Mike Appel's (Springsteen's former manager) personal collection.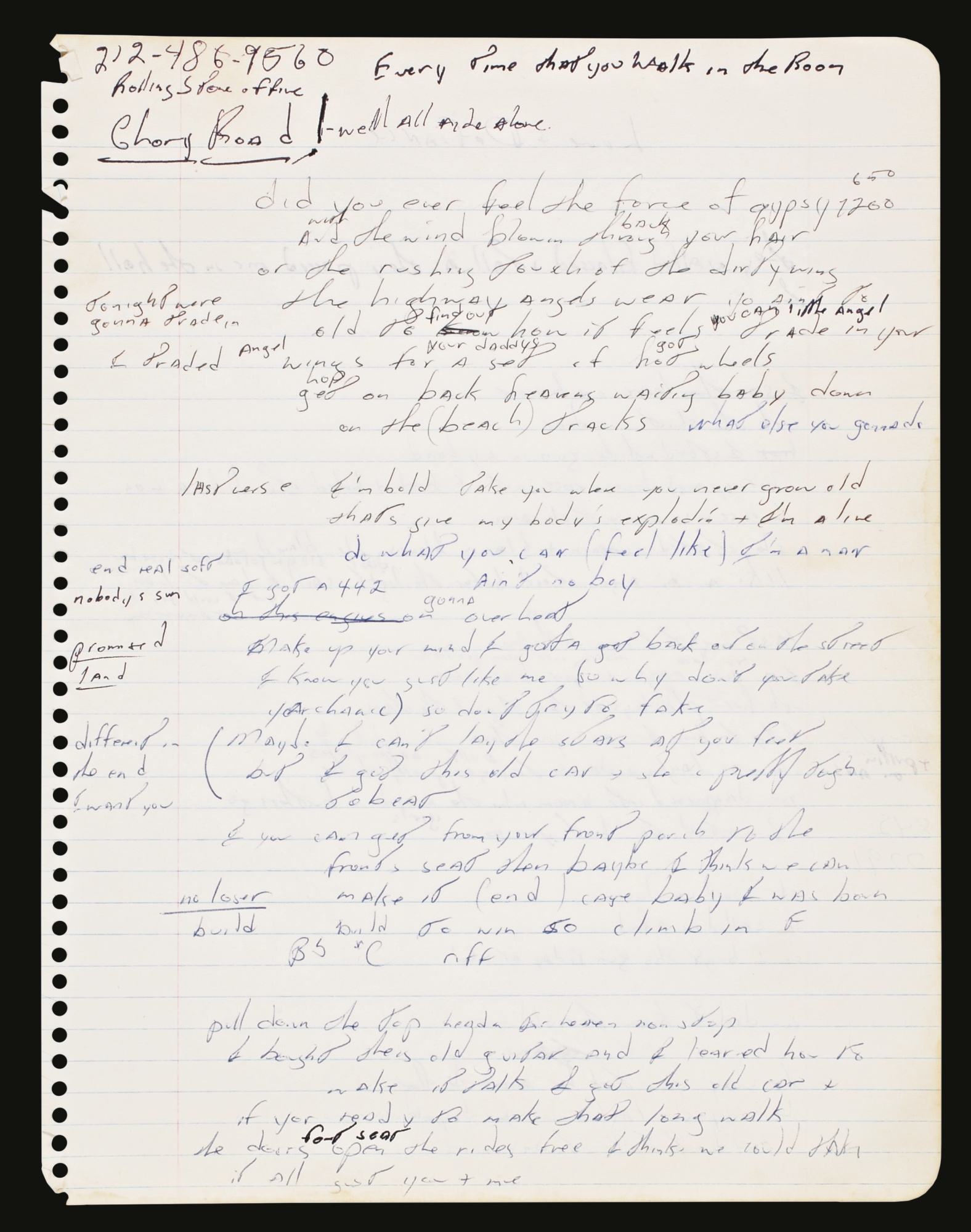 Bruce Springsteen handwritten lyrics for THUNDER ROAD
In the lyrics sheet's top margin, Springsteen wrote some random notes: "212-486-9560 / Rolling Stone office", "Glory Road" (another Springsteen song), "Every Time that you Walk in the Room" (the Jackie DeShannon song), and "- We'll all ride alone". These were written at a later stage with a different black pen (apparently a fine marker) and it's very implausible that they are in any way related to this early draft of THUNDER ROAD. Springsteen even drew a line around "Glory Road" to dis-associate it from the lyrics under.
Charles R. Cross wrote in his 1989 book Backstreets: Springsteen, The Man And His Music that GLORY ROAD was a "very early version of lyrics that later became THUNDER ROAD. When he was working on his book, Cross was granted quality interview and research time with Mike Appel at Appel's office. He was allowed to go through Appel's files of surviving Laurel Canyon-related documentation and it is very likely that this particular early draft of THUNDER ROAD was among the documents that Cross examined. The position of "Glory Road" on the top of the page may be what led Cross to wrongly assume that it's the title for the song drafted below it. On the auction page, quoting Cross' book, Sotheby's also assumed that this manuscript is for "Glory Road", an early version of THUNDER ROAD.
Interestingly, the verso of this lyrics sheet contains lyrics for LOVE AND DEFIANCE, an unpublished and unrecorded Bruce Springsteen song from the Born To Run period.
Credits / References
Thanks Pete Russell (Peteadmin at Brucebase) for the help.
Manuscript scan taken from Sotheby's.
Request
If you have any corrections, additions, or comments, please contact me via the below form or by email: . You will be credited. Thanks in advance.
Available Versions
List of available versions of THUNDER ROAD on this website:
THUNDER ROAD [Album version]
THUNDER ROAD [Early draft]
THUNDER ROAD [Alternative version #1]
THUNDER ROAD [Alternative version #2]
THUNDER ROAD [Alternative version #3]
THUNDER ROAD [Alternative version #4]
THUNDER ROAD [Live 05 Feb 1975 version]
THUNDER ROAD [Live 20 Jul 1975 version]
THUNDER ROAD [Live 17 Oct 1975 (early show) version]
THUNDER ROAD [Live 18 Oct 1975 (early show) version]
THUNDER ROAD [Live 18 Nov 1975 version]
THUNDER ROAD [Live 31 Dec 1975 version]
THUNDER ROAD [Live 07 Apr 1976 version]
THUNDER ROAD [Live 25 Mar 1977 version]
THUNDER ROAD [Live 13 May 1977 (early show) version]
THUNDER ROAD [Live 13 Sep 1977 version]
THUNDER ROAD [Live 19 Sep 1978 version]
THUNDER ROAD [Live 08 Dec 1978 version]
THUNDER ROAD [Live 22 Sep 1979 version]
THUNDER ROAD [Live 03 Oct 1980 version]
THUNDER ROAD [Live 03 Jul 1981 version]
THUNDER ROAD [Live 08 Jun 1984 version]
THUNDER ROAD [Live 19 Nov 1984 version]
THUNDER ROAD [Live 27 Jul 1988 version]
THUNDER ROAD [Live 02 Sep 1988 version]
THUNDER ROAD [Live 16 Nov 1990 version]
THUNDER ROAD [Live 22 Sep 1992 version]
THUNDER ROAD [Live 28 Sep 1992 version]
THUNDER ROAD [Live 24 Jun 1993 version]
THUNDER ROAD [Live 15 Feb 1995 version]
THUNDER ROAD [Live 21 Feb 1995 version]
THUNDER ROAD [Live 05 Apr 1995 (Sony Music Studios) version]
THUNDER ROAD [Live 09 Jul 1995 version]
THUNDER ROAD [Live 05 May 1997 version]
THUNDER ROAD [Live 22 May 1997 version]
THUNDER ROAD [Live 31 Jan 1998 version]
THUNDER ROAD [Live 23 Oct 1999 version]
THUNDER ROAD [Live 27 Jun 2000 / 01 Jul 2000 version]
THUNDER ROAD [Live 19 Oct 2001 version]
THUNDER ROAD [Live 29 Aug 2002 version]
THUNDER ROAD [Live 04 Oct 2002 version]
THUNDER ROAD [Live 16 Oct 2002 version]
THUNDER ROAD [Live 19 Feb 2003 version]
THUNDER ROAD [Live 29 Apr 2003 version]
THUNDER ROAD [Live 22 Jun 2003 version]
THUNDER ROAD [Live 01 Nov 2004 version]
THUNDER ROAD [Live 04 Apr 2005 version]
THUNDER ROAD [Live 12 Oct 2005 version]
THUNDER ROAD [Live 07 Nov 2007 version]
THUNDER ROAD [Live 09 Nov 2007 version]
THUNDER ROAD [Live 14 Mar 2008 version]
THUNDER ROAD [Live 07 May 2008 version]
THUNDER ROAD [Live 18 Jun 2008 version]
THUNDER ROAD [Live 23 Aug 2008 version]
THUNDER ROAD [Live 04 Oct 2008 version]
THUNDER ROAD [Live 16 Oct 2008 version]
THUNDER ROAD [Live 30 May 2009 version]
THUNDER ROAD [Live 17 Nov 2009 version]
THUNDER ROAD [Live 22 Nov 2009 version]
THUNDER ROAD [Live 04 Nov 2010 version]
THUNDER ROAD [Live 15 Jan 2011 version]
THUNDER ROAD [Live 03 Nov 2011 version]
THUNDER ROAD [Live 04 Nov 2011 version]
THUNDER ROAD [Live 14 Jan 2012 version]
THUNDER ROAD [Live 09 Mar 2012 version]
THUNDER ROAD [Live 06 Apr 2012 version]
THUNDER ROAD [Live 07 Nov 2016 version]
THUNDER ROAD [Greg Kihn's cover version]
THUNDER ROAD [Badly Drawn Boy's cover version]
THUNDER ROAD [Cowboy Junkies' cover version]
THUNDER ROAD [Kevin Rowland's cover version]
---
Page last updated: 15 Jul 2014