TREAT HER RIGHT
Original Roy Head And The Traits version
---
Ha, ha, ha, ha, ha
Yeah, my man
Alright
Hey!
Ahhh, you looking good, baby

I wanna tell you a story
Every man oughta know
If you want a little loving
You gotta start real slow
She's gonna love you tonight now
If you just treat her right now

Ah, squeeze her real gentle
Gotta make her feel good
Tell her that you love her
Like you know you should
'Cause if you don't treat her right
She won't love you tonight

If you practice my method
Just as hard as you can
You're gonna get a reputation
As a loving man, now
And you'll be glad every night
That you treated her right

Hey! Hey! Hey! Hey!
Hey!
Hey!
Hey!
Alright!
Yeah, yeah!
Hey!
Every night!
Alright!
Hey!
Hey!
Hey! Hey! Hey!
Oh, work it now one time!
Singing too much, baby, alright!
Hey!
Hey!
---
Info
TREAT HER RIGHT is a song written by Roy Head and Gene Kurtz and recorded and released by Roy Head And The Traits as a single in October 1965. The above lyrics are for the original Roy Head And The Traits version of TREAT HER RIGHT as released in 1965.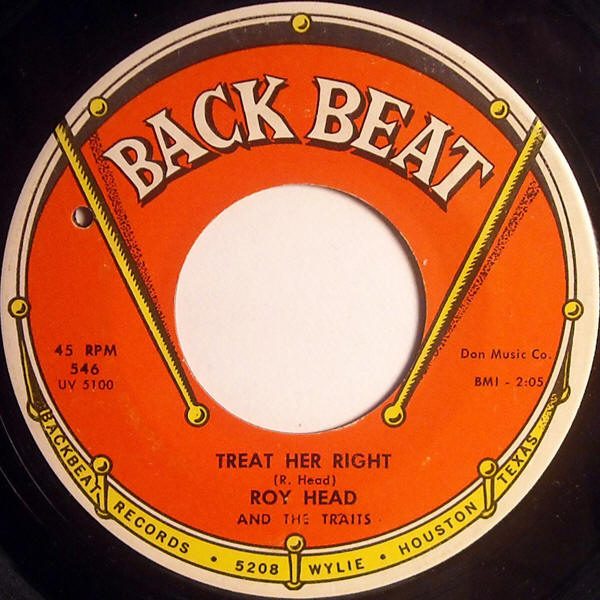 The Drifters -- "Treat Her Right / So Long, My Love"

7" single - Back Beat (546) - USA, 1965

Bruce Springsteen's Version
Bruce Springsteen performed Roy Head And The Traits's TREAT HER RIGHT live twice off-tour, in 1998 and 1999. See the [SONG=treatherright]live 31 Jan 1998 version[SONG] for more details.
Available Versions
List of available versions of TREAT HER RIGHT on this website:
TREAT HER RIGHT [Live 31 Jan 1998 version]
TREAT HER RIGHT [Original Roy Head And The Traits version]
---
Page last updated: 05 Sep 2012