UPTOWN
Original Roy Orbison version
---
(I'm uptown, I'm uptown)
Uptown (I'm uptown), in penthouse number three (I'm uptown, I'm uptown)
Uptown (doo doo ah), there lives a doll just made for me (doo doo ah, doo doo ah)
Ah she's the finest thing that (doo) you've ever seen, uh huh huh (uh huh huh, uh huh huh)

Uptown, I see her most every day
Uptown, but she never ever looks my way
I'm just a bellhop, you see I can't stop and tell her what I wanna say

That one of these days, I'm gonna have money (ahhh)
She wanna be my ever loving honey
It won't be long, just wait and see (ahhh)
I'll have a big car, fine clothes, and then I'll be
Uptown in penthouse number three (oohhh)
Uptown, just my baby and me (oohhh, doo doo ah, doo doo doo ah)

Yeah one of these days, I'm gonna have money (ahhh)
She wanna be my ever loving honey
It won't be long, just wait and see (ahhh)
I'll have a big car, fine clothes, and then I'll bew
Uptown (I'm uptown) in penthouse number three
Uptown (I'm uptown), just my baby and me (I'm uptown, I'm uptown)
(I'm uptown, I'm uptown, I'm uptown, I'm uptown, ...[fades out])
---
Info
UPTOWN is a song written by Roy Orbison and Joe Melso and originally released by Roy Orbison as a single in 1959.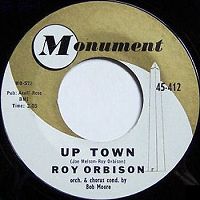 Roy Orbison -- "Up Town / Pretty One"

7-inch single - Monument (412) - USA, 1959

The song is titled "Up Town" on this release.

The above lyrics are for the original Roy Orbison version of UPTOWN as released in 0000.
Springsteen's Versions
Bruce Springsteen performed UPTOWN live once, with Roy Orbison. See the live 30 Sep 1987 version for more details.
Available Versions
List of available versions of UPTOWN on this website:
UPTOWN [Live 30 Sep 1987 version]
UPTOWN [Original Roy Orbison version]
---
Page last updated: 31 Aug 2015