UP TO YOU
Album version
---
[Instrumental intro from live recording, featuring Bruce Springsteen on harmonica]

They seem unwise, they're tough
I could be wrong, too many faces
Don't give advice, that's enough
Don't prolong, too many disguises
Let's make it a better place for everyone to live
Don't give excuses and be oppressive

Why all this confusion, too much deception
This time you change, it's good for you
It takes courage to do what you got to do
This time you cringe, I don't wanna be you
Change your image, it's time you do
Don't live your life full of lies
It's your life, there are no boundaries
This time you grow up, face yourself
Before it's too late, I'll deal with you myself

All I'm asking for is the privilege to learn
If I threw my heart, trust fall
Seek a fortune for the thing's up to you

[guitar solo]

This time you grow up, face yourself
Before it's too late, I'll deal with you myself

They seem unwise, they're tough
I could be wrong, too many faces
Don't give advice, it's enough
Don't prolong, too many disguises
Let's make it a better place for everyone to live
Don't give excuses and be oppressive

Why all this confusion, too much deception
Why all this starvation, too much corruption
(Deception, corruption)
Why all this confu-confu-confusion? (starvation, confusion)
(Deception, corruption)
Too much deception (starvation, confusion)
Why all this confu-confu-confusion? (decep-, decep-, corrup-, corrup-, confu-, confu-, starvation)
Too much oppression (decep-, decep-, confusion)

[Instrumental outro from live recording, featuring Bruce Springsteen on harmonica]
---
Info
UP TO YOU is a song written by Shankar and Caroline who released on their 1989 album Eye Catcher. The recording incorporates instrumental snippets
from their live 30 Sep 1988 performance of the song with Bruce Springsteen.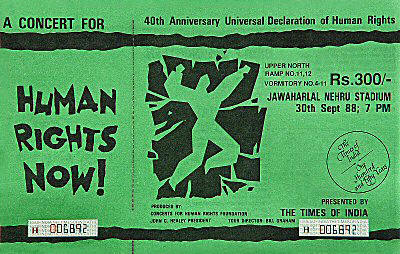 Ticket stub for the 30 Sep 1988 show at Jawaharlal Nehru Stadium, New Delhi, India
The above lyrics are transcribed from Shankar and Caroline's studio version of UP TO YOU as released on their Eye Catcher album. They dedicated
the song to Amnesty International.
Recording and Release
Shankar and Caroline recorded and released UP TO YOU on their 1989 album Eye Catcher. Credited to "The Epidemics (Shankar & Caroline)", the album was recorded and mixed at The Complex Studios in Los Angeles, CA. It was released in the United States on Lollipop Records and in Japan on Japan Records.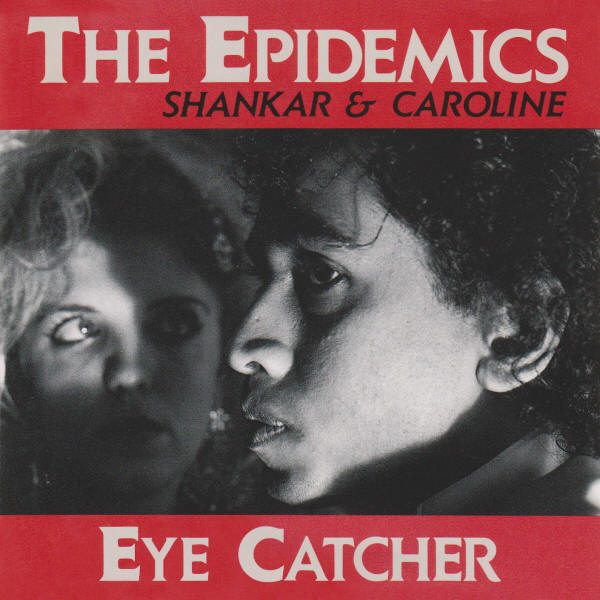 The Epidemics (Shankar & Caroline) -- Eye Catcher

CD - Lollipop Records (LR-1) - USA, 1989
CD - Japan Records (TKCB30008) - Japan, 1989

The Japanese issue was distributed by Tokuma Communications.

An instrumental expert (over 3 minutes in total) from the live 30 Sep 1988
performance of UP TO YOU in New Delhi, India, (see the "Live History" section below) was incorporated into the studio version of the song. The live expert, which is used to open and close the track, features Bruce Springsteen on harmonica, and according to album's info sheet, accompanied by Nils Lofgren on guitar, David Rhodes on guitar, David Sancious on keyboards, Darry Jones on bass, Manu Katche on drums, Mino Cinelu on percussion, Zakir Hussain on tabla, and Vikku Vinayakram on ghatam.
The studio track features Shankar on vocals and double violin, Caroline on
vocals and tambourine, Glen Alexander on guitars, Giovanni Fusco on keyboards, Andrew Harkin on
bass, and Jerry Cuccurullo on drums.
Live History
UP TO YOU was performed once during the 20-date-long Amnesty International Human Rights Now! Tour, on 30 Sep 1988 in New Delhi, India. The song was performed with Shankar and Caroline and Springsteen played harmonica on an instrumental intro and outro for the song. He later took the stage with the E Street band to perform his own set in front of the sell-out crowd of 55,000. Part of this live 30 Sep 1988 performance of UP TO YOU, including some of Springsteen's harmonica jam, was shown on Indian news reports. A longer snippet was shown in some European countries (including England and Norway) as part of an Amnesty TV documentary.
30 Sep 1988 at Jawaharlal Nehru Stadium, New Delhi, India
Credits
Thanks Jake (ol'catfishinthelake at BTX and Greasy Lake) for the lyrics help.
Request
I know very little about The Epidemics and some of the above lyrics might be open for revisions and corrections. If you can help, please send your comments, additions, or corrections via the below form or by email: . You will be credited. Thanks in advance.
Available Versions
List of available versions of UP TO YOU on this website:
UP TO YOU [Album version]
---
Page last updated: 24 Oct 2015