WALKING IN THE RAIN
Original The Ronettes version
---
I want him, and I need him
And someday someway, whoa whoa whoa, I'll meet him
He'll be kind of shy, and real good looking too
And I'll be certain he's my guy by the things he'll like to do

Like walking in the rain (like walking in the rain)
And wishing on the stars up above (and wishing on the stars)
And being so in love

When he's near me, I'll kiss him
And when he leaves me, whoa whoa whoa, I'll miss him
Though sometimes we'll fight, I won't really care
And I'll know it's gonna be alright 'cause we've got so much we share

Like walking in the rain (like walking in the rain)
And wishing on the stars up above (and wishing on the stars)
And being so in love

(Johnny), no no he'll never do
(Bobby), no it isn't him too
They would never, no they'd never never ever love
Walking in the rain (like walking in the rain)
And wishing on the stars up above (and wishing on the stars)
And being so in love

Oh, oh oh oh oh
Where can he be
Oh oh oh
I've been wishing and hoping
Where can he be
[Fades out]
---
Info
WALKING IN THE RAIN is a song written by Barry Mann, Phil Spector, and Cynthia Weil, and originally released by The Ronettes as a single in 1964. The above lyrics are for the original The Ronettes version of WALKING IN THE RAIN as released in 1964.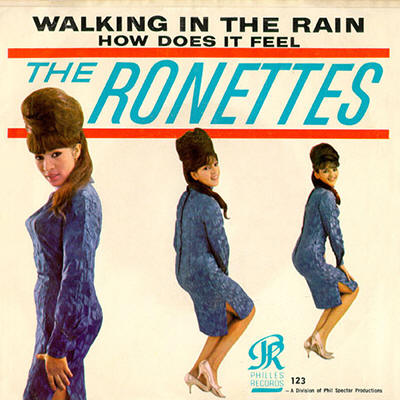 The Ronettes -- "Walking In The Rain / How Does It Feel?"

7" single - Philles Records (123) - USA, 1964

Bruce Springsteen's Version
Bruce Springsteen performed WALKING IN THE RAIN live a few times in 1976 and 1977, with Ronnie Spector. See the live 04 Nov 1976 version for more details.
Available Versions
List of available versions of WALKING IN THE RAIN on this website:
WALKING IN THE RAIN [Live 04 Nov 1976 version]
WALKING IN THE RAIN [Original The Ronettes version]
---
Page last updated: 17 Dec 2016