WE GOTTA GET OUT OF THIS PLACE
Live 15 Mar 2012 (Austin Convention Center) version
---
[Spoken:] ...And then, then for me, it was The Animals. For, for some, they were just another one the really good beat groups that came of the '60s. But to me, The Animals were, they were a revelation. Uh, they were the first records with full blown class consciousness that I had ever heard. Uh, We Gotta Get Out Of This Place, uh, had that great bass riff, uh, you know, it had that...

[plays bass line of We Gotta Get Out Of This Place on acoustic guitar]

[Spoken:] And that was just the clock there, the clock marking time, you know?

In this dirty old part of the city
Where the sun refused to shine
People tell me there ain't no sense in trying

My little girl, you're so young and pretty
One thing I know is true
You'll be dead before your time is due
This I know

See my Daddy in bed and dying
See his hair turning grey
He's been working and slaving his life away
Yes, I know

It's been work, every day
Just work, every day
It's been work, work, work, work

We gotta get out of this place
If it's the last thing we ever do
We gotta get out of this place
Girl, there's a better life for me and you
Yes, I know it's true

[Spoken:] That's every song I've ever written. Yeah. Um... That's all of them! I'm not kidding, either. That's Born to Run, Born in the USA, everything I've done for the past forty years, including all the new ones, you know? But that struck me so deep. It was the first time I felt I heard something come across the radio that mirrored my home life, my childhood...
---
Info
The above lyrics (and relevant pieces of the speech) are for the 15 Mar 2012 performance of WE GOTTA GET OUT OF THIS PLACE at Austin Convention Center in Austin, TX, during Bruce Springsteen's keynote hour-long speech at the South By Southwest (SXSW) music festival. He talked in length about The Animals' influence on his music and sang a truncated version of WE GOTTA GET OUT OF THIS PLACE on acoustic guitar.
The entire event was broadcast on public radio stations across the United States. Video and audio of the speech were broadcast on the SXSW and NPR websites. The clip of Springsteen singing WE GOTTA GET OUT OF THIS PLACE was made available on his official website.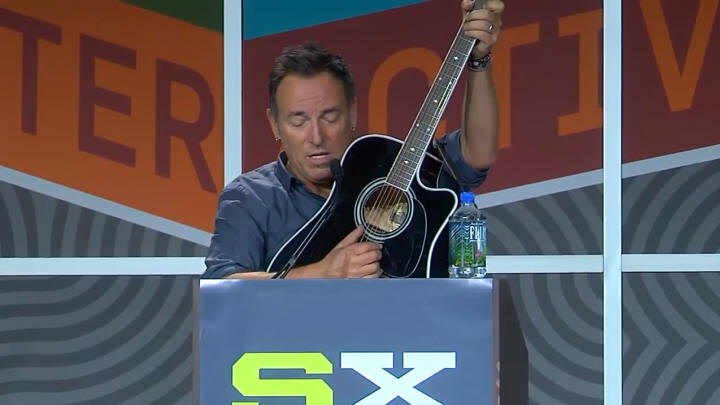 Bruce Springsteen performing WE GOTTA GET OUT OF THIS PLACE on 15 Mar 2012 at Austin Convention Center, Austin, TX (taken from the internet broadcast of the event)
Credits
Thanks Jake (ol'catfishinthelake at BTX and Greasy Lake) for the lyrics help.
Available Versions
List of available versions of WE GOTTA GET OUT OF THIS PLACE on this website:
WE GOTTA GET OUT OF THIS PLACE [Live 04 Nov 1976 version]
WE GOTTA GET OUT OF THIS PLACE [Live 15 Mar 2012 (Austin Convention Center) version]
WE GOTTA GET OUT OF THIS PLACE [Live 15 Mar 2012 (Moody Theater) version]
WE GOTTA GET OUT OF THIS PLACE [Original The Animals version]
---
Page last updated: 19 Sep 2012