WE'VE GOT TO DO IT NOW
Handwritten lyrics
---
Come to me brothers, come to me sisters
The time has come, we've got to help each others
So pick up your guns or send out your lovers
The choice is yours, it's one or the other Breathe fresh air before you get shot dead
Can't you see there's no time to wait You better do it before it's too late
Can't you see there's no time to waste
The sooner it's done the better
The longer we wait the harder
They'll make it for us to get together

There's no backing out cause your [sic] already in
The choice is yours, you have to make it my friend
Your [sic] branded as an outlaw and set on the run
Hunted by soldiers marked as the one

It's an American circus
---
Info
WE'VE GOT TO DO IT NOW is an unreleased song written by Bruce Springsteen. The above lyrics are transcribed from a Bruce Springsteen handwritten lyrics sheet dating from before he signed his record deal with Columbia Records.
Lyrics Sheet
In October 2008, five Bruce Springsteen handwritten lyrics sheets were auctioned on Heritage Auctions. One of them contained a complete song – titled "We've got to do it now" – handwritten in blue ballpoint on a sheet of composition notebook paper. This one realized the highest final bid of USD 1,195. Based on Springsteen's handwriting and lyrics style, the sheet seems to date form the 1970-1971 era, or possibly earlier.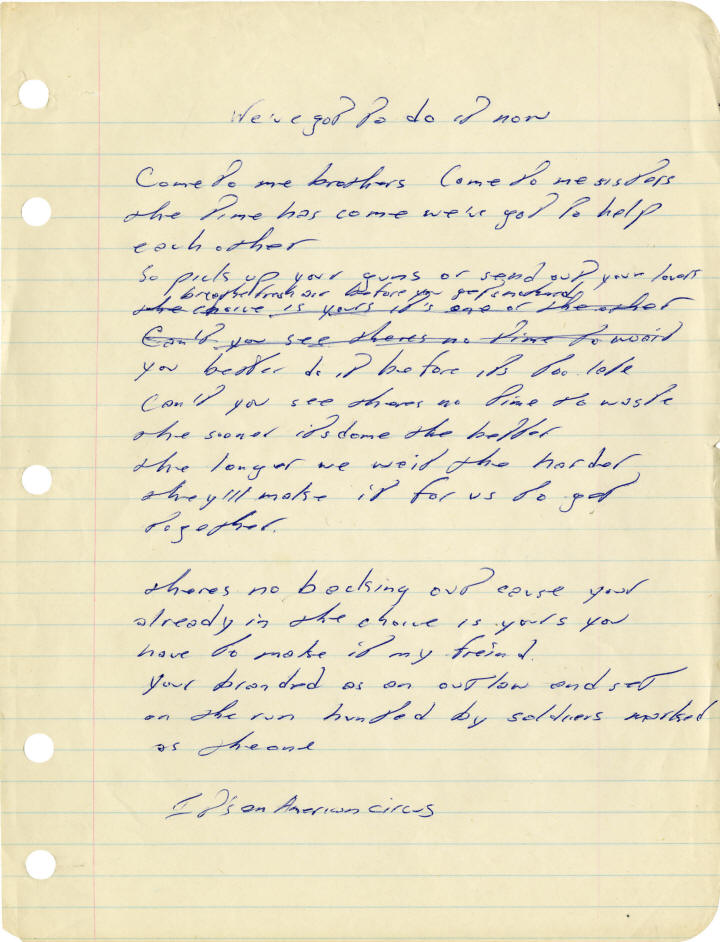 Bruce Springsteen handwritten lyrics sheet for WE'VE GOT TO DO IT NOW
Live History
WE'VE GOT TO DO IT NOW is known to have been performed at least once in Springsteen's early years, on 27 Nov 1970 in Asbury Park, NJ. See the live 27 Nov 1970 version for more details. Very little is known about shows from this early period, and therefore, the song may have been played on some more dates around 1970.
Credits
Thanks Pete Russell (Peteadmin at Brucebase).
Request
If you have any additional information about this song or the lyrics sheet itself, please contact me via the below form or by email: . You will be credited. Thanks in advance.
Available Versions
List of available versions of WE'VE GOT TO DO IT NOW on this website:
WE'VE GOT TO DO IT NOW [Handwritten lyrics]
WE'VE GOT TO DO IT NOW [Live 27 Nov 1970 version]
---
Page last updated: 04 Mar 2012