WHEN YOU DANCE
Studio rehearsal version
---
When you dance, ah come on mama hold me tight
Make romance, yeah kiss me baby in the night
When you move, ??? I love you so
When you groove, meet baby I'm on the lights down low

Come on mama, don't be afraid
Come on honey, don't stand back
Baby you know you're already with me
And honey that's just about where I'm at

When you love, you know I'll chase the heavens above
From above, and my body shaking for you love
You're so wild that I want you for my partner child
When you smile, how you move just ??? right

Come on honey, don't be afraid
There's no need to stand back
Come on mama, you're already here
Honey you know that's where I'm at
Hey!

[10-minute instrumental]

Yeah when you dance, yeah come on mama hold me tight
I'll make romance, yeah kiss me mama in the night
Oh when you love, I know you shake the sky above
??? watch your way

Come on mama, don't be afraid
There's no need to stand back
Come on honey you're alright with me
And baby you know that's where I'm at
Yeah!
---
Info
WHEN YOU DANCE is an unreleased song written by Bruce Springsteen and Steven Van Zandt. It was performed live with The Bruce Springsteen Band in 1971 and 1972.
Southside Johnny & The Asbury Jukes' cover version of WHEN YOU DANCE, released in 1977, is considerably different from the Bruce Springsteen Band's 1971-1972 version and is credited to Bruce Springsteen and Steven Van Zandt on the. It is unclear as to whether the song was originally written by Springsteen alone and later updated by Van Zandt for the Southside Johnny & The Asbury Jukes release, of if Van Zandt helped co-writing the song since the beginning.
The above lyrics are for a Bruce Springsteen Band studio rehearsal of WHEN YOU DANCE that took place in early 1972 at Challenger Eastern Surfboards in Highlands, NJ. See the below section for more details.
WHEN YOU DANCE was written in 1971; it appears on a 1971 table mat puzzle produced by the Student Prince club.
The Bruce Springsteen Band performed frequently at Student Prince in Asbury Park, NJ, between mid-November and mid-December 1971. A table mat puzzle was produced by the club for use during this month-long residency. The goal is to find the eleven hidden Bruce Springsteen Band song titles, and the first five patrons to find all of them would win free passes for the next show at the club. The eleven song titles are: COWBOYS OF THE SEA, DOWN TO MEXICO, FUNK SONG, I REMEMBER, I JUST CAN'T CHANGE, LIKE A STRANGER, MAGIC LOVING, MAKE YOUR MIND UP, MARIA, NO WAY, and WHEN YOU DANCE. These songs range from Steel Mill-era creations to recently written material. Two of them however, MARIA and NO WAY, are not known from any circulating audio.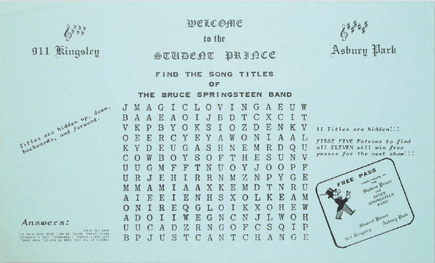 Student Prince song titles puzzle
Challenger Eastern Surfboards Rehearsals
Bruce Springsteen wrote numerous songs in 1971 but did not record any material in a professional recording studio during that period. However, studio rehearsal sessions were frequently conducted at the Challenger Eastern Surfboards factory in Highlands, NJ, in 1971 and early 1972. The primary purpose of the sessions was not to make audio recordings, but to prepare for live shows. So only a fraction of this extensive body of rehearsal sessions was ever recorded, and when they were, it is an unfortunate reality that the reel-to-reel tapes made at Challenger Eastern were often erased and reused to record live shows.
Fortunately, high-quality audio of one Challenger East session is known to exist – a continuous 8-song / 83-minute segment of a rehearsal that took place in early 1972 at Challenger Eastern Surfboard. The recording was engineered and produced by Carl "Tinker" West. The session line-up was Bruce Springsteen, Steve Van Zandt, David Sancious, Garry Tallent, and Vini Lopez.
IT'S ALL OVER NOW, BABY BLUE
FUNK SONG
DO IT WITH A FEELING

[a partial take and a full take]
The recording is on three reel-to-reel tapes. The first two, which contains the first six songs listed above, is in circulation among collectors. The third reel, which contains the last two songs listed above, is no in circulation and remains in the hands of a private collector. This third tape may have been recorded before the other two.
The original tapes note the audio as emanating from 1972 but do not mention the exact date. However, according to Brucebase, this session is most definitely from very early in the year, prior to Springsteen's March 1972 contract signing with Mike Appel and Jim Cretecos. Bearing in mind that The Bruce Springsteen Band had been idle for over a month due to Springsteen's trip to California, it's likely that this rehearsal took place in order to prepare for the numerous shows scheduled for late January thru early March. Indeed, the arrangements of these songs are remarkably similar to those that have surfaced from live gigs during this specific period. Brucebase lists the recording under its 14 Mar 1972 entry.
In addition to 76 minutes of music, the recording contains nearly 7 minutes of between-song studio chat, much of it between Springsteen and Tinker West. The discussions seem to indicate that the primary intent of the session is for rehearsing, not recording, with the recording merely being done because West wanted to test some new recording equipment. The sound quality is uniformly excellent. Although all the audio is from the same day, it is evident from the discussions that the rehearsals had been going on for some hours before the recording started. It should be noted that this is not Challenger's more famous Wanamassa, NJ factory location, the one that Springsteen had lived at and rehearsed in during the 1969-1971 Child and Steel Mill era. Tinker West had relocated that factory to Highlands, NJ in mid-1971 and had then constructed a more professional rehearsal room (which included a control room like a regular studio) for the various bands he managed.
Lyrics Sheet
A Bruce Springsteen lyrics sheet titled "When You Dance" has been auctioned in the past. It's handwritten on a ruled notepaper. The lyrics seem to be totally different from the known live versions of the song. It could be a completely different song sharing the same title.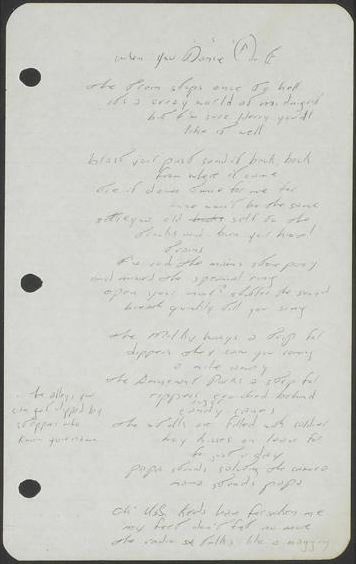 Bruce Springsteen handwritten lyrics sheet for WHEN YOU DANCE
Live History
WHEN YOU DANCE is known to have been performed at least five times in Bruce Springsteen's early years (pre-October 1972). All of these confirmed performances are from between October 1971 and February 1972. Very little is known about shows from this early period, and therefore, the song may have been played on some more dates in 1971 and 1972.
23 Oct 1971 at University Of Richmond, Richmond, VA

(with The Bruce Springsteen Band)

Nov 1971 at Student Prince, Asbury Park, NJ

(with The Bruce Springsteen Band)

17 Dec 1971 at Rutgers University, New Brunswick, NJ

(with The Bruce Springsteen Band)

Feb 1972 at The Back Door, Richmond, VA

(with The Bruce Springsteen Band)

25 Feb 1972 at The Back Door, Richmond, VA

(with The Bruce Springsteen Band)
Covers
As far as it's known, only two artists have recorded and released Bruce Springsteen's WHEN YOU DANCE.
References
Most of the above info about the Challenger Eastern Surfboards rehearsals and the song's live history is taken from Brucebase.
Request
If you have any additional information about this song or any corrections to the above lyrics, or if you have a higher resolution scan of the above handwritten lyrics sheet or if you can help transcribe it, please contact me via the below form or by email: . You will be credited. Thanks in advance.
Available Versions
List of available versions of WHEN YOU DANCE on this website:
WHEN YOU DANCE [Studio rehearsal version]
WHEN YOU DANCE [Live 23 Oct 1971 version]
WHEN YOU DANCE [Live Nov 1971 version]
WHEN YOU DANCE [Live Feb 1972 version]
WHEN YOU DANCE [Southside Johnny & The Asbury Jukes' cover version]
WHEN YOU DANCE [LaBamba & The Hubcaps' cover version]
---
Page last updated: 25 Jan 2017