WHITE LINES
Soozie Tyrell's album version
---
On the wheels of a Chevy, 1964
Dad packed the family and drove from Chesapeake to the Bay of Frisco
All the way we camped beneath the stars, unaware of my folks from civil war
But life seemed good at seven years old with my hand out the car window
Hair blowing back, scooping the wind and the white lines on the road

My two sisters and me in the backseat, we're fighting 'cause we're bored to tears
Wooly Bully blaring on the radio, dad yelling, "I can swing from here"
At a truck stop in Wyoming I got a shrunken head from a vending machine
Yeah life seemed good at ten years old with my hand out the car window
Hair blowing back, scooping the wind and the white lines on the road

Whoah, whoah, oh, whoah
Whoah, whoah, oh, whoah
I'm running out of time
I'm running out of lines
I'm running, running out of road

Dad retired from the service, 1969
Drove to Cape Canaveral and watched Apollo Eleven roar to the heavens
Last two hundred miles to go, I'll need home to be at the end of the road
Well life gets uncertain at twelve years old with my hand out the window
My hair's blowing back, scooping the wind and the white lines on the road

Everything tore lose, 1974
Dad packed the Chevy and drove to a small apartment north of town
I should have seen his pain coming, but mine chose to keep me blind
Life changes hard at seventeen, with my hand reaching out
Trying to ease ma's pain, scooping her tears and running for them white lines on the road

Oh, whoah, oh, whoah
Oh, whoah, oh, whoah
I'm running out of time
I'm running out of lines
I'm running, running out of road

On the wheels of a Chevy, 1999
Left a gig in Boston, hoping to make New York by five A.M.
Six piece band is my family and home is where we can get some sleep
Life sure ain't changed at forty-two, still got my hand out the window
My hair's blowing back, still trying to catch them white lines on the road

Whoah, whoah, oh, whoah
Oh, whoah, oh, whoah
I'm running out of time
I'm running out of lines
I'm running, running out of road
Oh, whoah, oh, whoah
Whoah, whoah, oh, whoah
Oh, whoah, oh, whoah
Oh, whoah, oh, whoah
---
Info
WHITE LINES is a song written by Soozie Tyrell and released on her 2003 album White Lines. The above lyrics are for Soozie Tyrell's album version of WHITE LINES as released in 2003.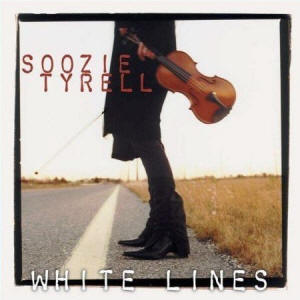 Soozie Tyrell -- White Lines

CD - Treasure Records / Valley Entertainment (VLT15167) - USA, 2003

This was E Street Band member Soozie Tyrell's debut album, released on 08 Apr 2003. Bruce Springsteen contributed to the studio recording of two songs on White Lines, WHITE LINES and STE. GENEVIEVE, playing lead guitar on the first and singing backup vocals on the second. The album was recorded at Scullville Studios in Egg Harbor Township, NJ, around May 2002. The complete line-up on this track includes Soozie Tyrell (lead and background vocal, violin), Bruce Springsteen (lead guitar), Larry Campbell (electric and acoustic guitars), Brian Mitchel (accordion), Tony Garnier (bass), Jerry Klause (percussion), and Richard Crooks (drums).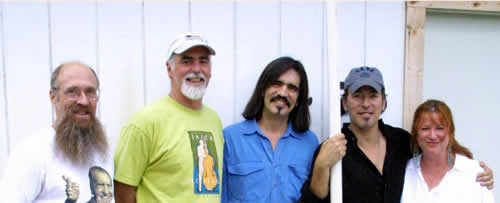 Bruce Springsteen and Soozie Tyrell (with her Studio Engineering Team) at Scullville in May 2002
Bruce Springsteen said about Soozie Tyrell and her album:
Soozie Tyrell has been one of the best kept secrets of the New York and New Jersey musicians community for a long time. This year she brought the raw beauty of her voice and violin to the E Street band. Here on 'White Lines' she gets a chance to step out and shine on her own. Check it out.
Live History
As far as it's known, Bruce Springsteen has never performed WHITE LINES live.
Credits / References
Thanks Jake (ol'catfishinthelake at BTX and Greasy Lake) for the lyrics help. The above photo is taken from Brucebase.
Available Versions
List of available versions of WHITE LINES on this website:
WHITE LINES [Soozie Tyrell's album version]
---
Page last updated: 02 Feb 2016