WINTER SONG
Unofficial studio version
---
From their northeast source the sour wind roars
Bear gifts fresh from the valley waters
Hollow echoes strip Pennsylvania mountain walls
With their corsets and their old Betsy ruffle
And their slips with pearly white
They stand bulging up against the screen door
And bid you "good night"

Summer's sweet and she brings me water
But give me Winter, that old icy whore
While summer lies meek and follows orders
Winter cries "me", and pulls you through the door

The lymph node tramp cries metal flake tears
They drip like honey down soot mama's leg
You lay watching a moth eat a hole in his cloth
He'll ask, but he don't beg
Said I'd like to see the mademoiselle
Who holds the keys to all these doors around the waist
And rings the bell

Summer's sweet and she brings me water
Give me Winter, that old icy whore
Summer lies meek and follows orders
Winter cries "me", and pulls you through the door

With scuffling sound the knot voiced matron makes her rounds
Knocking on each and every door
With a look like white heat, she sways, salty, sweet
And leads me 'cross her Persian floor
She squeezed my hand and before her I stood
I was scared, it was dark but it was good

Summer's sweet and she brings me water
But give me Winter, that old icy whore
While summer lies meek and follows orders
Winter cries "me", and pulls me through her door
---
Info
WINTER SONG is a song written by Bruce Springsteen who recorded it in studio in early 1973. The song has not yet been officially released. The above lyrics are transcribed from the only known studio take of the song.
Composition and Recording
1972 was a massive songwriting period for Bruce Springsteen. Following the completion of his debut album sessions in October 1972, he continued composing new material. WINTER SONG probably saw the light during that period. According to Brucebase, Springsteen was allegedly supplied with a reel-to-reel recorder by Mike Appel (Springsteen's former manager) and Jim Cretecos (Springsteen's former co-manager) and is thought to have made some home demos on his own during this period. None of that home-recorded audio has ever emerged.
According to Sony's database of Springsteen recording sessions, WINTER SONG was demoed on 29-30 Jan 1973 at 914 Sound Studios in Blauvelt, NY. These sessions were produced by Mike Appel and Jim Cretecos, and engineered by Louis Lahav. A solo piano recording of WINTER SONG is in circulation among collectors, and most probably it's the one cut during the 29-30 Jan 1973 sessions. The above lyrics are transcribed from that circulating studio version of WINTER SONG.
In his 2012 book E Street Shuffle: The Glory Days of Bruce Springsteen & the E Street Band, Clinton Heylin writes that BALLAD OF A SELF-LOADING PISTOL, WINTER SONG, and I MET HER IN A TOURIST TRAP IN TIGUARA were "demoed across the same two days at the end of January 1973 presumably with a view to inclusion on the second album."
WINTER SONG was pressed in 1972 on a 10-inch one-sided acetate. It carries an "Angel Sound" label with the song title and "Laurel Canyon Ltd." typewritten on it.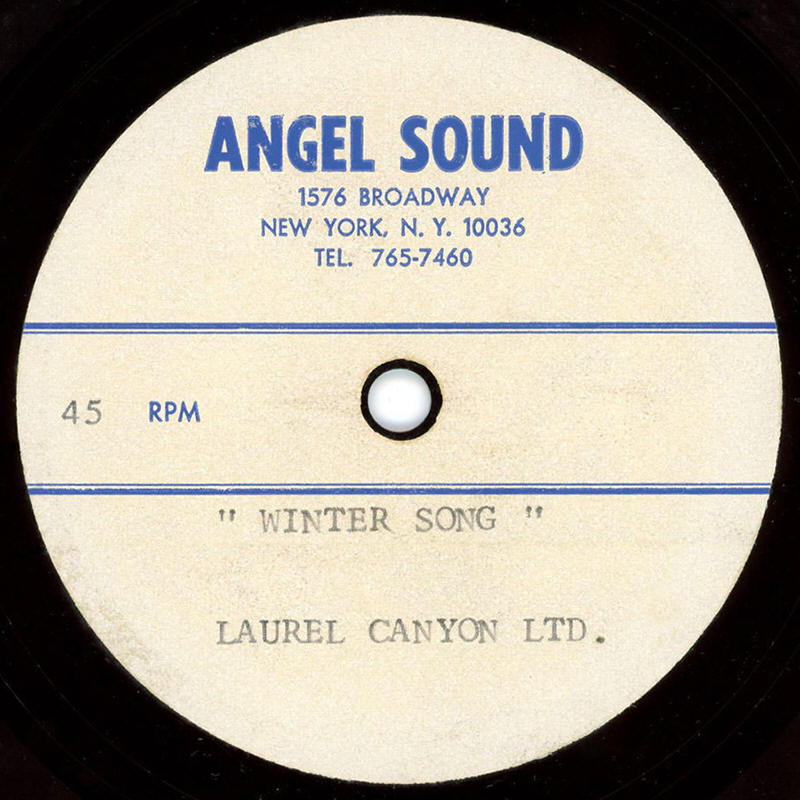 Bruce Springsteen "Angel Sound" acetate
The piano intro in WINTER SONG is very similar to the further-to-come NEW YORK CITY SERENADE.
Bootleg Releases
The studio version of WINTER SONG can be found on The Unsurpassed Springsteen Volume 6 (Yellow Dog Records) [track 04] bootleg.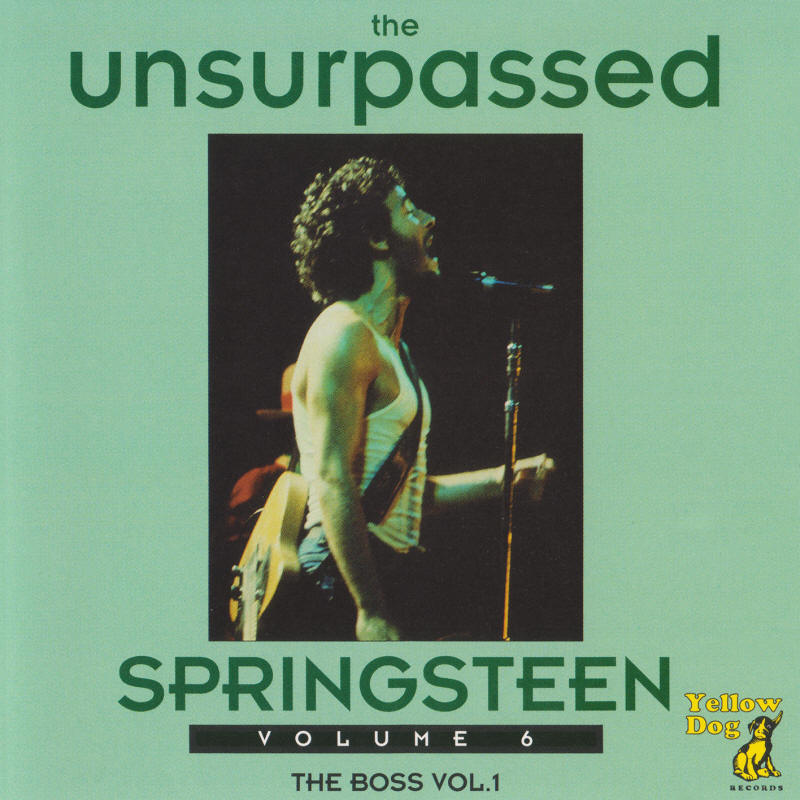 Bruce Springsteen -- The Unsurpassed Springsteen Volume 6 (Yellow Dog Records)
Live History
As far as it's known, Bruce Springsteen has never performed WINTER SONG live.
Covers
As far as it's known, no artist has recorded and released Bruce Springsteen's WINTER SONG.
Credits / References
Thanks Robert Lefebvre, Erno, and Pete Russell (Peteadmin at Brucebase) for the corrections.
Some of the above info is taken from Brucebase.
Request
If you have any additions, corrections, or comments, or if you have better scans of the above acetate label, please contact me via the below form or by email: . You will be credited. Thanks in advance.
Available Versions
List of available versions of WINTER SONG on this website:
WINTER SONG [Unofficial studio version]
---
Page last updated: 24 Nov 2013