WRECK ON THE HIGHWAY
Live 18 Jun 1994 version
---
Last night I was out driving
Coming home at the end of a working day
Driving alone in the drizzling rain
'Cross a deserted stretch of a county two-lane
I came across a wreck on the highway

Well there was blood and glass all over
And there was nobody there but me
And as the rain came down so hard and cold
I saw a young man lying by the side of the road
Who said "Mister, won't you help me please"

An ambulance finally came and took him to Riverside
I watched as they drove him away
And I thought of a girlfriend or a young wife
And a state trooper knocking in the middle of the night
To say "your baby died in a wreck on the highway"

Sometimes I sit up in the darkness
And I watch my baby as she sleeps
Then I climb in bed and I hold her tight
I just lie there awake in the middle of the night
And I think about the wreck on the highway

[Spoken outro (John Wesley Harding):] I'd like to thank Bruce Springsteen.
---
Info
The above lyrics are for the live 18 Jun 1994 performance of WRECK ON THE HIGHWAY at McCabe's Guitar Shop in Santa Monica, CA, during a guest appearance with John Wesley Harding. The song was played in an acoustic arrangement featuring John Wesley Harding on vocals and acoustic guitar, Bruce Springsteen on harmony vocals (throughout the song) and acoustic guitar, and Robert Lloyd on accordion.
In a February 2017 interview for DiscussionsMagazine.com, John Wesley Harding told Dave Rayburn: "It's hard to remember what precisely even happened - though I do remember how it happened - because I don't think we rehearsed up in that backstage room at McCabe's, and he was using my guitar; I think we just started singing and I gravitated towards the melody and he very kindly took the harmony. And then he played a wonderful guitar solo; and even more amazingly, it was all taped and then he allowed me to use it. Truth is, I also have a video of it and, because a performance video was being shot that night, by coincidence, there is also Super 8 footage, so we could edit all together at some point. I'll do a Kickstarter. Joking. [...] As to why we played that song, it's certainly because I suggested it, because I love 'Wreck On The Highway,' and it's true that he didn't play it very often, though I'm not sure whether I'd have expertly known that."
John Wesley Harding released this the 18 Jun 1994 version of WRECK ON THE HIGHWAY as a bonus track on his Awake: The New Edition album in 2001. The track was mixed by Paul Stubblebine from McCabe's soundboard tape and an audience tape recorded by Bob Whitfield.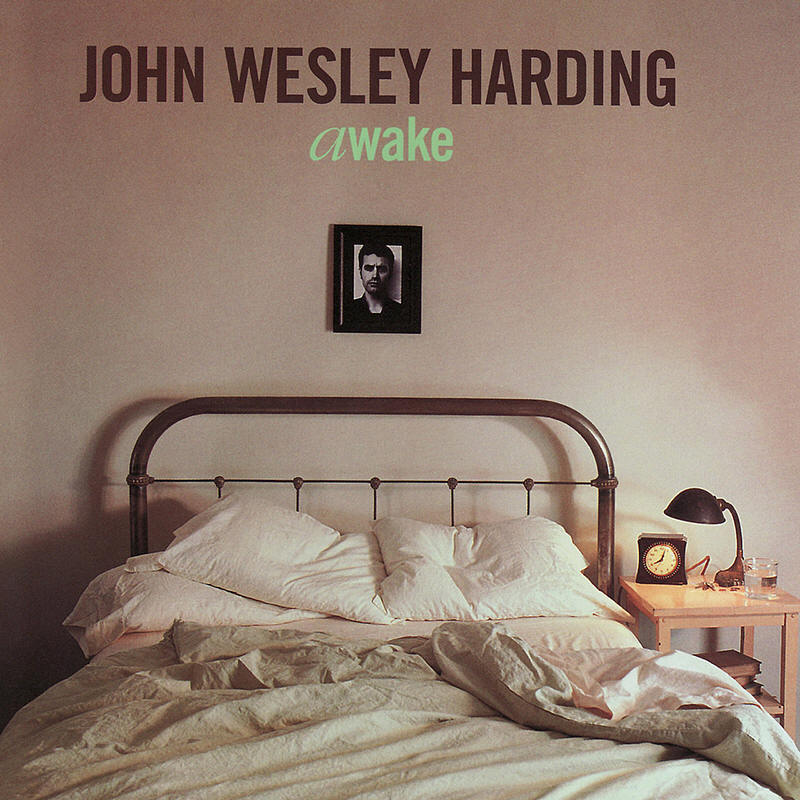 John Wesley Harding -- Awake: The New Edition
CD - Appleseed Recordings (APR1040) - USA, 2001
This is a remastered and expanded reissue of Harding's 1998 album
Awake
. Among the five bonus tracks are covers of
JACKSON CAGE
and
WRECK ON THE HIGHWAY
, the latter being a live version featuring a guest appearance by Bruce Springsteen.
Harding and Springsteen
Bruce Springsteen learned about John Wesley Harding when he heard his 1993 album Why We Fight. A year later, he made a guest appearance at Harding's 18 Jun 1994 gig at McCabe's Guitar Shop in Santa Monica, CA. "It's a very nice story – just that he likes my music," Harding said in 2002. "I got to meet him by coincidence, but he knew who I was." The two performed a duet on Springsteen's WRECK ON THE HIGHWAY, which was officially released in January 2001 as a bonus track on a reissue of Harding's 1998 album Awake. Harding's cover of JACKSON CAGE, recorded in mid-1997, was also included as a bonus track on the same reissue of Awake.
During his The Ghost Of Tom Joad Solo Acoustic Tour, Springsteen chose Harding to open for him on his 29 and 30 Nov 1995 shows at Berkeley Community Theatre in Berkeley, CA. That was the first time that Springsteen had an opening act since 1975.
Harding is an artist-in-residence at Fairleigh Dickinson University in Madison, NJ, where he curates the WAMFEST (The Words and Music Festival). On 06 May 2010, the festival ended with "Jersey Rain: Robert Pinsky & Bruce Springsteen in Conversation and Performance with John Wesley Harding", an event held in the university's Dreyfuss Theater. Springsteen and poet Robert Pinsky, joined at times by Harding, performed their works separately and together. In total, Springsteen performed six songs, interspersed with poems read by both him and Pinksy. Harding joined Springsteen on two songs: THE PROMISED LAND and WRECK ON THE HIGHWAY. The following day, Harding wrote on his blog: "Tears came to my eyes during 'The River', more or less the first Springsteen song I ever heard, when it suddenly hit me that one of my very greatest heroes was sitting a foot to my right singing the shit out of my favourite song."
Credits
Thanks Jake (ol'catfishinthelake at BTX and Greasy Lake) for the lyrics help.
Available Versions
List of available versions of WRECK ON THE HIGHWAY on this website:
WRECK ON THE HIGHWAY [Album version]
WRECK ON THE HIGHWAY [Live 18 Jun 1994 version]
---
Page last updated: 18 Feb 2017