ZERO AND BLIND TERRY
Live 31 Oct 1973 (late show) version
---
COMING SOON
---
Info
The above lyrics are for the live 31 Oct 1973 (late show) performance of ZERO AND BLIND TERRY at The Main Point in Bryn Mawr, PA, during what is considered The Wild, The Innocent, & The E Street Shuffle Tour.
Bruce Springsteen performed three nights, two shows each night, at The Main Point between 29 and 31 Oct 1973. He was the headliner and local acoustic trio Wire And Wood were the opening act. This version of ZERO AND BLIND TERRY is from a circulating 13-song audience tape that is believed to be the late 31 Oct 1973 show.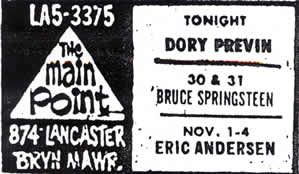 Promotional ad for the 30 and 31 Oct 1973 shows at The Main Point, Bryn Mawr, PA
(
Taken from Brucebase
)
References
Most of the above info about Springsteen's 3-night residency at The Main Point is taken from Brucebase.
Available Versions
List of available versions of ZERO AND BLIND TERRY on this website:
ZERO AND BLIND TERRY [Official studio version]
ZERO AND BLIND TERRY [Live 23 Jul 1973 (early show) version]
ZERO AND BLIND TERRY [Live 31 Oct 1973 (late show) version]
ZERO AND BLIND TERRY [Live 06 Jan 1974 version]
ZERO AND BLIND TERRY [Live 22 Nov 2005 version]
---
Page last updated: 28 Apr 2013