ZERO AND BLIND TERRY
Live 06 Jan 1974 version
---
COMING SOON
---
Info
The above lyrics are for the live 06 Jan 1974 performance of ZERO AND BLIND TERRY at Joe's Place in Cambridge, MA, during what is considered The Wild, The Innocent, & The E Street Shuffle Tour.
Bruce Springsteen was booked for a three-night residency Joe's Place in Cambridge, MA, from 04 to 06 Jan 1974. These were double-bill shows, with Springsteen headlining and Peter Johnson & The Manic Depressives (Joe's Place's unofficial house band) opening. Each of Springsteen's shows consisted of two hour-long sets separated by an intermission. Audience recording of the complete 06 Jan 1974 show and soundboard recording of the second set of that same show are in circulation among fans.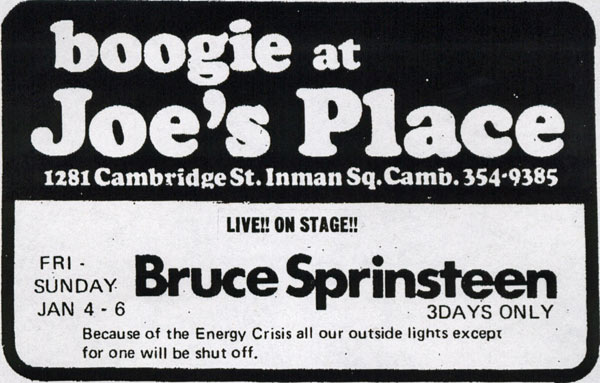 Promotional ad for the January 1974 three-night stand at Joe's Place, Cambridge, MA
(
Taken from Brucebase
)
References
Info about Springsteen's three-night residency at Max's Kansas City is taken from Brucebase.
Available Versions
List of available versions of ZERO AND BLIND TERRY on this website:
ZERO AND BLIND TERRY [Official studio version]
ZERO AND BLIND TERRY [Live 23 Jul 1973 (early show) version]
ZERO AND BLIND TERRY [Live 31 Oct 1973 (late show) version]
ZERO AND BLIND TERRY [Live 06 Jan 1974 version]
ZERO AND BLIND TERRY [Live 22 Nov 2005 version]
---
Page last updated: 28 Apr 2013