DOWN IN THE HOLE
Album version
---
Sun comes every morning but it ain't no friend
I get dressed and I go back again
The rain it keeps on falling on twisted bones and dirt
I'm buried to my heart here in this hurt
Fire keeps on burning, you're waiting in the cold
Down in the hole

Dark and bloody autumn pierces my heart
The memory of your kiss tears me apart
The sky above is turning, the world below's gone gray
I thought that I could turn and walk away
But the fire keeps on burning, and I'm working in the cold
Down in the hole

Radio's crackling with the headlines, wind in the phone lines
The sun upon your shoulder, empty city skylines
The day rips apart, a dark and bloody arrow pierced my heart

I got nothing but hard blue sky and sunshine, the things you left behind
I wake to find my city's gone to black
The days just keep on falling, your voice it keeps on calling
I'm gonna dig right here until I get you back
Fires keep on burning, I'm here with you in the cold
Down in the hole

Down in the hole
---
Info
DOWN IN THE HOLE is a song written by Bruce Springsteen and released on his 2014 album High Hopes. The above lyrics are for Bruce Springsteen's album version of DOWN IN THE HOLE as released in 2014.
Studio Recording
DOWN IN THE HOLE is an outtake from The Rising recording sessions that took place between January and March 2002 at Southern Tracks Studio in Atlanta, GA. Bruce Springsteen and the E Street Band recorded 17 songs during those sessions. The two songs that didn't make the final 15-song line-up for The Rising album are HARRY'S PLACE and DOWN IN THE HOLE. Both of these would eventually be released on High Hopes in 2014.
Springsteen confirmed in a 31 Jul 2002 TV interview with journalist Ted Koppel that 17 songs were recorded in Atlanta, but he didn't mention that DOWN IN THE HOLE was one of the two songs that didn't make it on The Rising. He would reveal that in a December 2013 interview with Rolling Stone's Andy Greene, explaining that he had to choose between DOWN IN THE HOLE and EMPTY SKY, two songs that he liked a lot, for the final 15-song cut. "That's basically as it was written and mixed at that time by Brendan," he added. "That's sort of very original."
Springsteen's vocals on DOWN IN THE HOLE begin in a compressed "down a phone line" effect and then suddenly change back to normal midway through the song. In a 19 Dec 2013 interview that premiered on 10 Jan 2014 during Dave Marsh's Live From E Street Nation show on Sirius XM's E Street Radio channel, Springsteen was asked if there any significance to that vocal effect. "I don't know how it started," he answered. "I'm not sure. I remember doing it with Brendan [O'Brien] and we kind of started the song and did the unusual thing of morphing it from what was a sort of that speaker voice, into the natural vocal tone when the verse comes in. I forgot why we did it (chuckles)."
The album version of DOWN IN THE HOLE was produced by Brendan O'Brien, and featured Springsteen's three children on backing vocals. The performing musicians line-up on the track is:
Bruce Springsteen (vocals, guitar)
Clarence Clemons (tenor saxophone)
Danny Federici (organ)
Patti Scialfa (backing vocals)
Garry Tallent (bass)
Max Weinberg (drums)
Soozie Tyrell (violin)
Evan Springsteen (backing vocals)
Jessica Springsteen (backing vocals)
Sam Springsteen (backing vocals)
High Hopes
High Hopes is Bruce Springsteen's eighteenth studio album. It was officially released on 14 Jan 2014 on Columbia Records. It consists of 12 tracks and clocks at 56:24. Four songs were previously released in different versions (two of which are covers), two more were previously performed live but never released, and the remaining six are new to fans (one of which is a cover). "This is music I always felt needed to be released," Springsteen wrote in the album's liner notes.
In a December 2013 interview for Rolling Stone, Springsteen told Andy Greene that he has always written and recorded significantly more songs than can fit on to whatever album he's creating at the moment. "I have a lot of this music on a computer," he said. "I bring it out on the road to amuse myself. Very often, if I have nothing to do late at night I'll bring it up and look at different bodies of music." The songs that began catching Springsteen's attention were largely recorded after he reunited with the E Street Band in 1999. "The songs were relatively current and had a similar sound picture," he said. "I was interested in putting this material together in some form because it sounded like it all fit together... You have to imagine that when I'm home or done with a tour I go into a studio and I'm surrounded by paintings that I've sorta half-finished. There might be something wrong with this one and I didn't have time to finish this one. When I go into my studio, I'm surrounded by all my music that I haven't released. I wait to see what's going to speak to me." But then they cut a few sessions in 2013 while on tour. "I said, 'Well, these sound good,'" Springsteen told Rolling Stone. "These things blend together. Suddenly, it began to feel very fresh and fit together quite well."
Work on the album started in late 2012 when Springsteen called producer Ron Aniello asking him to work on some demos that he was thinking about releasing. "I remember that Bruce called me on my birthday, so it was December 9th, 2012", Aniello told Andy Greene in a December 2013 interview for Rolling Stone. "He said to me, 'I have some songs. I want to get together.'" According to Aniello, these were old demos that Springsteen had done with Toby Scott and that had been around for a while. Springsteen told him that he wanted to get these songs in shape and see what comes out of that. Aniello was not able to sit with Springsteen to sort it all out because Springsteen was away most of the time touring with the E Street Band. "It all happened in a very unusual manner," Aniello told Rolling Stone. "There was a lot of conversations in Europe and I did some of the recording via iChat when the band was in Australia."
In a January 2014 interview for Rolling Stone, Tom Morello told Andy Greene that he wasn't aware that there was ever talk of a new studio album when they sent him a couple of songs to add guitar on. He did that in his home studio and shortly after he was recording in studio with Max Weinberg and Ron Aniello. "But these studio sessions just kept occurring without any formal notion of what we were doing," Morello recounted. "My assumption was just that 'Bruce is always recording music.' So it was fantastic that I was asked to be a part of it. I was psyched." In March 2013 Bruce Springsteen & The E Street Band performed ten shows in Australia as part of the Wrecking Ball Tour. Steven Van Zandt was off filming his television series Lillyhammer and was replaced by Morello for that leg of the tour. Morello suggested to add HIGH HOPES to the live set. They worked it up during the rehearsals prior to the Australian shows and Morello then "proceeded to burn the house down with it," as Springsteen said. They then re-cut the song along with JUST LIKE FIRE WOULD at Studios 301, Australia's largest studio complex. "Tom and his guitar became my muse, pushing the rest of this project to another level," Springsteen said. He told Rolling Stone's David Fricke, "We've never had a recording session during a tour in our lives. We did a couple of things that I wanted to put down. So that was very exciting. And being with Tommy was exciting. The band – Steven, Nils, all those guys – continues to be a source of inspiration for me." Morello told Rolling Stone that he didn't get the notion that this was "coalescing into what was going to be a major release" until they were in Australia.
No less than sixteen recording studios were used in the making of High Hopes: Thrill Hill Recording (Springsteen's home studio in Colts Neck, NJ), Stone Hill Studio (Springsteen's new home studio in Colts Neck, NJ), Very Loud House (in Los Angeles, CA), Renegade Studio (in New York City, NY), Veritas Studio (in Los Angeles, CA), Southern Tracks (Atlanta, GA), East West Studios (in Los Angeles, CA), NRG Studios (in Los Angeles, CA), Village Studios (in Los Angeles, CA), Studios 301 (in Byron Bay and Sydney, Australia), Record Plant (in Los Angeles, CA), Electric Lady Studios (in New York City, NY), Avatar Studios (in New York City, NY), Sear Sound (in New York City, NY), and Berkeley Street Studio (in Santa Monica, CA).
Ron Aniello revealed that at least 20 tracks were recorded for the album. Among the tracks that didn't make the album cut were COLD SPOT, HEY BLUE EYES, AMERICAN BEAUTY, and MARY MARY.
The album was produced by Bruce Springsteen, Brendan O'Brien, and Ron Aniello. It features all E Street Band members, including the late Clarence Clemons and the late Danny Federici on several songs of what Springsteen calls "some of our best unreleased material from the past decade." The album also features an ensemble of guest artists, including Tom Morello who's featured prominently on the album, appearing on eight tracks.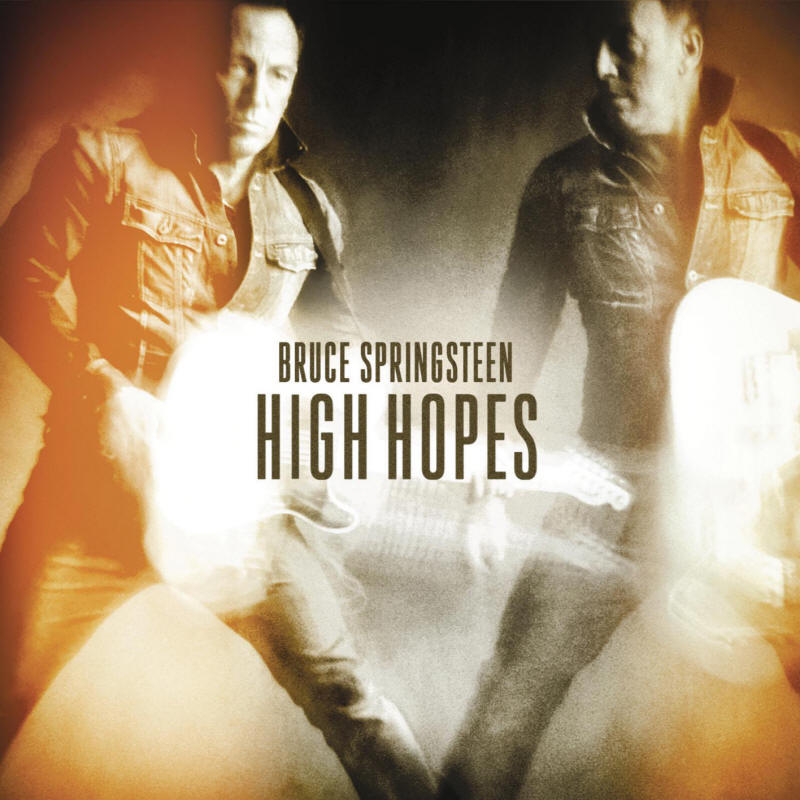 Bruce Springsteen -- High Hopes
High Hopes is available in three configurations: standard CD edition, limited edition, and double-disc LP. The limited edition consists of the standard audio CD and includes a bonus live DVD of Bruce Springsteen & The E Street Band performing the entire Born In The U.S.A. album on 30 Jun 2013 at Queen Elizabeth Olympic Park in London, England, during the Wrecking Ball Tour. The double-disc LP is pressed on 180-gram vinyl and includes a CD version of the album.
High Hopes was officially announced on 25 Nov 2013 and the release date was set for 14 Jan 2014, but on 28 Dec 2013 it became available for purchase as individual tracks in MP3 format through Amazon.com's mobile application. Although Amazon quickly removed the files, presumably recognizing its mistake, the album had already made its way onto file-sharing websites.
The album topped the charts in 20 countries, including the United States and the UK. It was Springsteen's eleventh #1 album in the US, placing him third all-time for most #1 albums only behind The Beatles and Jay-Z. It was his tenth #1 in the UK, putting him joint fifth all-time and level with The Rolling Stones and U2.
| | | |
| --- | --- | --- |
| Country | Chart | Peak position |
| Australia | Aria Top 50 Albums Chart | 1 |
| Austria | Alben Top 75 | 2 |
| Belgium | Ultratop 50 Albums (Flanders) | 1 |
| Belgium | Ultratop 50 Albums (Wallonia) | 2 |
| Canada | Billboard Top Canadian Albums | 1 |
| Croatia | Arhiva Kombiniranih (all artists chart) | 1 |
| Czech Republic | | 1 |
| Denmark | Album 40 | 1 |
| Finland | Suomen Virallinen Albumilista | 1 |
| France | Top 200 Albums | 2 |
| Germany | Media Control Charts Top 100 Albums | 1 |
| Greece | | 1 |
| Hungary | Top 40 Albums | 12 |
| Ireland | Top 100 Individual Artist Albums | 1 |
| Italy | Top 20 Albums | 1 |
| Japan | Japan Hot 100 | 8 |
| New Zealand | Album Top 40 | 1 |
| Norway | VG Lista Topp 40 Album | 1 |
| Poland | Poland Albums Top 50 | 6 |
| Portugal | Albums Top 30 | 4 |
| Slovenia | | 1 |
| South Africa | | 5 |
| South Korea | | 83 |
| Spain | Album Top 100 | 1 |
| Sweden | Sverigetopplistan Albums Top 60 | 1 |
| Switzerland | Albums Top 100 | 1 |
| The Netherlands | GFK Dutch AlbumTop 100 | 1 |
| UK | Official UK Albums Top 100 | 1 |
| USA | Billboard 200 | 1 |
Live History
As far as it's known, Bruce Springsteen has never performed DOWN IN THE HOLE live.
Covers
As far as it's known, no artist has recorded and released Bruce Springsteen's DOWN IN THE HOLE.
Request
If you have any corrections, additions, or comments, please contact me at , or by using the below form. You will be credited. Thanks in advance.
Available Versions
List of available versions of DOWN IN THE HOLE on this website:
DOWN IN THE HOLE [Album version]
---
Page last updated: 28 Feb 2014