FOR YOU
Live 31 Oct 1973 (late show) version
---
Ah, it's princess cards she sends me with her regards
Barroom eyes shine vacancy, to see her you gotta look hard
I was wounded deep in battle, I stand stuffed like some soldier undaunted
To her Cheshire smile, I'd stand on file, she's all I ever wanted
But you let your blue walls get in the way of these facts
Honey, get your carpetbaggers off my back
Wouldn't even give me time to cover my tracks
You said, "Here's your mirror and your ball and jacks"
But they aren't what I came for, and I'm sure you see that too

I came for you, for you, I came for you, but you did not need my urgency
I came for you, for you, I came for you, but your life was one long emergency
And your cloud line urges me, and my electric surges free

Crawl into my ambulance, your pulse is getting weak
Reveal yourself all now to me girl while you got the strength to speak
They're waiting for you at Bellevue with their oxygen masks
Well I could give it all to you now, if only you would ask
Don't call for your surgeon, even he says it's too late
It's not your lungs this time, it's your heart that holds your fate
Don't give me my money, honey, I don't want it back
You and your pony face and your union jack
We'll take that local joker and teach him how to act
I swear I was never that way even when I really cracked
Didn't you think I knew that you were born with the power of a locomotive
Able to leap tall buildings in a single bound?
Your Chelsea suicide with no apparent motive
You could laugh and cry in a single sound
Alright
Whoa oh, whoa oh

Your strength is devastating in the face of all these odds
Remember how I kept you waiting when it was my turn to be the god

You were not quite half so proud when I found you broken on the beach
Remember how I poured salt on your tongue and hung just out of reach
And the band, they played the homecoming theme as I caressed your cheek
That ragged, jagged melody still clings to me like a leech
But that medal you wore on your chest always got in the way
Like a little girl with a trophy so soft to buy her way
We were both hitchhikers, but you had your ears tuned to the roar
Of some metal-tempered engine on an alien, distant shore
So you left to find a better reason than the one we were living for
And it's not that nursery mouth I came back for
And it's not the way you're stretched out on the floor
Because I've broken all your windows and rammed through all your doors
Who am I to ask you to lick my sores?
You should know it's true

I came for you, for you, I came for you, but you did not need my urgency
I came for you, for you, I came for you, but your life was one long emergency
And your cloud line urges me, and my electric surges free
Oh
---
Info
The above lyrics are for the live 31 Oct 1973 (late show) performance of FOR YOU at The Main Point in Bryn Mawr, PA, during what is considered The Wild, The Innocent, & The E Street Shuffle Tour. The song was performed in its full-band album-style arrangement.
Bruce Springsteen performed three nights, two shows each night, at The Main Point between 29 and 31 Oct 1973. He was the headliner and local acoustic trio Wire And Wood were the opening act. This version of FOR YOU is from a circulating 13-song audience tape that is believed to be the late 31 Oct 1973 show.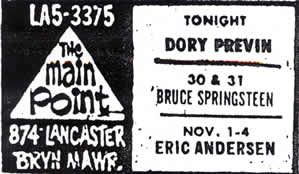 Promotional ad for the 30 and 31 Oct 1973 shows at The Main Point, Bryn Mawr, PA
(
Taken from Brucebase
)
Credits / References
Thanks Jake (ol'catfishinthelake at BTX and Greasy Lake). Most of the above info about Springsteen's 3-night residency at The Main Point is taken from Brucebase.
Available Versions
List of available versions of FOR YOU on this website:
FOR YOU [Album version]
FOR YOU [Live 14 Feb 1973 version]
FOR YOU [Live 31 Oct 1973 (late show) version]
FOR YOU [Live 09 Mar 1974 (Liberty Hall, late show) version]
FOR YOU [Live 05 Feb 1975 version]
FOR YOU [Live 18 Nov 1975 version]
FOR YOU [Live 21 Dec 1975 version]
FOR YOU [Live 28 Dec 1975 version]
FOR YOU [Live 05 Jul 1978 version]
FOR YOU [Live 07 Jul 1978 version]
FOR YOU [Live 01 Jan 1979 version]
FOR YOU [Live 29 Dec 1980 version]
FOR YOU [Live 28 Jan 1988 version]
FOR YOU [Live 07 Aug 1992 version]
FOR YOU [Live 26 Nov 1996 version]
FOR YOU [Live 26 May 1997 version]
FOR YOU [Live 23 Oct 1999 version]
FOR YOU [Live 17 Dec 2000 version]
FOR YOU [Live 30 Jul 2002 (morning) version]
FOR YOU [Live 24 Oct 2002 version]
FOR YOU [Live 20 Feb 2003 version]
FOR YOU [Live 09 Aug 2003 version]
FOR YOU [Live 02 Dec 2004 version]
FOR YOU [Live 19 Dec 2004 (late show) version]
FOR YOU [Live 14 Jul 2005 version]
FOR YOU [Live 31 Jul 2005 version]
FOR YOU [Live 11 Aug 2005 version]
FOR YOU [Live 19 Nov 2006 version]
FOR YOU [Live 21 Nov 2006 version]
FOR YOU [Live 27 Jun 2008 version]
FOR YOU [Live 23 Aug 2008 version]
FOR YOU [Live 20 Nov 2009 version]
FOR YOU [Live 22 Nov 2009 version]
FOR YOU [Live 04 Nov 2010 version]
FOR YOU [Live 05 Feb 2014 version]
FOR YOU [Live 14 May 2014 version]
FOR YOU [Live 03 Jun 2016 version]
FOR YOU [Live 17 Jun 2016 version]
FOR YOU [Live 29 Jun 2016 version]
FOR YOU [Live 05 Sep 2016 version]
FOR YOU [Greg Kihn's cover version]
FOR YOU [Manfred Mann's Earth Band's cover version]
---
Page last updated: 24 Oct 2010