FOR YOU
Live 20 Feb 2003 version
---
[Spoken intro:] I did, uh, I did tackle the subject one time earlier, and, uh, uh, and sort of in a different fashion. I'm gonna send this one out to my gal tonight.

Princess cards she sends me with her regards
Barroom eyes shine vacancy, to see her you gotta look hard
I was wounded deep in battle, but I stood stuffed like some soldier undaunted
To her Cheshire smile I'd stand on file, she's all I ever wanted
But you let your blue walls get in the way of these facts
Honey, get your carpetbaggers off my back
You wouldn't even give me time to cover my tracks
You said, "Here's your mirror and your ball and jacks"
They ain't what I came for, and I'm sure you see that too

I came for you, for you, baby, I came for you, but you did not need my urgency
I came for you, for you, darling, I came for you, but your life was one long emergency
And your cloud line urges me, my electric surges free

Crawl into my ambulance, your pulse is getting weak
Reveal yourself now to me girl while you got the strength to speak
'Cause they're waiting for you at Bellevue, yeah, with their oxygen masks
But I could give it all to you now if only you would ask
Don't call for your surgeon, even he says it's too late
It ain't your lungs this time, it's your heart that holds your fate
Don't give me my money, honey, I don't want it back
You and your pony face and your union jack
Well you can take that local joker and teach him how to act
You know I was never that way even when I really cracked
And didn't you think I knew that you were born with the power of a locomotive
Able to leap tall buildings in a single bound?
Your Chelsea suicide with no apparent motive
You could laugh and cry in a single sound

Your strength is devastating in the face of all these odds
Remember how I kept you waiting when it was my turn to be the god

You were not quite half so proud when I found you broken on the beach
Remember how I poured salt on your tongue and I hung just out of reach
The band, they played the homecoming theme as I caressed your cheek
That ragged, jagged melody still clings to me like a leech
That medal you wore on your chest always got in the way
You were like a little girl with a trophy, so soft to buy her way
We were both hitchhikers but you had your ears tuned to the roar
Of some metal-tempered engine on an alien, distant shore
So you left to find a better reason than the one we were living for
It's not that nursery mouth I came back for
It's not the way that you're stretched out on the floor
'Cause I've broken all your windows and I rammed through all your doors
And who am I to ask you to lick my sores?
You should know that's true

I came for you, for you, baby, I came for you, but you did not need my urgency
For you, for you, darling, I came for you, but your life was one long emergency
And your cloud line urges me, my electric surges free
I came for you, for you, baby, I came for you
For you, for you, darling, I came for you
For you, for you, baby, I came for you
---
Info
The above lyrics are for the live 20 Feb 2003 performance of FOR YOU at Somerville Theatre in Somerville, MA, during the second of the two DoubleTake magazine benefit shows. The song was played in a solo piano arrangement.
Ticket stub for the 20 Feb 2003 show at Somerville Theatre, Somerville, MA
DoubleTake Magazine Benefit
Founded by Harvard psychiatrist Robert Coles, DoubleTake magazine has been in business since 1995, but started facing financial problems a few years later. Springsteen's relationship with the publication goes back to late 1997 when he was interviewed by Will Percy (nephew of the late Walker Percy, a writer/novelist Springsteen admired) at Springsteen's farmhouse in Rumson, NJ. Part of the audio-recorded interview was printed in the March 1998 issue of the magazine. The interview is probably one of the most philosophical of Springsteen's career -- it dealt with the effect books and movies have on Springsteen's writing and the culture of celebrity, among other things. Springsteen also became friend with magazine founder Robert Coles when the two met in 1998. He praised his book A Secular Mind, and even attended one of his classes in Harvard. In November 2004 Coles published in his book Bruce Springsteen's America - The People Listening, A Poet Singing.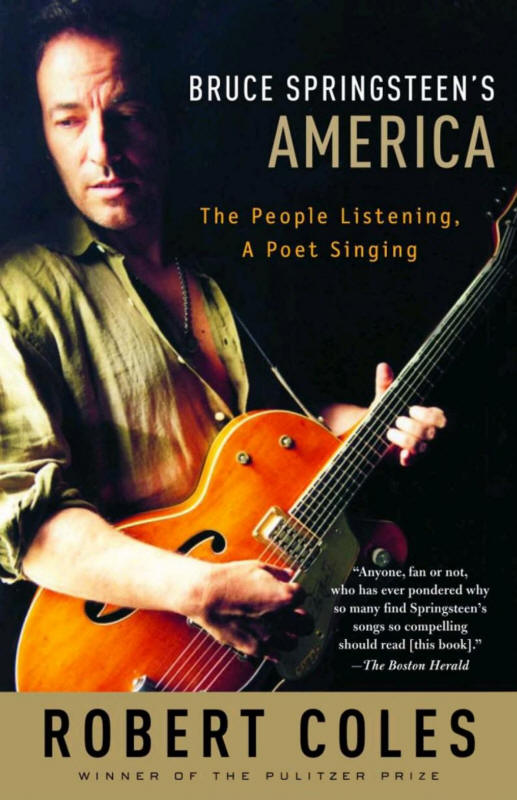 Robert Coles -- Bruce Springsteen's America - The People Listening, A Poet Singing (book cover)
Tickets for the two fundraisers were priced at $500 and billed as "An Intimate Evenings Of Music And Conversation With Bruce Springsteen". These were solo acoustic shows, played on acoustic guitar (or piano on a few songs), held at the small Somerville Theatre (900 seats capacity). Springsteen chatted between songs, and closed out each night with a Q&A session, taking questions from the audience. The unprecedented "conversation" element of the shows made them unique to Springsteen fans.
Promotional poster for the 19-20 Feb 2003 shows at Somerville Theatre, Somerville, MA
The almost one million dollars raised from the ticket sales went to the non-profit DoubleTake Community Service Organization Corporation, publishers of DoubleTake magazine, which owed $600,000 to vendors and contributors. "The concert was a success beyond our wildest dreams," managing editor Kirk Kicklighter commented, "[But] we never really had a plan for what we were going to do after the concert." By the fall of 2004, the magazine was no longer publishing, officially put on "hiatus".
Credits / References
Thanks Jake (ol'catfishinthelake at BTX and Greasy Lake) for the lyrics help.
Available Versions
List of available versions of FOR YOU on this website:
FOR YOU [Album version]
FOR YOU [Live 14 Feb 1973 version]
FOR YOU [Live 31 Oct 1973 (late show) version]
FOR YOU [Live 09 Mar 1974 (Liberty Hall, late show) version]
FOR YOU [Live 05 Feb 1975 version]
FOR YOU [Live 18 Nov 1975 version]
FOR YOU [Live 21 Dec 1975 version]
FOR YOU [Live 28 Dec 1975 version]
FOR YOU [Live 05 Jul 1978 version]
FOR YOU [Live 07 Jul 1978 version]
FOR YOU [Live 01 Jan 1979 version]
FOR YOU [Live 29 Dec 1980 version]
FOR YOU [Live 28 Jan 1988 version]
FOR YOU [Live 07 Aug 1992 version]
FOR YOU [Live 26 Nov 1996 version]
FOR YOU [Live 26 May 1997 version]
FOR YOU [Live 23 Oct 1999 version]
FOR YOU [Live 17 Dec 2000 version]
FOR YOU [Live 30 Jul 2002 (morning) version]
FOR YOU [Live 24 Oct 2002 version]
FOR YOU [Live 20 Feb 2003 version]
FOR YOU [Live 09 Aug 2003 version]
FOR YOU [Live 02 Dec 2004 version]
FOR YOU [Live 19 Dec 2004 (late show) version]
FOR YOU [Live 14 Jul 2005 version]
FOR YOU [Live 31 Jul 2005 version]
FOR YOU [Live 11 Aug 2005 version]
FOR YOU [Live 19 Nov 2006 version]
FOR YOU [Live 21 Nov 2006 version]
FOR YOU [Live 27 Jun 2008 version]
FOR YOU [Live 23 Aug 2008 version]
FOR YOU [Live 20 Nov 2009 version]
FOR YOU [Live 22 Nov 2009 version]
FOR YOU [Live 04 Nov 2010 version]
FOR YOU [Live 05 Feb 2014 version]
FOR YOU [Live 14 May 2014 version]
FOR YOU [Live 03 Jun 2016 version]
FOR YOU [Live 17 Jun 2016 version]
FOR YOU [Live 29 Jun 2016 version]
FOR YOU [Live 05 Sep 2016 version]
FOR YOU [Greg Kihn's cover version]
FOR YOU [Manfred Mann's Earth Band's cover version]
---
Page last updated: 17 Nov 2010