IT'S MY LIFE
Live 04 Nov 1976 version
---
[Spoken intro:] The man who wrote this next song is an artist by the name of Carl D'Errico. I was listening to this song when I came up here in the, uh, the sixties. This is for you Carl, and your, and your, and your wife.

One, two, three, four

[4-minute instrumental intro]

[Spoken:] I grew up in this small town about twenty miles, twenty miles in-, inland. I remember I was in this, this dumpy two-story, two-family house next door to this gas station. And, and my mom, she, she was a secretary, and she worked downtown. And my pop... I remember she, she married my pop soon as he got out of the army. They got married and she took that job. And my father, he worked a lot of different places. He worked in, in a rug mill for a while, he drove a cab for a while and... Worked, he was a guard down at the jail for a while, I can remember when he worked down there, he used to always come home real pissed off and drunk, sit in the kitchen. At night, nine o'clock, he used to shut off all the lights, every light in the house, and he used to get real pissed off if me and my sister turned, turned any of them on, and he'd sit in the kitchen with a six-pack and a cigarette. And my mom, she would set her hair and, and she would come downstairs and just turn on the TV, and sit in the chair, watch TV 'til she fell asleep. And she'd get up the next morning and go to work again. And my pop, sometimes he went to bed, sometimes he didn't; sometimes he got up, sometimes he didn't get up. And, and I used to sleep upstairs. And I used to pull, in the summertime, when the weather got hot, I used to go drag my mattress out the window and sleep on the roof next door to the gas station. And I'd watch these different guys, the station closed up at one, and these guys, they'd be pulling in and pulling out all night long. They'd be meeting people there, they'd be ripping off down the highway. And as soon as I hit sixteen, me and my buddy, we got this car and we started taking off. We used to take off down the beach, just to sleep under the, sleep on top of the beach houses. We used to spin up to the city, and just walk around the streets all night long 'til the cops catch us at Port Authority, call our pops. My pop, he'd never come and get me, I remember, he always sent my mother. Every time I got in trouble, my mother'd come down, and she always said, "Your father, he didn't even want to come." And, and I used to always have to go back home and when I, and I'd stand there in that driveway, afraid to go in the house, and I could see through the screen door, I could see the light on my pop's cigarette, and I can remember I just couldn't wait 'til I was old enough to take him out once. But, I used to slick my hair back real tight so he couldn't tell how long it was getting, and try to sneak through the kitchen. But the old man, he'd catch me every night, and he'd drag me back into that kitchen, he'd make me sit down at that table in the dark, and he would sit there telling me, in the wintertime, he used to, he used to turn on the gas stove so, and close all the doors, so it got real hot in there. And I remember just sitting in the dark, him telling me, him telling me, telling me, telling me. And I could always hear that voice. But no matter how long I sat there, I could never, ever see his face.

[Spoken:] We'd start talking about nothing much, how I was doing. And pretty soon, he'd ask me what I thought I was doing with myself. And we'd always end up screaming at each other. My mother, she'd always end up running in from the front room crying, and trying to pull him off me, and try to keep us from fighting with each other. And I'd always end up, I'd always end up running out the back door and pulling away from him. Pulling away from him, running down the driveway screaming at him, telling him, telling him, telling him, how it was my life and I was gonna do what I wanted to do.

It's a hard world to get a break in
All the good things have been taken
But I know there's ways to make certain these days
Though I come dressed in rags, I will wear sable, sable, someday, someday

Hear me when I say!

Man, I'm going to make for certain
Ain't gonna be no more of my time spent sweatin' rent
Hear my command!
I'm cutting loose, it ain't no use
Trying to hold me down or sticking 'round

'Cause baby (baby)
Remember (remember)
It's my life and I'll do what I want
It's my mind and I'll think what I want
Show me I'm wrong, hurt me sometime
Someday I'll treat you real fine

I will!

Girl, I will, I will, God, I know it, I will
Yeah

There's women who likes a-paying the rent with their fortunes
And they'll just want to mother orphans
And I hear you cry when I'm bleeding 'em dry
Taking all I can get with no regrets
When I, when I openly lie

And live only money
'Cause you can believe me, that there's money out there
And you can believe you can't be no saint and complain
I'm going to go on out, now, and take what's mine

And baby (baby)
Remember (remember)
It's my life and I'll do what I want
It's my mind and I'll think what I want
Show me I'm wrong, hurt me sometime
Someday I'll treat you real fine

(It's my life and I'll do what I want)
Yeah, it's my life!
(It's my mind and I'll think what I want)
Think what I want!
(It's my life and I'll do what I want)
Don't you push me!
(It's my mind) my life!
(And I'll think what I want) All right!

It's my life!
---
Info
The above lyrics are for the live 04 Nov 1976 performance of IT'S MY LIFE at Palladium in New York City, NY, during what is known as The Lawsuit Tour.
IT'S MY LIFE co-songwriter Carl D'Errico and his wife Didi were Springsteen's VIP guests at this show. He dedicated the song to them (see spoken intro above) and they met him backstage and invited him to their apartment for dinner. See the live 12 Dec 1975 version for more details.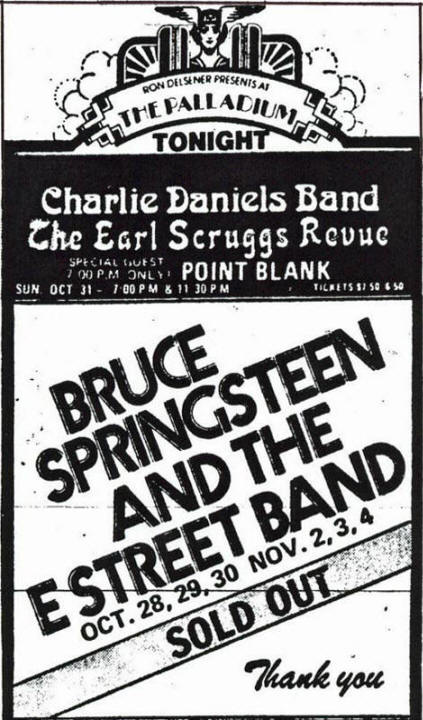 Promotional ad for the 1976 six-night stand at Palladium, New York City, NY
(
Taken from Brucebase
)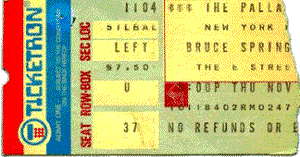 Ticket stub for the 04 Nov 1976 show at Palladium, New York City, NY
(
Taken from Brucebase
)
Despite the marvelous reception received by both Born To Run and the tour which followed, the relationship between Bruce Springsteen and his now former manager and producer Mike Appel was deteriorating. In July 1976 the storm broke; Mike Appel wrote to Springsteen saying that he would not allow Jon Landau (Springsteen's friend and co-producer of Born To Run) to produce the next album, citing a particular paragraph from their original agreement. Springsteen replied on 27 Jul 1976 by firing manager Mike Appel and suing him and his management company Laurel Canyon Ltd. in Federal Court in Manhattan, claiming fraud, breach of trust, and undue influence. Appel counter-sued on 29 Jul 1976 in New York State Supreme Court, asking the court to prohibit Springsteen and Jon Landau from working together in studio. Bruce Springsteen & The E Street Band were slated to enter the studio that year for the recording of a new album, except that on 15 Sep 1976 the judge in the lawsuits case ruled that Springsteen was enjoined from any further recording with Columbia Records until Appel's suit was resolved. This would drag for about a year. Meanwhile, Springsteen continued gigging, and in the process broke his self-imposed rule of not playing the larger arenas. This was basically because he was not able to put a record out, and it was the only way his fans would be able to hear him at all. The tour became known as "The Lawsuit Tour" (62 know dates, August 1976 to March 1977).
Credits
Thanks Jake (ol'catfishinthelake at BTX and Greasy Lake) for the lyrics corrections.
Available Versions
List of available versions of IT'S MY LIFE on this website:
IT'S MY LIFE [Live 12 Dec 1975 version]
IT'S MY LIFE [Live 31 Dec 1975 version]
IT'S MY LIFE [Live 04 Nov 1976 version]
IT'S MY LIFE [Original The Animals version]
---
Page last updated: 18 Jan 2016