IT'S MY LIFE
Original The Animals version
---
It's a hard world to get a break in
All the good things have been taken
But girl there are ways to make certain things pay
Though I'm dressed in these rags, I'll wear sable someday

Hear what I say, I'm gonna ride the serpent
No more time spent sweating rent
Hear my command, I'm breaking loose, it ain't no use
Holding me down, stick around

But baby (baby), remember (remember)
It's my life and I'll do what I want
It's my mind and I'll think what I want
Show me I'm wrong, hurt me sometime
But someday I'll treat you real fine

There'll be women and their fortunes
Who just want to mother orphans
Are you gonna cry when I'm squeezing 'em dry
Taking all I can get, no regrets
When I openly lie, ha
And live on their money
Believe me honey, that money
Can you believe
I ain't no saint, no complaints
So girl throw out any doubt

And baby (baby), remember (remember)
It's my life and I'll do what I want
It's my mind and I'll think what I want
Show me I'm wrong, hurt me sometime
But someday I'll treat you real fine

(It's my life and I'll do what I want) Don't push me
(It's my mind and I'll think what I want) It's my life
(It's my life and I'll do what I want) I can do what I want
(It's my mind and I'll think what I want) You can't tell me
(It's my life and I'll do what I want) I'll do what I want
(It's my mind and I'll think...)
[Fades out]
---
Info
IT'S MY LIFE is a song written by Carl D'Errico (music) and Roger Atkins (lyrics) around Spring 1965 specifically for The Animals. With Mickie Most handling production, the British group recorded the song and released it late that year as a single. Eric Burdon sung vocals, with Hilton Valentine on guitar, Dave Rowberry on keyboards, Chas Chandler on bass, and John Steel on drums. The above lyrics are for The Animals' version of IT'S MY LIFE as originally released in 1965.
The Animals -- "It's My Life / I'm Going To Change The World"

7" single - Columbia (DB 7741) - UK, 1965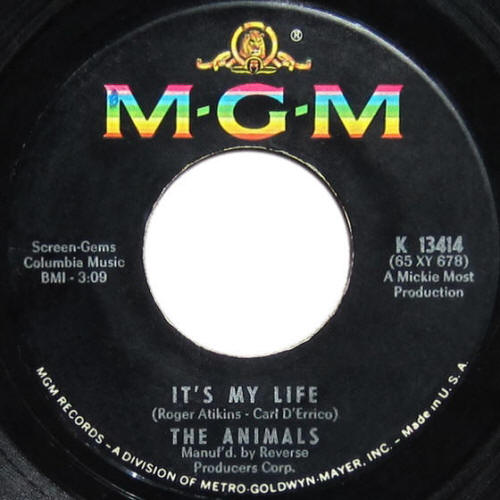 The Animals -- "It's My Life / I'm Going To Change The World"

7" single - MGM (K 13414) - USA, 1965

Bruce Springsteen's Version
Springsteen began performing IT'S MY LIFE live frequently between late 1975 and 1978, normally preceding it by a spoken narrative about the troubled relationship between him and his father. He dramatically slowed down the tempo of his version and slightly changed the lyrics. His renditions of the song, with the spoken narrative, ran over 10 minutes most of the times, and sometimes reached as long as 14 minutes. See Springsteen's live 12 Dec 1975 version for more details.
Credits
Thanks Jake (ol'catfishinthelake at BTX and Greasy Lake) for the lyrics corrections.
Request
Any additions, comments, or corrections to this page are welcome. You can contact me via the below form or by email: . You will be credited. Thanks in advance.
Available Versions
List of available versions of IT'S MY LIFE on this website:
IT'S MY LIFE [Live 12 Dec 1975 version]
IT'S MY LIFE [Live 31 Dec 1975 version]
IT'S MY LIFE [Live 04 Nov 1976 version]
IT'S MY LIFE [Original The Animals version]
---
Page last updated: 07 Dec 2016