STOLEN CAR
Band rehearsal #2
---
Well I found me a little girl and I settled down
In a pretty little house on the edge of town
We got married and promised never to part
And little by little we drifted from each other's hearts

[Spoken:] ???

At first I thought it was just restlessness
That would fade as time went by and our love grew deep
[Spoken:] ???
But in the end it was something more I guess
That tore us apart and made us weak

I'm driving a stolen car on a pitch-black night
And I'm doing my best to make it through
[Spoken:] ???

Well I met me a little girl and I settled down
In a pretty little house on the edge of town
We got married and swore we'd never to part
Little by little we drifted from each other's hearts

Well now at first I thought it's just restlessness
That would fade as time went by and our love grew deep
But in the end it was something more I guess
That tore us apart and made us weak

And I'm driving a stolen car on a pitch-black night
And I'm doing my best to make it through
I'm just sitting down here near Stanton Lake
I wanna get caught but I never do

You asked me if I remembered the letters I wrote
When our love was young and we were bold
She said last night she read those letters
And they made her feel a hundred years old

I'm driving a stolen car on a pitch-black night
I ride by night, travel in fear
I tell myself it's gonna be alright
And in this darkness I might just disappear
Whoa-whoa-whoa
Da, da da da da da
---
Info
The above lyrics are for a band rehearsal workout of STOLEN CAR recorded on 16 Jan 1980 at Springsteen's Telegraph Hill Road property in Holmdel, NJ, nicknamed "Telegraph Hill Studios". This wasn't a true studio; it was a converted barn that Springsteen and the band used to practice songs around the time The River was being cut in studio. Working out arrangements cuts down pricey hours at The Power Station where the album was recorded.
A significant amount of The River sessions audio that has surfaced unofficially comes from these Telegraph Hill sessions. Unfortunately the audio quality leaves much to be desired. It sounds as if a single boom recording mike was used and Springsteen's vocals are buried under the instruments on virtually all these recordings.
Bootleg Releases
These band rehearsal takes of SLOW FADE can be found on The Lost Masters Vol. 13 (Labour Of Love) [track 11] bootleg.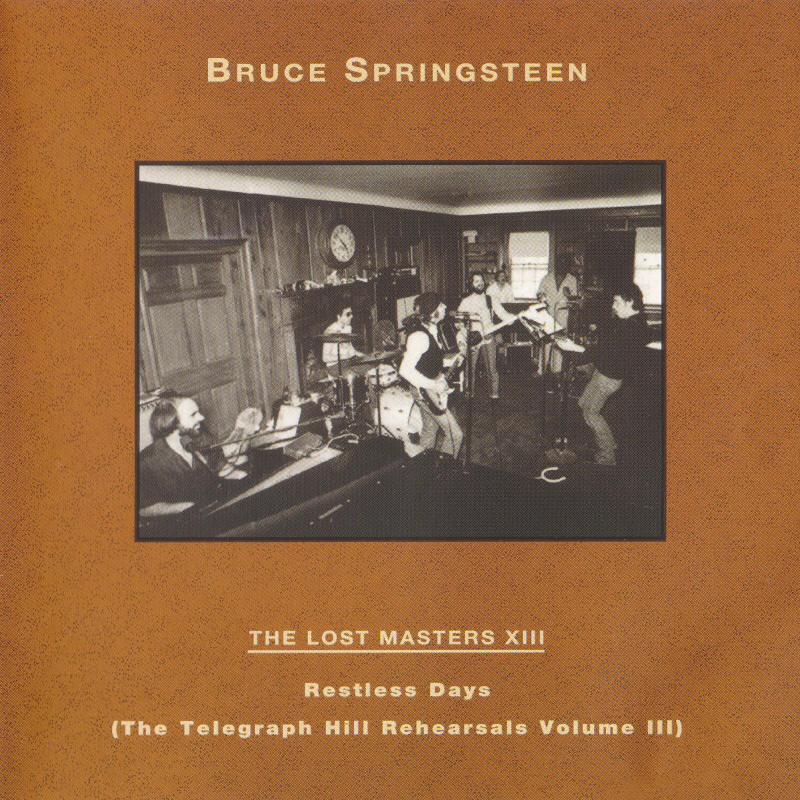 Bruce Springsteen -- The Lost Masters Vol. 13 (Labour Of Love)
References
Some of the above info about the Telegraph Hill Studios rehearsals is taken from Brucebase.
Available Versions
List of available versions of STOLEN CAR on this website:
STOLEN CAR [Album version]
STOLEN CAR [Official studio version]
STOLEN CAR [Unofficial studio version 1]
STOLEN CAR [Unofficial studio version 2]
STOLEN CAR [Home demo version]
STOLEN CAR [Band rehearsal #1]
STOLEN CAR [Band rehearsal #2]
STOLEN CAR [Band rehearsal #3]
STOLEN CAR [Band rehearsal #4]
STOLEN CAR [Band rehearsal #5]
STOLEN CAR [Band rehearsal #6]
STOLEN CAR [Band rehearsal #7]
STOLEN CAR [Band rehearsal #8]
STOLEN CAR [Band rehearsal #9]
STOLEN CAR [Live 05 Nov 1980 version]
---
Page last updated: 01 Dec 2015