Remembering Terry Magovern
Frank "Terry" Magovern, of Rumson, passed away Monday, July 30. Terry grew up in Belmar, where he attended St. Rose High School. He was a four-year Navy veteran, completing special warfare training and specializing in underwater demolition work (UDT) before being assigned to work with the Mercury Space Program and the original seven Mercury astronauts. For the past 23 years, Terry was the personal assistant to Bruce Springsteen and was a cherished friend to people worldwide whose names are too numerous to list. Terry was active in many aspects of the local community through business and charitable work, such as Holiday Express and Light of Day supporting Parkinson's Disease and research. In 2006 he founded the Joan Dancy and Pals ALS Support Group at Riverview Medical Center, in memory of his former fiancée, who lost her battle to the disease. In addition, Terry was involved with the Apple Jack Canine Kennels in Maryland, a dog-training facility specializing in bomb-sniffing dogs for the military. He later developed a program that trains dogs that work in women's shelters for victims of domestic violence as companion dogs for protection.
Terry was predeceased by his parents Frank and Rosalie Magovern, and is survived by his loving children Laurie Guinan and son-in-law Michael Guinan of Eatontown, and Sean Magovern and daughter-in-law Andrea of Avon; his five adored grandchildren, Michael and Matthew Guinan, and Michael, Kyle and Maggie Magovern; and his eight beloved brothers and sisters, Dennis Magovern, Richard Magovern, Robert Magovern, Lee Boydman, James Magovern, Brian Magovern, Mary Magovern and Patrick Magovern. After traveling the world for years together, Terry also leaves behind a treasured group of friends whom he considered family.
Terry was a treasured icon whose extraordinary personality and gravely voice have left their mark on all who knew him. The world will be a profoundly different place without his presence.
From Asbury Park Press
August 1, 2007

Terry Magovern photos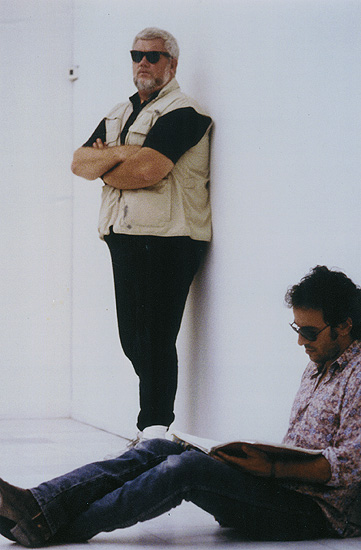 Terry Magovern and Bruce Springsteen
I first met Terry in 1972. I'd just returned from California after an unsuccessful attempt to live as a musician in the Bay Area. Steve's band, the Sundance Blues Band, were booked at the Captain's Garter in Neptune, New Jersey. I sat in with Steve and we played to a packed and cheering crowd. This was a job we needed, bad. I was broke. After the show, sweaty and triumphant, Steve and I went back to meet the manager of the place, figuring we were this guy's dream come true. There behind the desk, windbreaker on, stood a large and not very friendly light-haired man. He explained slowly and carefully, that yes, while the crowd was large and loud, that no one was drinking. They were too busy listening to the music, and if we hadn't noticed this was a bar, therefore, our services in the future would not be necessary. This was my first introduction to the clear, hard headed thinking of Terry Magovern. He fired me! It was the beginning of a long and beautiful relationship.
Terry stood as a strange New Jersey version of "the catcher in the rye," out on the edge of some windswept cliff keeping children from rushing over the edge. He was always busy saving something or somebody. It was his blessing and his tragedy. It's no wonder some savvy commander spotted this in him and chose him for the Mercury Program, a frogman to pull astronauts out of the water after their lonely trip through space. It's no wonder that Terry's occupation of choice here on the Jersey Shore was lifeguard. His theme song should have been "You Gotta Serve Somebody." For "T" this idea seemed to include most of the human race with the exception of one... Terry Magovern. That was one rescue mission he was always underprepared for.
Terry and my 23 years together were marked by the quiet, slow, methodical rituals of two men comfortably alone together, doing a job. Over time that methodicalness evolved into something deeply personal. The small things: Terry's door open next to mine in every hotel of the past two decades, Terry in his best Ed McMahon voice as I stepped into the van at the end of each show saying "you have conquered another city, Oh Great One", me answering, "yes, we have" then silence for the rest of the ride home, the emptying of everything from my pockets into Terry's hands as I was about to go onstage, these are the things I'm going to miss.
Out of all of Terry's unusual qualities the one that was least noticed but most deeply felt was his permanence. Everything about Terry spoke of permanence. This is why his death is so difficult to fathom. His size, his face, his gait, the tempo at which he met the world, all spoke of mastery over time, control of space, and permanence. I never saw Terry rush, though I'm sure I gave him occasion to. I never saw Terry panic, though one night we were in a very small plane in a very big wind and for 30 or 40 long seconds it appeared like the pilots were really not going to keep us in the air. My agent Barry Bell was there and I watched as he renewed his faith in Judaism. A New York Times reporter was with us his eyes rolled back into his head as if imagining tomorrow's headlines: "Bruce Springsteen and others..." Whatever I was doing, I'm sure it wasn't pretty. I turned to Terry and he was sitting extremely still, the mask of Irish fatalism fixed firmly to his face. We survived.
Encountering Terry was like coming across a huge rock formation in the desert: you could go around it, ignore it, climb over it, though that would be ill-advised, but you had to deal with its presence, its permanence. One evening I was concerned about a security issue. Terry assured me he was "the baddest man on the planet... for sixty seconds". Over the last few years watching Terry battle cancer, heart problems, the death of his fiancée Joan Dancy, you couldn't help but observe that those seconds had wound down to probably a very vicious "10." Then they ran out.
Some people when they die take whole worlds with them. That's Terry Magovern. Terry was the last great symbol of the raging honky tonk Jersey Shore scene of the 60's and 70's. Bar manager, bouncer, lifeguard, father, grandfather, loyal friend, faithful working companion, Terry covered it all. From Asbury Park to Timbuktu there are people weeping and wondering... "HOW AM I GONNA GET IN?!!!"
So here on E Street we say goodbye to our good friend, our New Jersey "catcher in the rye", and to the rest of you we say don't go rushing too hard towards the edge of that cliff. There's going to be two strong arms that aren't going to be there to catch you. Terry, when they built you, brother, they broke the mold.
Bruce Springsteen
August 20, 2007
MARAH'S SERGE BIELANKO WRITES ABOUT TERRY MAGOVERN
Standing backstage, really behind and under the stage, in a small dim-lit box of electronics and guitars, my brother Dave and I had cotton mouth. "Nerves" doesn't even begin to describe it. You cannot prepare yourself... or your body, or your mouth for such things; there is no training. Occasionally, I would try to focus and then I would see bits and pieces of the band out on the stage: Springsteen's hair, Emmylou Harris's wind-swept dress, someone's guitar neck. Inside of my heart I felt all of the blood in my body bashing against the chamber walls like waves smashing a winter jetty, the effects of their collision rippling through my muscles to my skin, goosebumps the size of pencil erasers running a range up and down my arms and legs.
I looked at my brother. He had to go with me up there. To sing. With our hero. We both looked at the only other person around. It was Terry. Terry was Bruce's guy... his buddy and his minder and his assistant and for all I know he mighta wrote BORN TO RUN to be honest. He was a huge guy, intimidating to many folks, but secretly very very sweet, as Dave and I had discovered in the past few years. And for some reason, he really seemed to like my brother and me. I stared Terry in the eye. "Dude, this is nerve-wracking. All of New Jersey is out there!!!" He stared back. Music out on the stage, 60,000 people, Giants F'in Stadium just beyond this thin black curtain, what seemed like all the world gathered to scream and hoot for their beloved native son. "You guys got this, you know you do," he growled. He looked past me. Did he really believe we were about to pooch the show??
My brother, his lips as dry as mine, his heart as bursting with unfiltered joy and fear, mumbled that he needed a beer. Of course, the very notion of even sipping a beer before appearing out on that stage with The E Street band was a twisted one, almost sacrilegious to the very notion of the rare and wonderful opportunity being presented to us. I hoped Terry hadn't heard Dave say that. I didn't want him to think we weren't taking this as seriously as we were. Christ, I was as serious as passing out... which was a distinct possibility at this point.
Dave and I watched, or rather listened, to the song before us unfurl. Bruce Springsteen and Emmylou Harris sang a duet, I think. I don't even remember. I only recall wishing simultaneously that the wind would kick up so hard, a great typhoon wind, as to blow Emmylou right off the stage leading to a speedier appearance for us. Yet at the same time, I wanted their song to last forever, days turning to weeks, then years, Bruce forgetting all about us as the scattered sands of time blew over him and the band and the stadium and the fans... maybe to fossilize there, the song only ending centuries from now. Then me and my bro would just shrink away back to the hole we climbed out of, never to perform in the dream we had somehow dreamed into reality.
Then, I noticed Terry had disappeared.
The song onstage was minutes old, soon to end, I thought. I peeked over the cold steel steps that rose to the stage and saw for the first time the magnificent endless horizon of lighters, flashbulbs; the swells and sways of a massive crowd thrusting with life out there in the dark. Dave's leg was bouncing up and down beneath him, his boiling excitement jackhammering his bones. My lips were sun-baked wedges of licorice. My tongue was a hunk of sticky kindergarten paste rolled in seashore sand. Dear God, I thought... not now... PLEASE!!!... just let me get the words out for three more minutes! Let me sing this song with my brother and Bruce and Patti and all without having to pull my mouth open with my fists in order to hear a dry squeak eek out of my gob and into the piping hot microphone that would deliver my message to "RAISE YOUR HAND" to the crowd! Palpitations, beads of sweat, visions of glory or absolute failure, everything was slashing into everything else, my courage beginning to fail, my dream in danger, when I felt the cold touch of a late summer ghost on my rigid arm. It was Terry. He had a bottle of Rolling Rock in each of his giant paws and he was touching them ever so slightly to my brother's arm, and to mine. He had gone and gotten them for us. I was his forever. He didn't say a word as we took them from him. The song was ending. The crowd was roaring. I thanked him with my eyes above their sound. Ahhh but Terry, he was already smiling. Smiling that rare grin and watching the two brothers slug down their bottles of beer as if their was nothing left in this world but to finish them, crack a burp, and walk out into the spotlights of an enchanted land where dreams come true for little guys, while gentle giants hang off in the distance, unseen, but forever watching your back.
Goodbye Terry... Thank you for the way you treated us, the beers, and the passes to a dream.