THIS HARD LAND
Live 20 Feb 2003 version
---
Hey there mister, can you tell me what happened to the seeds I've sown
Can you give me a reason, sir, as to why they never grown
They just blown around from town to town till they're back out on these fields
Where they fall from my hand back into the dirt of this hard land

Hey me and my sister, from Germantown yeah we did ride
Hey we made our beds, sir, from the rock on the mountain side
We've been blown around from town to town, we're just looking for a place to land
Where the sun bursts through the clouds to fall like a circle, like a circle of fire down on this hard land

Now even the rain it don't come around here, don't come around here no more
And the only sound at night's the wind, the wind slamming that back porch door
It stirs you up like it wants to blow you down, yeah twisting and churning up the sand
Yeah and leaving all them scarecrows lying face down, face down in the dirt of this hard land

From a building up on the hill I hear a tape deck blasting "Home On The Range"
I can see them bar rim choppers sweeping low across the plains
And it's me and you Frank, we're looking for lost cattle, our hooves twisting and churning up the sand
Yeah we're riding in the whirlwind, searching for lost treasure yeah way down south of the Rio Grande
We're riding across that river in the moonlight way up onto the banks of this hard land

Hey Frank, won't you pack your bags, meet me tonight down in Liberty Hall
Yeah just one kiss from you my brother and we'll ride 'til we fall
We'll sleep in the fields, we'll sleep by the rivers and in the morning we'll make a plan
Well if you can't make it, stay hard, stay hungry, stay alive if you can and meet me in a dream of this hard land

[Spoken out:] I love you! Good luck!
---
Info
The above lyrics are for the live 20 Feb 2003 performance of THSI HARD LAND at Somerville Theatre in Somerville, MA, during the second of the two DoubleTake magazine benefit shows. The song closed the show. It was played solo on acoustic guitar and harmonica.
Ticket stub for the 20 Feb 2003 show at Somerville Theatre, Somerville, MA
DoubleTake Magazine Benefit
Founded by Harvard psychiatrist Robert Coles, DoubleTake magazine has been in business since 1995, but started facing financial problems a few years later. Springsteen's relationship with the publication goes back to late 1997 when he was interviewed by Will Percy (nephew of the late Walker Percy, a writer/novelist Springsteen admired) at Springsteen's farmhouse in Rumson, NJ. Part of the audio-recorded interview was printed in the March 1998 issue of the magazine. The interview is probably one of the most philosophical of Springsteen's career -- it dealt with the effect books and movies have on Springsteen's writing and the culture of celebrity, among other things. Springsteen also became friend with magazine founder Robert Coles when the two met in 1998. He praised his book A Secular Mind, and even attended one of his classes in Harvard. In November 2004 Coles published in his book Bruce Springsteen's America - The People Listening, A Poet Singing.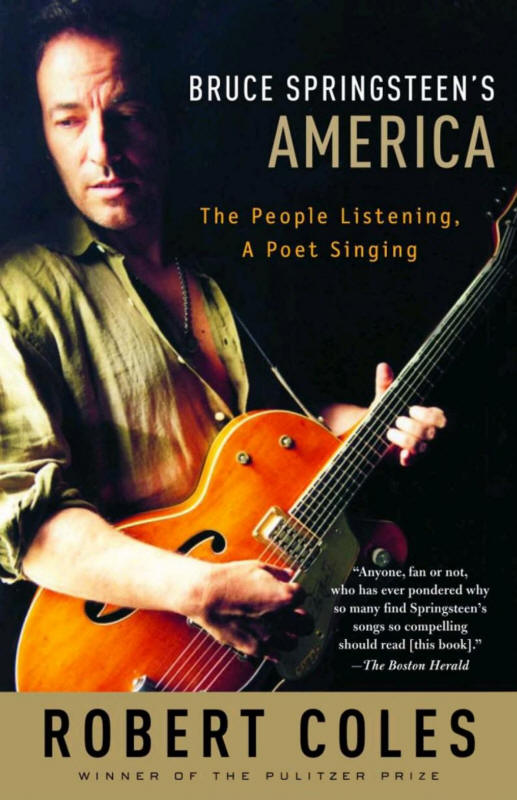 Robert Coles -- Bruce Springsteen's America - The People Listening, A Poet Singing (book cover)
Tickets for the two fundraisers were priced at $500 and billed as "An Intimate Evenings Of Music And Conversation With Bruce Springsteen". These were solo acoustic shows, played on acoustic guitar (or piano on a few songs), held at the small Somerville Theatre (900 seats capacity). Springsteen chatted between songs, and closed out each night with a Q&A session, taking questions from the audience. The unprecedented "conversation" element of the shows made them unique to Springsteen fans.
Promotional poster for the 19-20 Feb 2003 shows at Somerville Theatre, Somerville, MA
The almost one million dollars raised from the ticket sales went to the non-profit DoubleTake Community Service Organization Corporation, publishers of DoubleTake magazine, which owed $600,000 to vendors and contributors. "The concert was a success beyond our wildest dreams," managing editor Kirk Kicklighter commented, "[But] we never really had a plan for what we were going to do after the concert." By the fall of 2004, the magazine was no longer publishing, officially put on "hiatus".
Available Versions
List of available versions of THIS HARD LAND on this website:
THIS HARD LAND [Official 1982 studio version]
THIS HARD LAND [Official 1995 studio version]
THIS HARD LAND [Unofficial 1995 studio version]
THIS HARD LAND [Live 23 Mar 1993 version]
THIS HARD LAND [Live 21 Feb 1995 version]
THIS HARD LAND [Live 05 Apr 1995 (Sony Music Studios) version]
THIS HARD LAND [Live 28 Oct 1995 version]
THIS HARD LAND [Live 09 Dec 1995 version]
THIS HARD LAND [Live 11 Dec 1998 version]
THIS HARD LAND [Live 14 Dec 1998 version]
THIS HARD LAND [Live 29 Jun 2000 version]
THIS HARD LAND [Live 19 Feb 2003 version]
THIS HARD LAND [Live 20 Feb 2003 version]
THIS HARD LAND [Live 28 Jul 2013 version]
THIS HARD LAND [Live 28 Jan 2014 version]
---
Page last updated: 06 Mar 2015