THIS HARD LAND
Unofficial 1995 studio version
---
[Spoken:] One, two, one two three four.

Well hey there mister, can you tell me what happened to the seeds I've sown
Can you give me a reason, sir, as to why they've never grown
They just blown around from town to town till they're back out on these fields
Where they fall from my hand back into the dirt of this hard land

Now me and my sister, from Germantown yeah we did ride
Yeah we made our beds, sir, from the rock on the mountain side
We've been blown around from town to town looking for a place to stand
Where the sun bursts through the clouds and fall like a circle, like a circle of fire down on this hard land

Well now even the rain it don't come around, don't come around here no more
And the only sound at night's the wind slamming that back porch door
It just stirs you up like it wants to blow you down, twisting and churning up the sand
And leaving all them scarecrows lying face down in the dirt of this hard land
Whoa!

From a building up on the hill I can hear a tape deck blasting "Home On The Range"
I can hear them bar rim choppers sweeping low across the plains
And it's me and you Frank, we're looking for lost cattle, our hooves twisting and churning up the sand
We're riding in the whirlwind, searching for lost treasure way down south of the Rio Grande
Yeah we're riding across that river in the moonlight way up onto the banks of this hard land

Hey Frank, won't you pack your bags and meet me tonight down at Liberty Hall
Hey just one kiss from you my brother and we'll ride until we fall
We'll sleep in the fields, we'll sleep by the rivers and in the morning we'll make a plan
Well if you can't make it, stay hard, stay hungry, stay alive if you can and meet me in a dream of this hard land
Whoa!

[Spoken:] (chuckles) Alright. Alright. uh... how's that key?
---
Info
The above lyrics are for a studio version of THIS HARD LAND recorded in January 1995 at The Hit Factory in New York City, NY. It is very similar to the official 1995 studio version that was released on Greatest Hits but is more guitar driven.
Bootleg Releases
This unofficial 1995 studio version of THIS HARD LAND can be found on the Deep Down In The Vaults (E. St. Records) bootleg.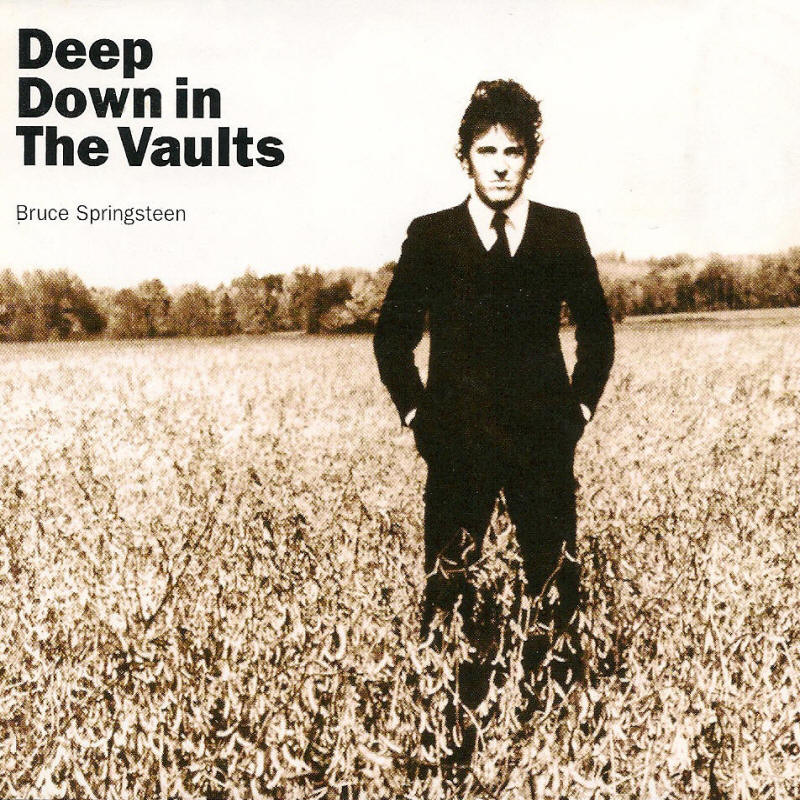 Bruce Springsteen -- Deep Down In The Vaults (E. St. Records)
Available Versions
List of available versions of THIS HARD LAND on this website:
THIS HARD LAND [Official 1982 studio version]
THIS HARD LAND [Official 1995 studio version]
THIS HARD LAND [Unofficial 1995 studio version]
THIS HARD LAND [Live 23 Mar 1993 version]
THIS HARD LAND [Live 21 Feb 1995 version]
THIS HARD LAND [Live 05 Apr 1995 (Sony Music Studios) version]
THIS HARD LAND [Live 28 Oct 1995 version]
THIS HARD LAND [Live 09 Dec 1995 version]
THIS HARD LAND [Live 11 Dec 1998 version]
THIS HARD LAND [Live 14 Dec 1998 version]
THIS HARD LAND [Live 29 Jun 2000 version]
THIS HARD LAND [Live 19 Feb 2003 version]
THIS HARD LAND [Live 20 Feb 2003 version]
THIS HARD LAND [Live 28 Jul 2013 version]
THIS HARD LAND [Live 28 Jan 2014 version]
---
Page last updated: 24 Feb 2015