THIS LAND IS YOUR LAND
Live 18 Jan 2009 version
---
[Bruce Springsteen (spoken intro):] Uh, we'd like you to join us in perhaps the greatest ever written about our, our home, with the father of American folk, Pete Seeger, and his grandson Tao. Please Pete.

[Pete Seeger (spoken intro):] You sing it with us, we'll give you the words.

When I was walking that ribbon of highway
As I went walking that of ribbon highway
I saw above me, I saw above me
Endless skyway, an endless skyway
Below me, I saw below me a golden valley
This land was made for you and me

Everybody, sing it
This land is your land, this land is my land
From California to the New York Island
From the Redwood Forest to the Gulf Stream waters
This land was made for you and me

I roamed and I rambled
I roamed and rambled and I followed my footsteps
To the sparkling sands of her diamond deserts
And all around me a voice was sounding
Sing it! This land was made for you and me

Everybody!
This land is your land, this land is my land
From California to the New York Island
From the Redwood Forest to the Gulf Stream waters
This land was made for you and me

In the squares of the city, in the squares of the city
By the shadow of the steeple, by the shadow of the steeple
By the Relief Office, by the Relief Office
I saw my people, I saw my people
As they stood there hungry, as they stood hungry
I stood whistling, I stood there whistling
This land's still made for you and me

I climbed high wall that, I climbed a wall there
Tried to stop me, that tried to stop me
Painted sign there, a painted sign there
Private property, said private property
On the other side, but on the other side
It didn't say nothing, it didn't say nothing
That side was made for you and me
That side was made for you and me

This land is your land, this land is my land
From California to the New York Island
From the Redwood Forest to the Gulf Stream waters
This land was made for you and me

Nobody living, nobody living
Can ever stop me, can ever stop me
As I go walking, as I go walking
The freedom highway, my freedom highway
Nobody living, nobody living
Can make me turn back, can make me turn back
That's right
This land was made for you and me

Everybody!
This land is your land, this land is my land
From California to the New York Island
From the Redwood Forest to the Gulf Stream waters
This land was made for you and me
---
Info
The above lyrics are for the live 18 Jan 2009 performance of THIS LAND IS YOUR LAND at Lincoln Memorial in Washington, DC, during the Barack Obama inaugural celebration concert "We Are One". The song was played in an acoustic guitar and percussion arrangement, with Pete Seeger, his grandson Tao Rodríguez-Seeger, and a large choir. The parts marked in bold are sung by Pete Seeger, who also joined in on much of the rest of the song. The part in italic is by Tao Rodríguez-Seeger. This was an extended version featuring five verses with the chorus repeated throughout the song.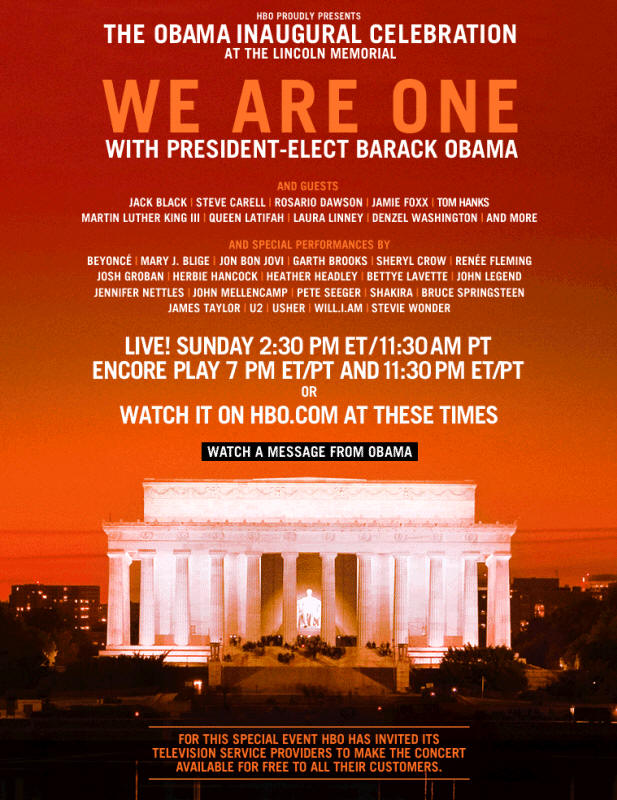 Online ad for the 18 Jan 2009 concert at Lincoln Memorial, Washington, DC
The event was broadcast worldwide by HBO and affiliate stations and was officially released in 2010 on The Official Inaugural Celebration DVD.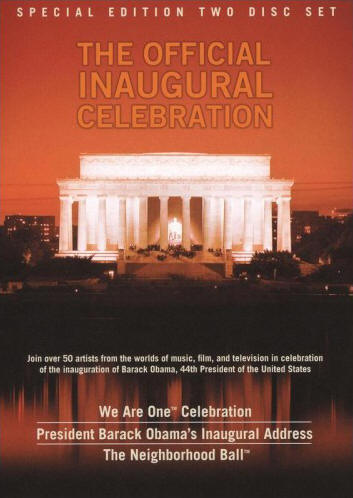 Various artists -- The Official Inaugural Celebration (DVD cover art)
Available Versions
List of available versions of THIS LAND IS YOUR LAND on this website:
THIS LAND IS YOUR LAND [1988 studio version]
THIS LAND IS YOUR LAND [2009 studio version]
THIS LAND IS YOUR LAND [Live 28 Dec 1980 version]
THIS LAND IS YOUR LAND [Live 29 Dec 1980 version]
THIS LAND IS YOUR LAND [Live 31 Dec 1980 version]
THIS LAND IS YOUR LAND [Live 18 Apr 1981 version]
THIS LAND IS YOUR LAND [Live 19 Apr 1981 version]
THIS LAND IS YOUR LAND [Live 28 Apr 1981 version]
THIS LAND IS YOUR LAND [Live 02 May 1981 version]
THIS LAND IS YOUR LAND [Live 05 May 1981 version]
THIS LAND IS YOUR LAND [Live 07 May 1981 version]
THIS LAND IS YOUR LAND [Live 08 May 1981 version]
THIS LAND IS YOUR LAND [Live 11 May 1981 version]
THIS LAND IS YOUR LAND [Live 13 May 1981 version]
THIS LAND IS YOUR LAND [Live 26 May 1981 version]
THIS LAND IS YOUR LAND [Live 14 Jun 1981 version]
THIS LAND IS YOUR LAND [Live 20 Aug 1981 version]
THIS LAND IS YOUR LAND [Live 14 Sep 1981 version]
THIS LAND IS YOUR LAND [Live 09 Aug 1985 version]
THIS LAND IS YOUR LAND [Live 04 Sep 1985 version]
THIS LAND IS YOUR LAND [Live 06 Sep 1985 version]
THIS LAND IS YOUR LAND [Live 30 Sep 1985 version]
THIS LAND IS YOUR LAND [Live 29 Sep 1996 version]
THIS LAND IS YOUR LAND [Live 04 Oct 2008 version]
THIS LAND IS YOUR LAND [Live 05 Oct 2008 version]
THIS LAND IS YOUR LAND [Live 06 Oct 2008 version]
THIS LAND IS YOUR LAND [Live 02 Nov 2008 version]
THIS LAND IS YOUR LAND [Live 18 Jan 2009 version]
THIS LAND IS YOUR LAND [Live 03 May 2009 version]
THIS LAND IS YOUR LAND [Live 15 Mar 2012 version]
THIS LAND IS YOUR LAND [Live 18 Oct 2012 (Parma, OH) version]
THIS LAND IS YOUR LAND [Original Woody Guthrie version]
---
Page last updated: 03 May 2015